Hello again, here are some other possibilities for this tree. Changing the front.
The line of the trunk is maybe better, but my problem is that with another front the top of the tree doesn't go in the right direction, and it's quite impossible to twist it.
Maybe a graft would be the solution for another top, that would fit with these other front.
Here are some project, what do you think?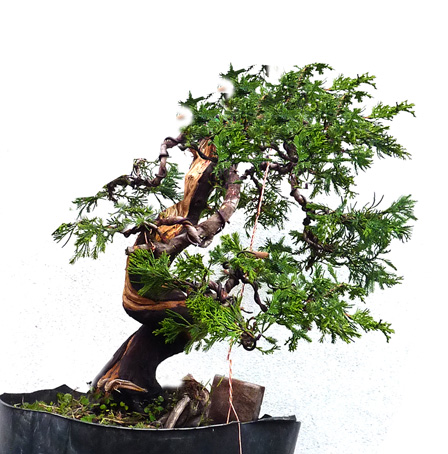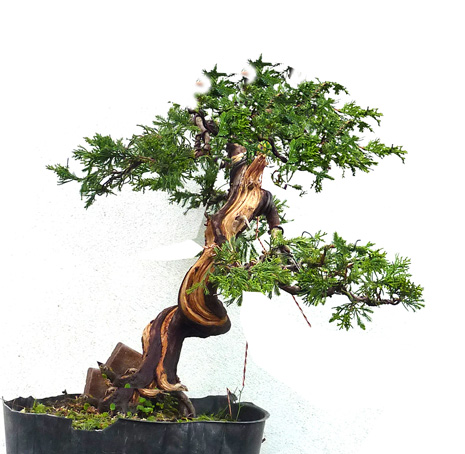 I like this tree, it has a very nice movement in the trunk, some nice deadwood features, for sure it can become a good one. At least I think so. I have a similar one, also Juniperus formosana, but I never seem to succeed to get it right with the foliage. Some parts have needle-foliage, and other parts have scale foliage. Think it is something species related. Or not? Does anyone have a J. formosana without the needle foliage? Or does anyone have tips how to get rid of the needle foliage on this species? (Without cutting the needle foliage completely out of the tree, and without the grafting another species on it option)

Regards,
Hans

Hans Vleugels

Member





Hello Hans, the folliage is exactly as you described. I tried to graft itoïgawa on it this year but i failed, so i did shape it with it's original folliage and it was a good exercise.
This year the tip of the branches did grow very much and it was scale foliage, that's the part i mostly used for this shapping.
Next year i'll see what folliage comes, and then if i try anoter graft or not.
As you said, if others have experiences with formosanum...
JF
Nice nice very nice!!! Procceed with your plan by pinching the foliage!! Good job!

manosvince

Member






---
Permissions in this forum:
You
cannot
reply to topics in this forum