I bought this tree on the Internet from a nursery in Shanghi China two Winters ago. I repotted it during late Winter and it has been growing well for me. I started to wire it last year and cracked a branch and stopped because I didn't know how to style it. I have four views and would like your thoughts about where to go with this tree. I was told that it was over 45 years old. There is very thick bark on the trunk; it is grafted on black pine stock. All comments are welcome

Front (?):

Side/back:
Another back view (there is a lot of movement from this perspective...):
Another view:
Pavel, can you come to Virginia?

Todd

Todd Ellis

Member





Todd, looks interesting. However the angle of the camera does not show the trunk line that clearly. If u can take some shots showing the tree from a lower angle, I am sure there are many on this forum who will be more than willing to give their suggestions.
Cheers, CJ.

newzealandteatree

Member





From the needles the tree looks healthy. There is some interesting movement in the trunk as well.

If you use the first pic. as your front, then try tilting the pot 40deg. to 45deg. towards the right so that the trunk stands up a little. Now turn the pot a little clockwise to show some of the shari. I think that will be a good front angle... ofcourse you would need to wire the branches to tame the foliage pads, and make some of the shari and trunk visible.

Using the correct gauge (based on branch thickness) and bending cautiously should avoid branches from cracking.

- S
Using the correct gauge (based on branch thickness) and bending cautiously should avoid branches from cracking.


And, wrap with wet raffia.

Billy M. Rhodes

Member





one quick idea with the rock you ve got on the right side of your first pic
i think one way for this tree is to be drastic and keep only four or five branches only to make all the tree
and loose the straight part of the trunk by this way
[img]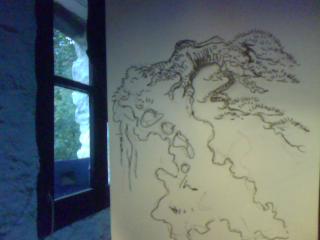 [/img]
but as usually there is a lot of possibilities

cram

Member





a branch just cracking is ok, snapping or splintering is not !! . If you dont want to see/hear the cracks the raffia keeps them out of sight, but a wired branch that has a few small cracks along it will set better as the branch heals the cracks up in the new position. I have never lost a juniper or pine branch that has cracked while bending it, but if it starts cracking a lot early in the bend just stop, wait a few weeks and bend a little more. over a few stages you can get quite thick branches past 90 degrees, especially when they arent that old.
the only very risky place to bend is at the graft - i know of two white on black pines that have snapped clean off at the graft with very little pressure ! - one was about 6" across at the base and it came straight off when the stylist gave a test push to see if the trunk would ease a little more upright ! it was so lucky, i nearly bought the tree a month before


marcus watts

Member





Hi Todd
Nice tree. Great material.

I really like the idea of ​​Cram. I tried a little virtual. A little different.

Gretings Pavel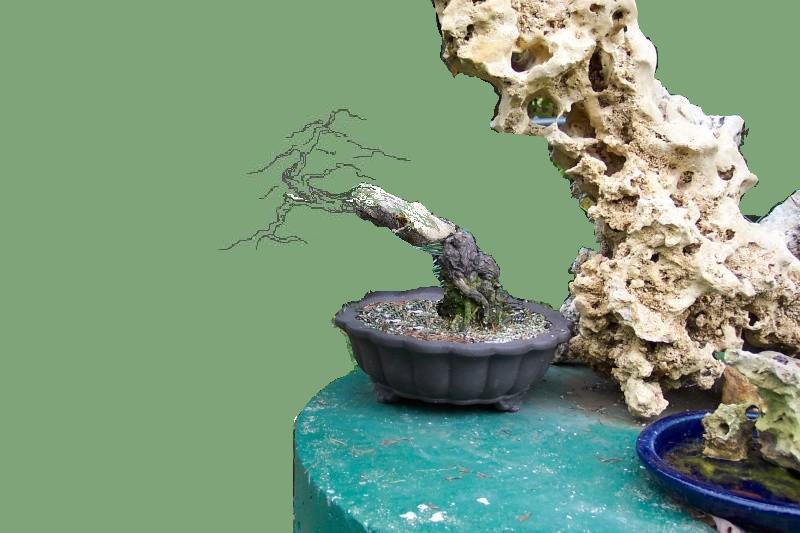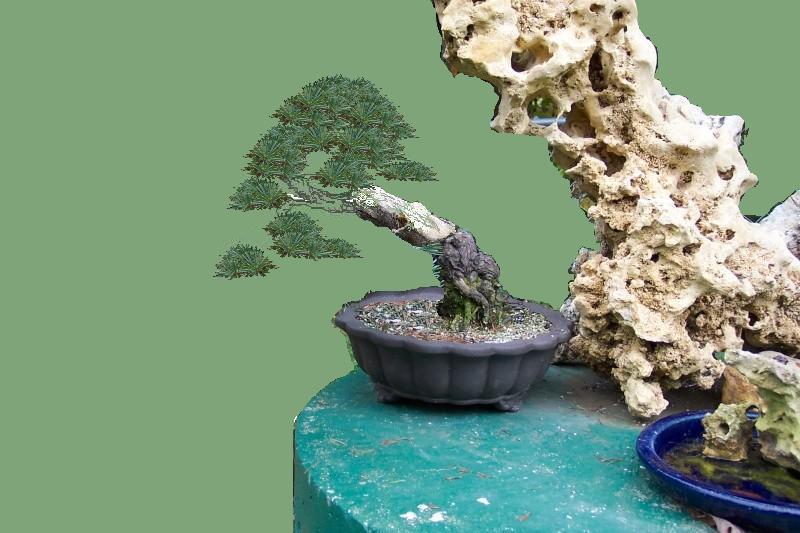 Pavel Slovák

Member





Thank you all for your input and suggestions and your virtuals. Making a decision is the hardest part for me; once I prune the decision is made. I will spend some time looking at it from all angles and all planes.

I like my rock and was glad to find it at a mountain resort shop in the Blue Ridge Mountains this past Summer. I was told that it was collected in or near Baja, California. I think it is limestone.

Best,
Todd


Todd Ellis

Member





---
Permissions in this forum:
You
cannot
reply to topics in this forum