Page 2 of 2 •
1, 2

In the long run, it looks like there might be a crossbar problem with the two lowest branches, and at the next level up the way the branches are directed it gives the illusion of a crossbar.

Precarious

Member





I see what you mean. It isn't as bad in 3D. I'll have to wait & see how it develops.
Iris

bonsaisr

Member





Well done sis!
Not many topics about FS on the internet, so this can be a good refference. I can see you are doing a good job. Sicamorus and sur are almost the same in growth habits here. I remember Lennard saying that he pinches his all the time after a leaf, when  he starts ramification to get back budding.
I was very impatient this year and started repotting them very early. This summer I will be too much out of the country.
I found the roots system just too vigorous compared to other figs. I repotted a microcarpa green island and the FS and the difference was huge in the root system. FS roots filled the pot to its limit and even started fusing the roots. It was so hard to comb them, but I managed to remove most of them.
I think this trunk is just too tall, but again if I chop it in half the top cut will be too big and Probably will need to put in the ground to heal that fast. What do you think?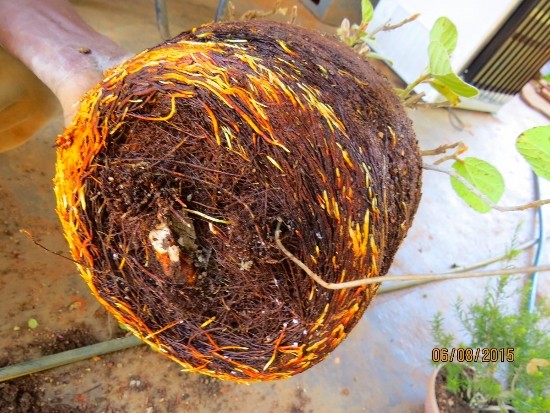 After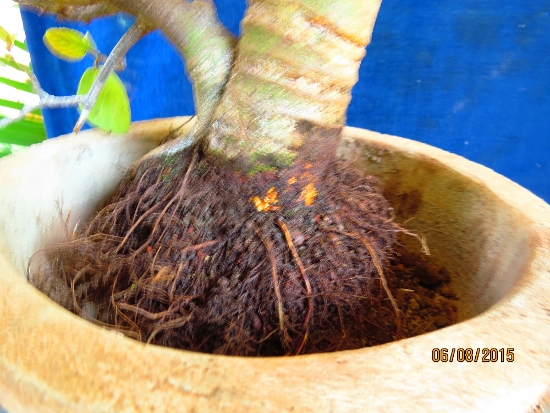 It had some wire marks but most of it healed very well and I reinjured the one that needs to heal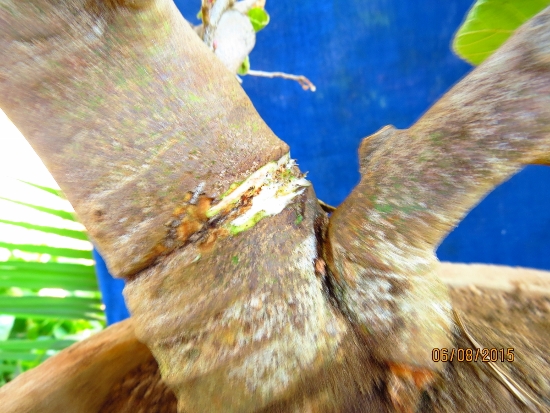 It must be around 10 cm at the base. What do you think? Should I chop the first section of the trunk (just above the first left branch) in half guys and girls?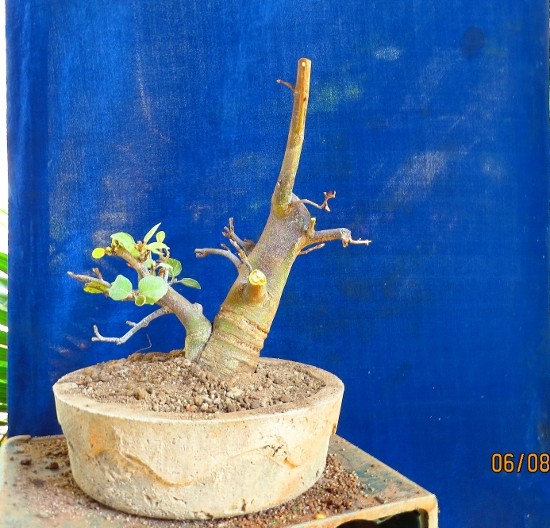 Neli

Member





Thank you.
I wouldn't do any more trunk chopping. You need the taper.
Yes, you need to keep pinching the tips on this thing.
Iris


bonsaisr

Member





Wow. I can't believe how much my tree has developed since I took that picture. It is budding all along the branches. I am beginning to believe it will not do so well as a shohin, but is much better off in kifu or chuhin size. Presently it is about a foot (30 cm) tall & just fits on my light shelf. This weekend it is in Saratoga Springs with the Mohawk Hudson show.
Not much I can do about the apparent bar branches, since pruning them off would leave big gaps. I will ask the experts at the November Rochester open critique.
For more information about this species in its Biblical and historical context, read Tree and Shrub in our Biblical Heritage by Nogah Hareuveni (the book that got me hooked on bonsai) and Plants of the Bible by Michael Zohary.
Iris

bonsaisr

Member





Hi Darling,
I missed your reply. I have not chopped it yet but this straight section of trunk will irritate me till kingdom come. He he he! So better I chop it. After all I dont want to loose my reputation as chop chop queen. He he he!
I shall chop it just above that first left branch.
I have been comparing sur to sicamorus. Sur is a pain in the ..... Does not back bud, and terrible die back after repotting.
Lets see your Baby!

Neli

Member





Here is the recent picture. My plan for the winter is to prune back the old thick branches and encourage the skinny new ones to grow and thicken. Also will mulch with sphagnum moss to encourage surface roots. Maybe shorten it an inch (2.54 cm). Since I would like to prune the roots and put it in a smaller pot next spring, I would like suggestions for size, shape, style, and color of pot. Present pot is 10" (25 cm) in diameter.
Iris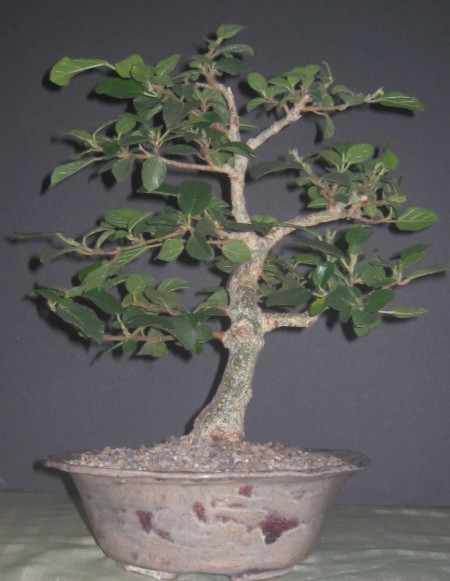 bonsaisr

Member





Page 2 of 2 •
1, 2

---
Permissions in this forum:
You
cannot
reply to topics in this forum