Hi everyone I just bought a household plant, or that is what is says it is. I just liked it, and took it home. But the thing is, I want it as a bonsai..
I just wanted to post a few pictures of it and hear what you thought of it. It really need alott of work, but thats what im after. So here is a few pictures, and dont hold in the criticism. If its a deadend just say so. =)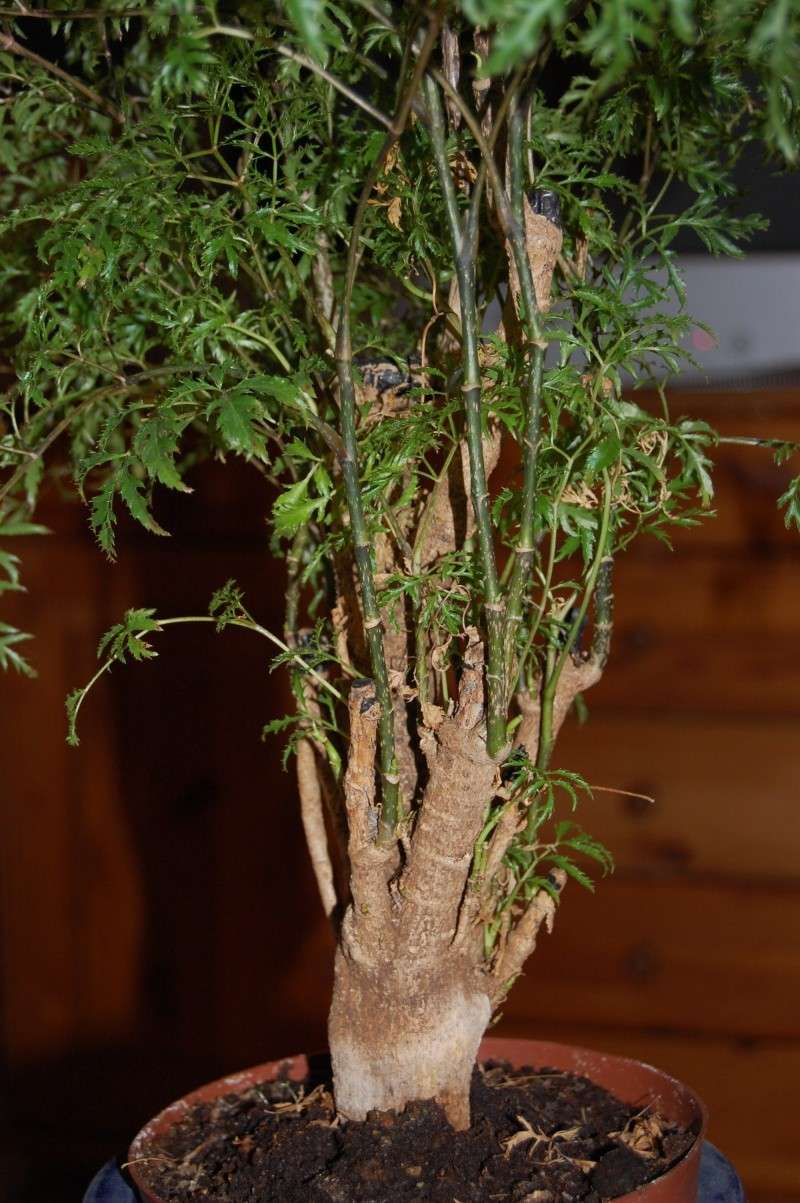 Hmm, just came one at first, ill add some more..
And btw, the name of this was Polyscias Balf. I've never heard of it before...
Last edited by Storm on Mon Jun 08, 2009 11:04 pm; edited 1 time in total

Storm

Member






Storm

Member





It is also known as a 'false arilia'. I had one over thirty years ago, and weeks after my father-in-law had visited, I heard from my brother-in-law that my father-in-law had thought it was a marijuana plant.


I have seen them as a bonsai, but don't know anyone with one. Good Luck.

Carolee

Member





This is a Ming Aralia...Polyscias fruticosa. False Aralia is Dizygotheca elegantissima. Do a Google search for pictures of both to see the differences.

Dean
The operative word is "houseplant". Ming aralias are not bonsaiable.

Rick Moquin

Member





I actually did see one ming aralia that I thought was ok. It was grown in a clump/ginko multi-trunk style and had an interesting enough base that the lack of any real branching made it acceptable IMHO but that is the only way I could see one doing it. Also, IMHO, yours has not yet reached that state

.
Here is a link to a ginko that I found with a google search that was similar to the example I saw.
http://www.why-bonsai.com/bonsai_history_ginkgo.html

Jim Doiron

Member





Thanks for good replies! I appriciate every help, and I might just have it as a houseplant then. Let it grow for some years and see if something is possible. Im just so addicted at trying different species, every plant in a shop is a project..

Storm

Member





I've seen a Ming aralia as one too. Its in the bonsai shop in La Villita in San Antonio, TX. The owner has been working on it for years and it is not for sale.

Dean
What you see now, is what you will see in the future. They have a tendency to grow straight up. Even if you cut back the branches, wire them horizontal, what you will get is what you have now. Ramification is impossible. They can make a nice plant, but that is about it. You can't tame the sucker. I know I tried (the plant was a gift). It is now compost.

Rick Moquin

Member





Your aralia is a poor candidate for classical bonsai due to the reasons given above, but I understand the temptation to try it. Go ahead. You have nothing to lose, and it would be fun to prove us wrong!
I have seen these Polyscias dizzigothica or elegantisima growing as hedge material in the Carribean. They can get quite large, but trunk diameter is rarely the sort we seek for bonsai scale. It is a tropical which will not tolerate frost well.

Alan Walker

Member






---
Permissions in this forum:
You
cannot
reply to topics in this forum