Here's another Lonicera, this time a Lonicera nitida. Also pulled out of my garden.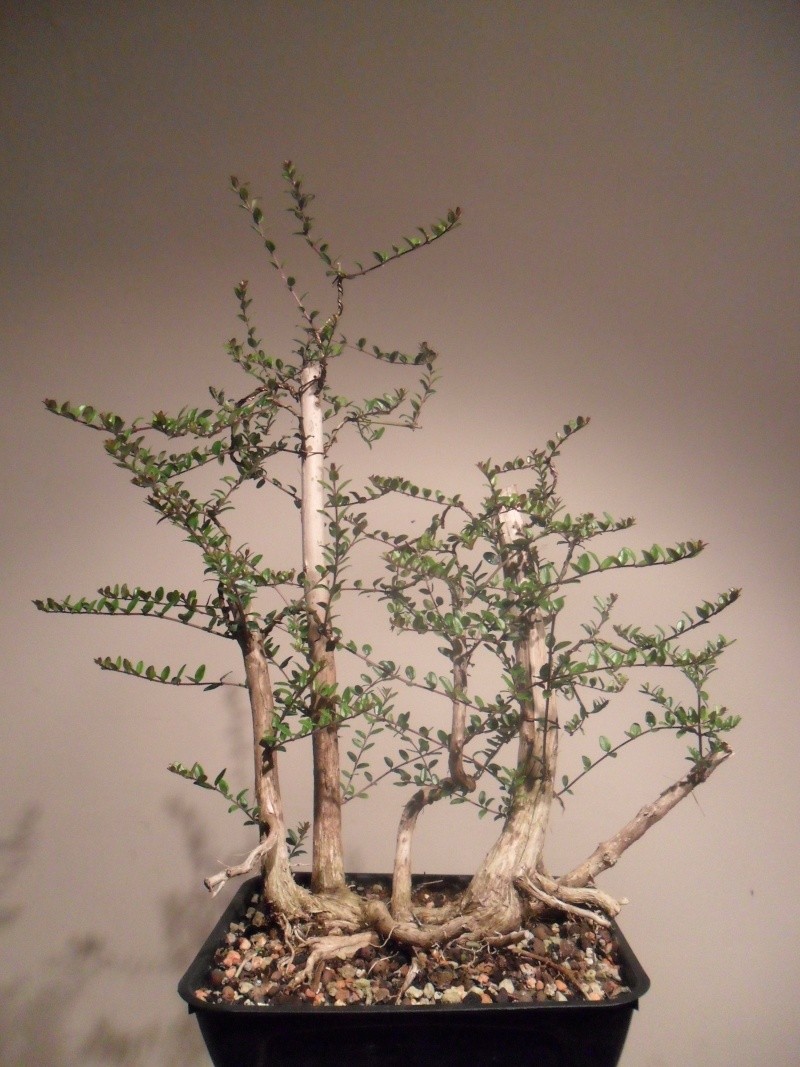 How it stand today.

Mr Miyagi

Member





I would remove the middle tree leaving only three trunks. Its a great piece of material!

drgonzo

Member





It is a neat piece of material. However, to my eye, the third trunk from the left - the one that curls/twists - doesn't seem to be "in sync" with the other trunks. Jay, is that the one you are suggesting to remove? I don't care for that trunk but removing it would leave a large gap. Not sure what the best approach would be...

Chris

coh

Member





yup thats the one, the large gap would allow a place for the eye to rest. Which is worse artistically? a grouping of 4 (which is a no-no in a group planting) or a gap, with a grouping of 3?
I don't know

I studied philosophy in college


drgonzo

Member





Thanks for the advice Jay and Chris. Did originally have the fifth trunk to work with but it unfortunately died off. Definitely agree with you both on the removal of the thin spindly trunk. Will chop it off in late autumn.

Mr Miyagi

Member





Just had a thought, maybe like this????????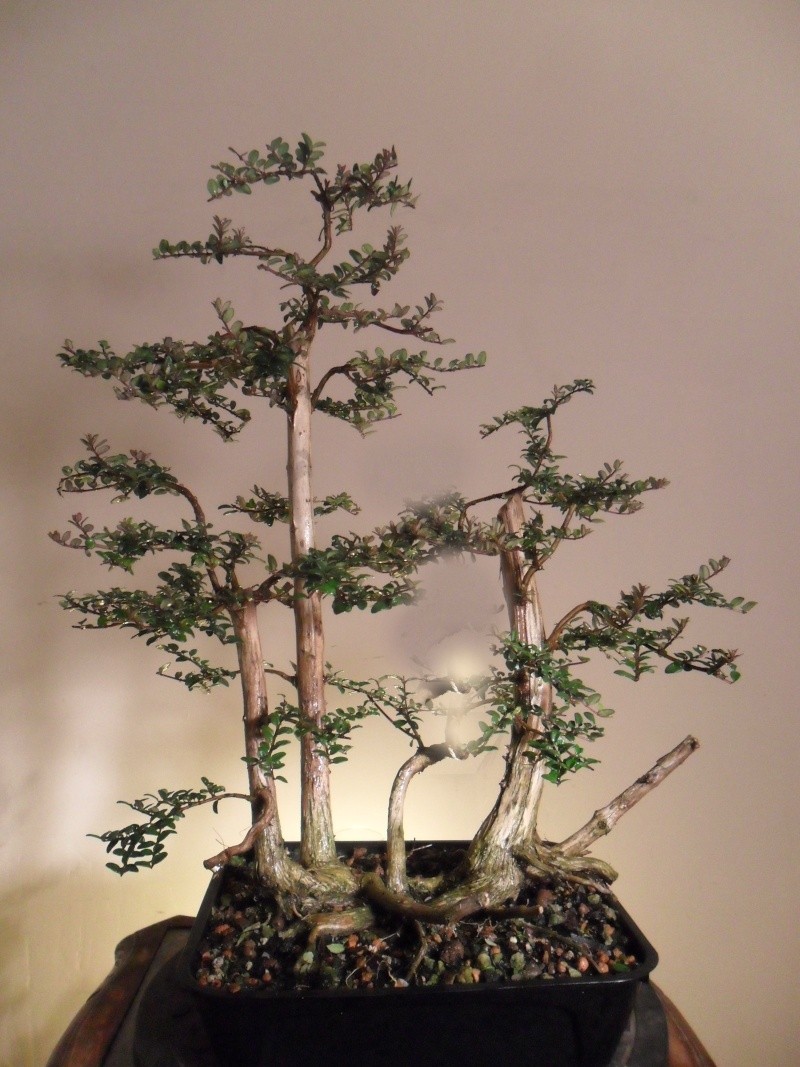 Mr Miyagi

Member





I hesitate to post these, because I'm not very good with photoshop nor with doing virtuals of any kind. But I was playing around with some options, so here they are, for better or worse.
1) Complete removal of that third trunk: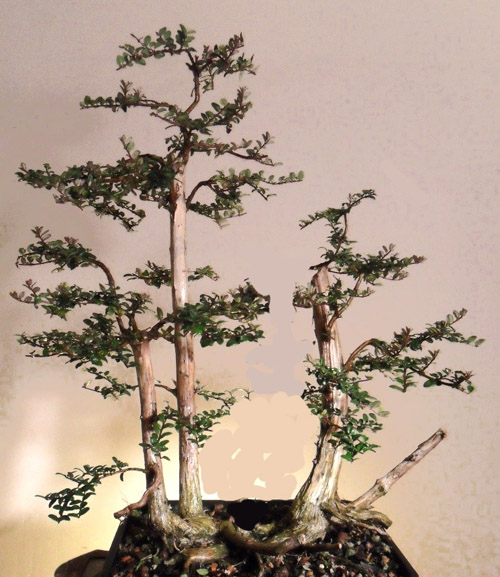 2) Complete removal of both the third and fifth trunk...leaving 3 trees:
Here's the part I hesitate to post:
3) Complete removal of both trunks plus deletion of some branches/foliage, and "development" of other foliage: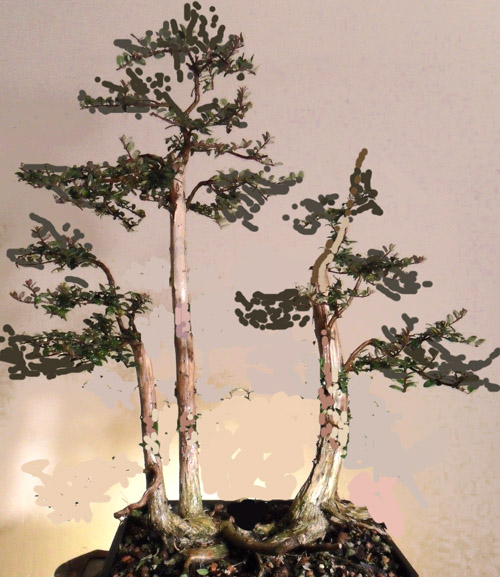 I think I may have deleted too much of the low foliage...but I really like the feeling of that one tall trunk, even though it is very straight. Might be nice to have some foliage behind it from the left-most tree, but it looks like that tree is actually located more toward the front of the pot. Have you considered turning the pot tree(s) around, and using the other side as the front? How does the surface root structure look from that side? Using photoshop to reverse the image gives you this (but obviously doesn't show the other side of the base and trunks):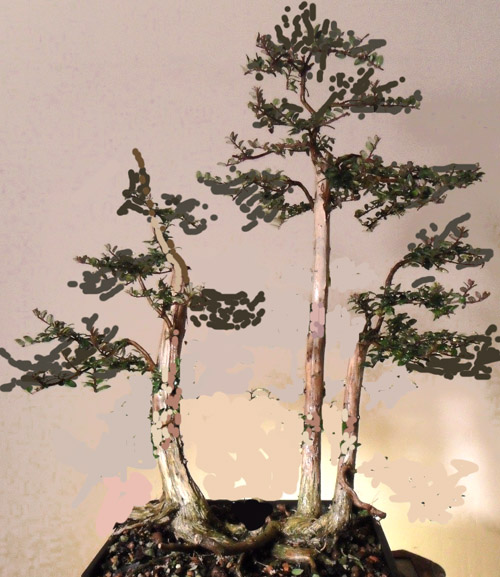 Don't be too harsh! I'm new at this...
Chris

coh

Member





Hi Chris, Really like design three. The 5th trunk has completely had it, so very little chance of anything growing from it now, so removal of that is a must I think. As the trunks are so straight and motionless (and with no taper) I think a dense foliage mas towards the top whilst leaving the lower portion naked gives a more pleasing image. Think you're probably right about the third trunk too, was only reluctant as it's the only one with any movement. Anyway think the front is probably right but here's the other side. Let me know what you think.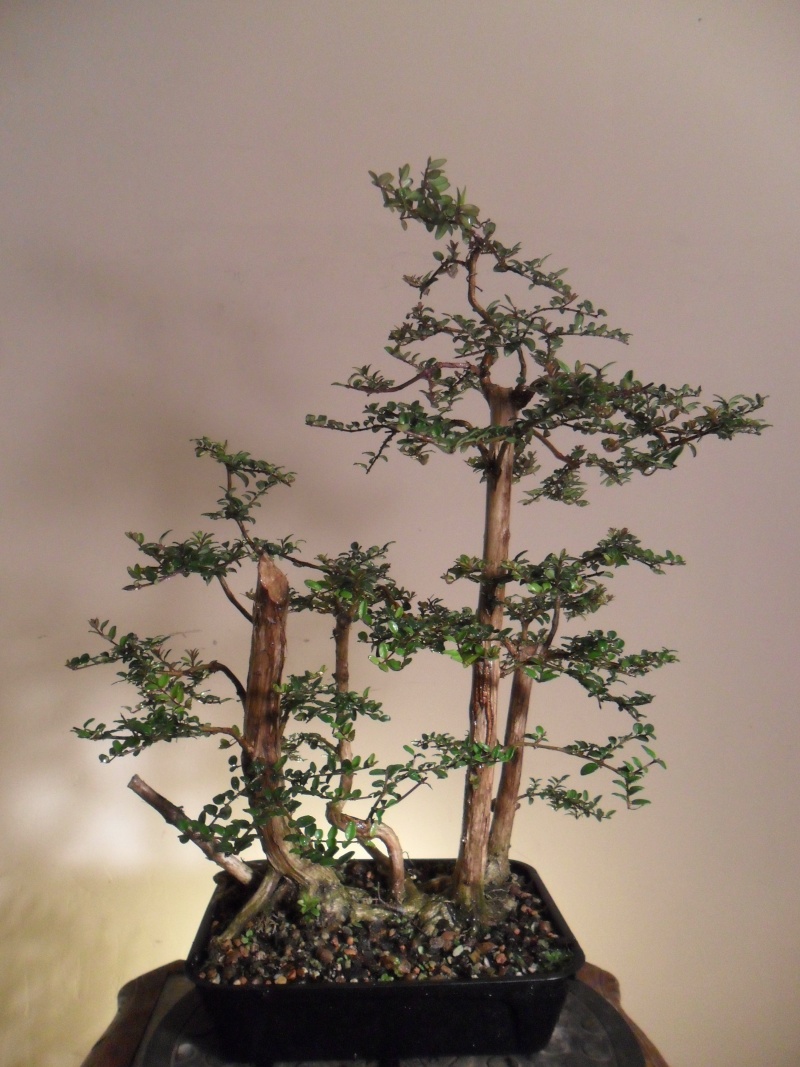 The top needs sorting a bit but looks worse as I took the pic with a wide angle lens.

Mr Miyagi

Member





_________________
Jim Lewis - lewisjk@windstream.net - Western NC - People, when Columbus discovered this country, it was plumb full of nuts and berries. And I'm right here to tell you the berries are just about all gone. Uncle Dave Macon, old-time country musician

JimLewis

Member





Mr Miyagi,

Thanks for posting the picture of the other side. It's tough to get a good read on the perspective and relationship between the trees from that angle. It would be good if you could get a photo more directly on, taken closer to the level of the lower part of the trees or top of the pot. I think it's generally recommended to get back from the tree and use the zoom feature (if you have it) to get a truer view.

Looks like the base may not be as interesting from this side, and also looks like those two trees on the right might be closer together than I thought...but again, that could be the perspective of the photo.

As for the design - hopefully you'll get some other comments and maybe virts. I agree that the 5th trunk should go - the way it juts out like that leads the eye out of the composition. I don't know if it could be carved into something worth keeping (probably not).

I'll offer another suggestion that I just thought of...much more drastic, but have you ever considered splitting this up into 2 groups...one twin-trunk (the 2 left hand trunks in the original photo) and a single trunk tree (4th trunk in the original)? I have no idea what the root system is like or if this would even be feasible.

Chris

coh

Member





# 2 all the way! I wouldn't split it up at all, they would be less apart than they are together. When that middle trunk is removed each tree becomes its own powerful statement .

This is a great piece of material it really is!

drgonzo

Member





---
Permissions in this forum:
You
cannot
reply to topics in this forum