I prommised Peter to make a daisa for this little waterfallstone.
The stone stands a little more than 4.5 cm tall in the daisa.
The daisa is carved from mahoghany, in the japanese style..and I hope you like it Peter.....
I know nothing of the stone...where it was found, and so on...please explain Peter.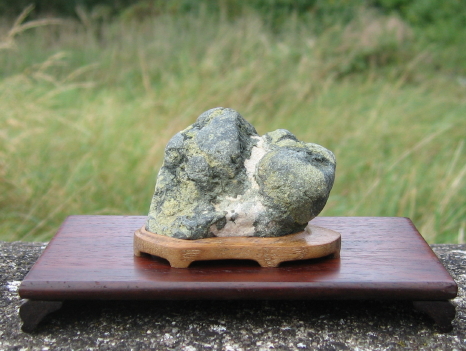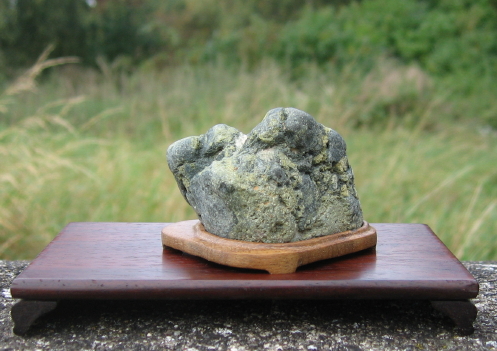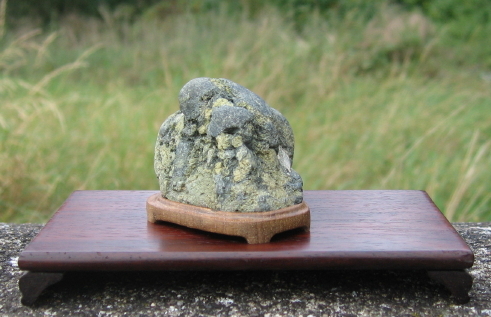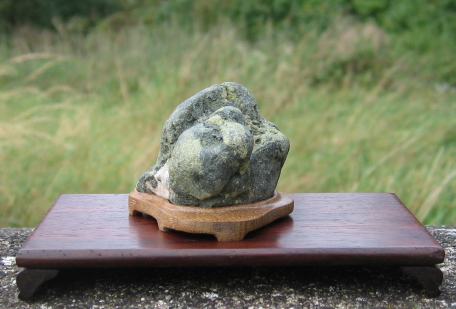 Kind regards Yvonne
Hi Yvonne me like a lot, this very small stone was found on the beach here in Denmark by my oldest son.
The beach is situated on the north of the island funen, he found it wet and picked up because of the nice dark green (jade) color.
After closer inspection by me I found the waterfall in the stone and asked him kindly

to give me the stone.
I showed it to Yvonne and she offert to make a dai/daiza for me, and I accepted the offer.
Thank you very much Yvonne

I dont now the material the stone is made up of, but think it could be a green granit.
Peter

landerloos

Member





Hi Peter

My pleassure.....my gift to you.

Kind regards Yvonne
Thank you very much again Yvonne

Somebody any idea what the stones made of (could be made of)
Peter

landerloos

Member





Hi Peter,

Your stone reminded me of a mountain stone I have from California, which is serpentine with jade and quartz inclusions. Serpentine is a stone found all over the world but there could also be other stones with such greens. I have a British/ European rock and mineral guide which also discusses chert, jasper,and a mica called muscovite, all with greens.

This is just a guess, of course. I sent a stone I collected in California to our local Science Museum who determined the stone was green chert with calcite streaks. Do you have a local source such as a school or museum that might help you with identification? Also a Danish rock guide might give you some help.

Your son found a wonderful stone, you're very fortunate to have Yvonne carve this excellent daiza !

Kindly,
Norma

Norma

Member





Hi Norma,

thank you for your input, I will try to find someone here that can help me.

Peter

landerloos

Member





Its a real beauty great job Yvonne.



Michael Winther

Member





Hi Michael
Many thanks.....I like to carve the daisas, but there is still a lot to learn

Kind regards Yvonne

---
Permissions in this forum:
You
cannot
reply to topics in this forum