hello
Here is an Arakawa
substrate: 100% pumice
Dimensions: 50 cm high
the problem is the reduction of nodes between
the pot is Delire Juan
I guyed the first branch, and this winter I'd do the other branches
I await your criticism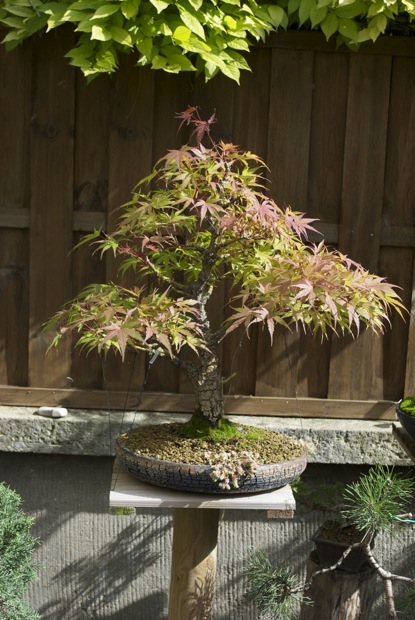 [/url][/img]
@lexis

wam59

Member





I very much like arakawa, and yours is particularly nice. Great bark development and nice foliage. I like the form of the tree, very much a gentle maple style. With respect to node reduction, my experience with arakawa is that nodes are medium to long. Some of this you just have to accept, and may consider a final tree that is medium to larger in size. You can pinch out new growth in spring, and your new nodes and leaf size will come reduce. You could bring the lowest right hand branch down a bit (which you suggested you may do in the future) and fill out the crown. My only criticism is the tree/pot combination. Both are beautiful, however, the cracked glaze finish on the pot (in my opinion) takes away from the bark (the two are nearly identical). Would you consider a smooth cream, light green or unfinished grey?

Great tree, James

Josh

Member





Thank you for these comments
Indeed, the pot will be changed for repotting, it will be cream-colored rectangle and
do you think I should let it grow, and if so, what is its size?
thank you very much
@lexis


wam59

Member





would an oval be a better choice for a deciduous?

bucknbonsai

Member






bucknbonsai

Member





i don t understand "sloth like chunk" sorry....

he was already in the pot and I liked rectangle.
But it is true that the oval shape it would be fine too.
in fact, full of possibilities


wam59

Member





Chocolate Chunk? I think it has something to do with your profile picture.

I love the tree, but is it tilting off to the left a bit. I think the photo is a little off center, but that would tilt the tree even more off center.

I agree that a different pot would highlight the trunk better.

Thanks,
David

MrFancyPlants

Member





Hi. I love the tree, but your avatar is scary.
regards,
jun

I can understand that another pot would highlight the tree better. I also see calmness and continuity with the current pot because the cracks and fissures mirror each other; This continuity works for me because it is hard to distinguish between the pot and the back. I think the Fall aspect (color) will let the tree stand on its own and be the highlight of the composition. Perhaps a lighter color pot when the tree is leafless or in early Spring awakening would be better. This is one of those a-ha moments! Lovely!
Best,
Todd

Todd Ellis

Member





hello
If you have ideas for the pot, I want to see examples please!
I think let it grow a little

@lexis

wam59

Member






---
Permissions in this forum:
You
cannot
reply to topics in this forum