Last edited by henk on Sun Jun 07, 2009 8:31 am; edited 1 time in total (Reason for editing : picture)
Hi Henk,
I remember a similar thread on the old site. The general consensus then was that
Pieris j.
was difficult but not impossible to use in bonsai, mostly because of its shrubby nature and growth habits. Decent ramification is difficult as is dwarfing of the leaves. At the time of that previous post, I was trying to do something with one which had the same lovely trunk movement as yours. I'm afraid I just kinda gave up and put it back in the garden as a landscape shrub. Don't be put off by that though - it was at a time when I had far too many trees on the go and that was one I decided to do without to concentrate on others.
Harry Harington has it as a tree suitable for bonsai (http://www.bonsai4me.com/SpeciesGuide/Pieris.html).
I found some pics by Googling "pics of pieris as bonsai". Sites included the Bonsai Society of San Francisco (
www.bssf.org/gallery2/d/3722-2/009+-+Japanese).
Many of the Google search pics were from other forums (the pedantic purist in me really really wants to say fora) where people had posted pics of garden centre trees while asking the very same question as you did. You are not alone!
Hope you get a good response. I'd say just go for it - it's too nice a trunk to waste. Then in a few years time let us all see the result for the records.

fiona

Member





Thanks for the quick answer, the tree in the San Francisco excibition gives me courage to go further with this tree.

Thanks,

Henk from Belgium.
This came to me as Pieris taiwanensis, now considered synonymous with P. japonica. First posted in the Pieris flurry of 07 on the old IBC (which I dearly miss!)
It's easy to work with, buds back well with roots like azalea. I lost the one in the blue pot to fungus (I live in fungus alley) but the other one is doing well. Time to cut the new red growth. The flowers remind me of manzanita. [img][/img]
Another failed attempt to upload images, you'll just have to use your imagination.



Dear Henk
Yes , sometimes Pieris is used for bonsai or penjing.
Can show You the one i had some years ago , which now
moved to another owner.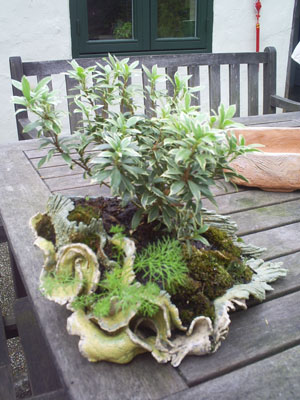 Dear Bruce
You have a lovely Pieris bonsai , flowering and all !!
I remember it very well from indeed the old IBC.
If You want , sent me the picture and i post it for Henk here ?
B-H&K&S

Morea
[img][/img]

Morea

Member





Bruce Winter wrote:Another failed attempt to upload images, you'll just have to use your imagination.
Don't feel like the Lone Ranger Bruce and it has nothing to do with your intelligence quotient....I don't think.

---
Permissions in this forum:
You
cannot
reply to topics in this forum