This is variegated cultivar of arboricola 'Hawaiian Elf.' Height is nine inches from the soil line....I have found that it responds well to defoliation which I do about twice a year.
Tom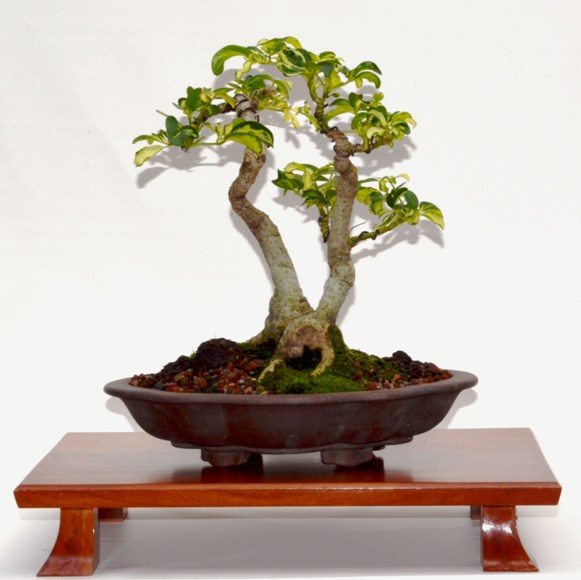 Tom Simonyi

Member





Tom,,missed this one i think..the tree looks very nice,twin trunk is good.. I like the pot you picked also.. was this plant a tall one you cut back??? good work take care john
Hi, John....thanks for the kind words...glad you like the composition...here is a picture of the original planting, soon after initial potting up...hope this helps.
Regards,
Tom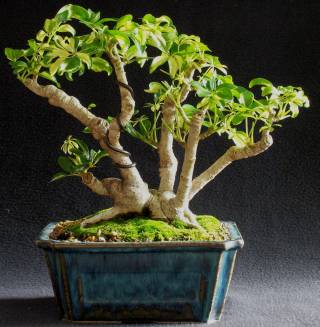 Tom Simonyi

Member





Hello,
Small question? Up what temperature the winter can live a Schefflera.
thank you

Good day, Pascal...

Where I live (northern West Virginia in USA) I grow schefflera (along with other tropicals) outdoors from about May 15 until the end of September (approximate). As soon as nighttime temperatures remain steady below 50 degrees for an extended period, I move them indoors under fluorescent lights....there the temperature averages around 65 degrees during the winter months. Hope this helps.

Regards,
Tom

Tom Simonyi

Member





Inspirative!!!!
Shalom Luciano.

luciano benyakob

Member





p@scal wrote:Down to what temperature in the winter can live a Schefflera?

thank you
According to the US Forest Service, Schefflera arboricola is hardy to USDA Zone 9b, 25 F, about -4 C. You can probably leave it out until the first frost warning.
Iris

bonsaisr

Member





Here in 8b on the north Gulf Coast, I don't worry about Ficus and Shefflera until I know we're going to get a serious frost/freeze. On warmish days they go back outside, even if it's the patio table in the sun. I don't have a greenhouse and this works fine with these two. Not all tropicals are created equal, can't do this with Malpighia and buttonwoods.

Russell Coker

Member





---
Permissions in this forum:
You
cannot
reply to topics in this forum