Yesterday I finally worked on one of my most beloved trees
- a Pinus sylvestris ´Globosa Viridis´. It´s a nursery material, bought in 1998 I think.
This cultivar has very long and contorted needles, when growing wildly and untouched.
But the trunk seemed powerful to me, so I had to have it.
I slowly learned how to work with it. In few years I found that it´s able to shorten the needles very much
and back bud incredibly, in parallel. Every year I had to cut many new branches and go deeper and deeper into the crown. I also repotted the tree.
In 2006 me and the tree were ready for the first styling.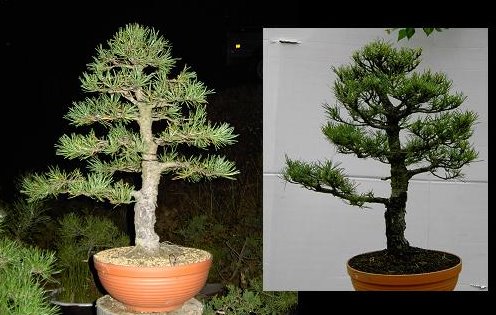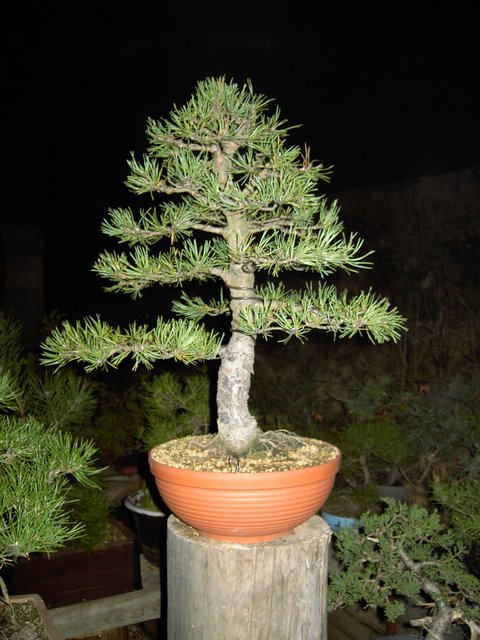 In following years I had no time to restyle it - finishing the house, moving there, father´s death...
I just repotted it in one of my first pots. So this is how it looked last autumn: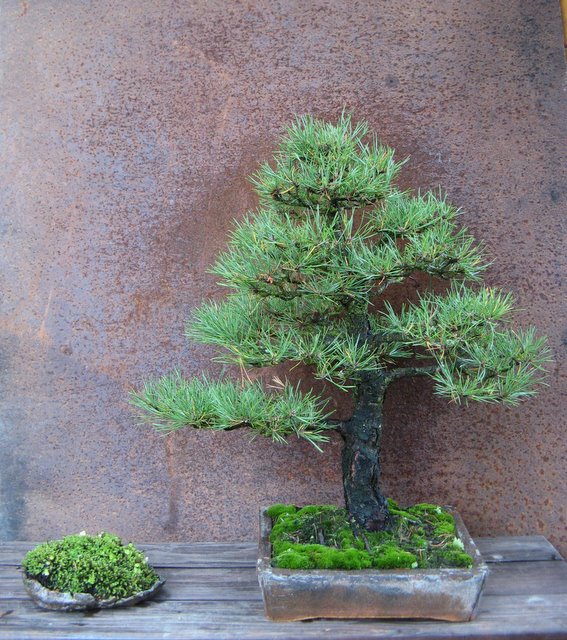 Yesterday I finally could work on it. Unfortunately I had insufficient copper wire in a proper thickness
to force the first two branches more to the front and to style the first section of almost every branch.
I don´t know how I couldn´t expect that...
But cutting some redundant branches in the verticils, more sun to the canopy
and preparing for the next season were needed.
I can be half satisfied. I can finish the "details" later or by the next restyling.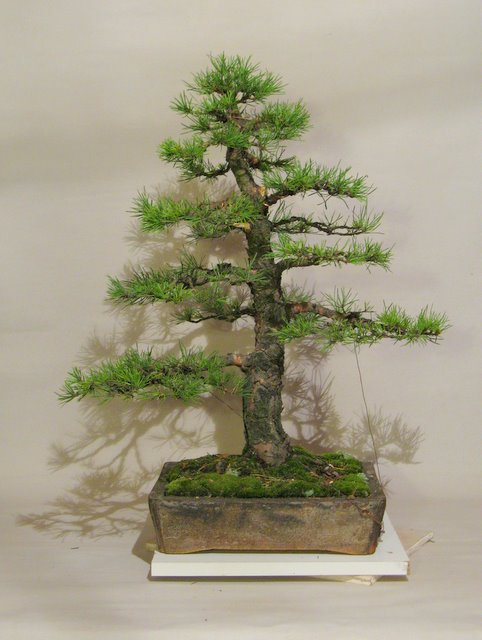 Several entire branches removed and many others too: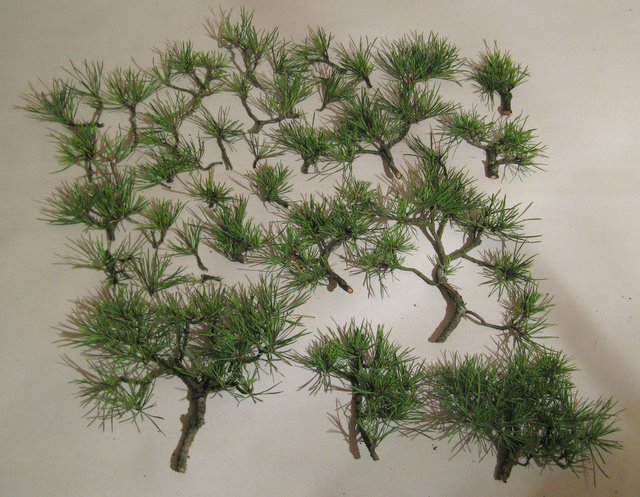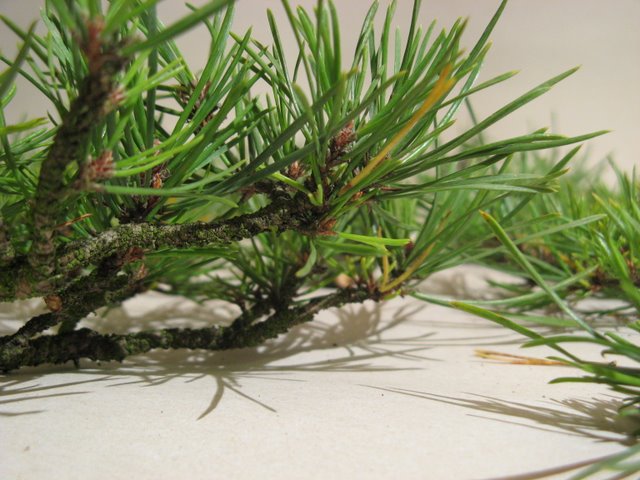 I felt uneasy by that removing, all the branches had superb fine growth with tons of buds.
This cultiver is really incredible. You can find up to 20 buds on the last 2 cm of a strong branch!
And many deep in the crown too.
I´m going to make a new classic pot for this tree, this winter. I´m looking forward to the next season!
Hi Tom
I'm amazed that out of 445 viewers no one seems to have any positive comments for you on this pine...

I realize you don't ask for any suggestions, so I won't bather you with any...but I think this tree deserves some credit...and of cause the progression so far, made by you. I like what you've achieved with a common nursery stock material. Another 10 years and the nebari will be significantly improved. I find this tree, yet another example of what most people can afford...and that not all good trees have to be natural born yamadoris to become appreciated.
regards to you
/Loke Emil

Loke Emil

Member





Nice job Tom. It's coming along well. Look forward to seeing what kind of pot you will make for it. A variant of the princess maybe?
PS When I saw the title of the thread, I somehow visualized someone needing the Heimlich maneuver.


Rob Kempinski

Member





Hmm, must have missed this the first time around. Tree has developed quite nicely! Looking forward to seeing the next styling.

Chris

coh

Member





Amazing work Tom....i Love it


LELE

Member





Hi,
Loke Emil, I wasn't asking for suggestions or kind words

But if I get them, I have no problem with them

In the winter I'll continue this thread with more photos - there is an alternative front, I think a very good one.
The material for this tree was for 20E. I'm satisfied with the tree itself, but not with my work.
Rob, I'm thinking about a very simple classic shaped rectangular pot - or, as a penalty for my indecisiveness, a round pot?! Before the tree becomes show ready, I can turn it between the two fronts and have time to decide.
As I wrote, I'll post the other front later. No, no round pots, I can decide before repotting and comments here on IBC can help me.
Coh and Lele, thank You.
Hi Tom
As I made clear, I realised that you didn't ask for any suggestions, nor kind words...However kind words are well spend, especially if a person is sincere about it, which I am.
Having said this, I also kind of highjacked your post to make a subtle statement about nursery stock material, i,e it doesn't take a yamadori mountain pine to make quality bonsai. Of cause your pine needs more work...and that's the beauty of working with bonsai, right! still, you have managed to transform a common nursery material into a very promising bonsai, which deserves the credit (in public this will perhabs become more of an encouragement for others to give quality nursery stock a try...It does that to me, for one).
I love quality yamadori, let there be no doubt about that....and I might be the only one, who feels that common nursery stock material often is neglected for that same reason. I tend to campaign against this kind of precedens...no pun intended, though

I'm a (crazy) Dane, brought up on democratic learning...maybe that will excuse me for thinking out loud like this.
regards to you
/Loke Emil

Loke Emil

Member





As Loke Emil says, it is good to see bonsai developed from nursery material. You have done a patient and very fine job. The matureness of the tree is beginning to show too. More of this using nursery material is welcome in a time were Yamadori seems to be the trend. I think a rectangular pot will be good, and look forward to see your choice of front.
Best regards
Morten Albek
Great Thread Tom,

I am always amazed at how much growth we remove on our trees sometimes. This is a great example ! A few years ago I took photo of Ben Oki helping me prune one of my pines out back on the patio. He was literally up to his ankles in Black Pine ! And the tree looked much better...still does !!

Ed

---
Permissions in this forum:
You
cannot
reply to topics in this forum