I already killed a couple of these, but last year one of our members brought one to a meeting. It was one that I had put on the raffle table. I got so hysterical that he gave it to me.
'Chickasaw' is not plain Lagerstroemia indica. It is a complex cross from the US Arboretum between L. indica and L. fauriei. I didn't put a size indicator in the picture, but it is 7 inches tall. It has been in bloom for a month. I think next year I will thin the buds, as they didn't open well. We have had too much rain. The flowers of crape myrtle are made of crepe paper, & they melt in all the rain.
Note to Alexandra: In the hottest weather, the flowers were very pale pink. Now they are the normal mauve color.
I left the wire on for the photo op because I was afraid of goofing it up. Same for the wound sealer. I will take it off just before our show.
Iris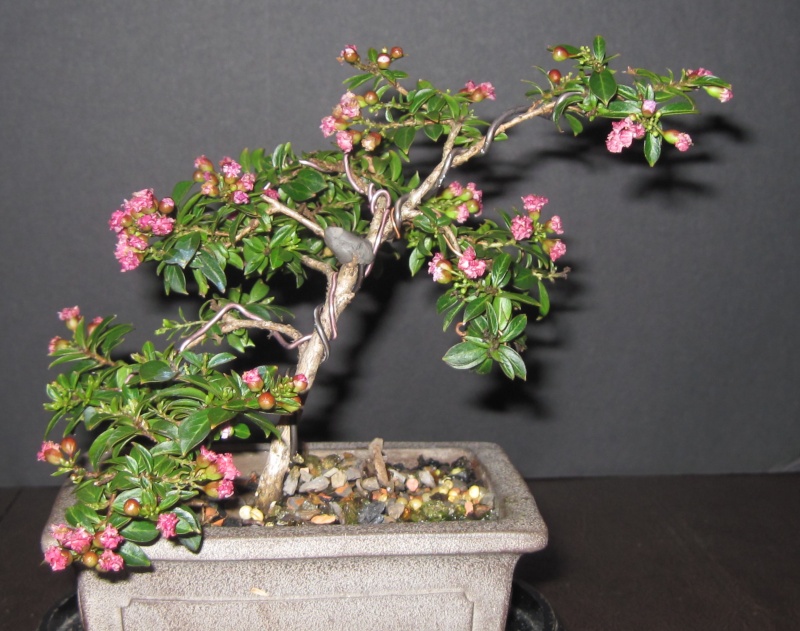 bonsaisr

Member





Mrs Iris ,, I think you have a good tree going..i can,t keep one alive long enough to have it flower like yours !! looks good take care john
I have several of them. they DO NOT like soiless mixes. they do great in semi-shade and I fertilize with miracle grow three month fertilizer. I did not know about the flowers melting away like that. thanks that is cool information. down they great for Mame and Shohins. Very expensive little suckers.


hiram

Member





Moyogijohn & Hiram, I learned a few things from my mistakes.
Keep it in almost full sun (not in Florida).
Don't mess with the roots. When you repot, just shake the excess dirt off.
In my climate, it does fine with a soilless mix.
Perfect drainage is necessary. I think they are susceptible to root rot, especially in cool weather.
The miniatures are expensive because they are very slow growing.
Iris

bonsaisr

Member





A little Chickasaw was my first real bonsai. Loved that little sucker. I think of that tiny tree every time I see a chickasaw now.

Funny how finicky they are for you up north. Down here in Arkansas they are bullet proof! throw them out in the sun, neglect them, and they grow like weeds, and have tons of blooms....and they will grow in ANY kind of soil you put them in. Im ready for the fall foliage. They do not get the respect they should in that department.

I have a weeping crape that is STILL throwing off inches of growth a day...I finally gave up keeping it trimmed back an am now enjoying the white blooms.


nicklangevin wrote:A little Chickasaw was my first real bonsai.
What happened to it?
nicklangevin wrote:
Funny how finicky they are for you up north.

That is true of a lot of tropicals & subtropicals. It takes years to find which ones grow under our conditions. On the other hand, we had a big discussion because this member in Fresno wants to grow a larch. Turns out the golden larch, Pseudolarix amabilis, will grow in Zone 9.
Iris

bonsaisr

Member





bonsaisr wrote:
What happened to it?


It had a wiring
mishap
that it did not recover from...twas just a teeny guy and it never had a chance with what little knowledge I had at the time. We have some 3 gal at the nursery that I have been eyeing just for nostalgia's sake.
I love living in zone 7 just for the fact of how much we can grow here. not much is off limits.
moyogijohn wrote:i can't keep one alive long enough to have it flower like yours !! john
You need to figure out why. Did it get enough sun? Was the soil really well drained? Did you keep it dormant during the winter but not too cold?
Iris

bonsaisr

Member





Unfortunately, my little Chickasaw froze last winter when we forgot to turn the heater on or close a window. Put it down to side-effects of surgery. Now I have a Razzle Dazzle, which should be sturdier.
Iris

bonsaisr

Member






---
Permissions in this forum:
You
cannot
reply to topics in this forum