Hello everybody:
I would like to show all of you one of my Ñirres (Nothofagus antarctica) in training for 4 years. Ñirres are very good material but it is very dificult to found a good speciment.
It is 12 cms hight from de rim of the pot and 19 cm long
Your comments are welcome.
Regards
Gabriel
Patagonia / Chile
[img]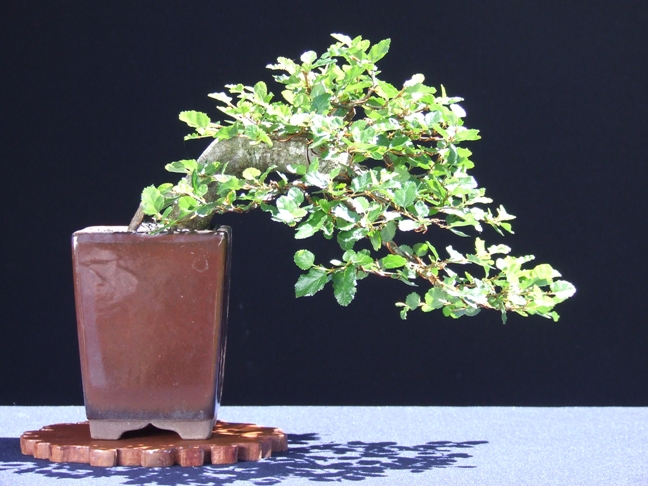 [/img]

Gabriel

Member





Gabriel.... that's a fantastic small tree in only 4 years well done...

Tony

Tony

Member





Gabriel:
Interesting tree you´ve got there. Thanks for posting.
Saludos desde El Salvador.

Alfredo Espino
I love Nothofagus antactica. Its bark is especially attractive. Nice little tree.

Kev Bailey

Admin






Gabriel

Member





Lovely, but I'd get the moss off the trunk, unless you are leaving it on to age the bark?

Kev Bailey

Admin





Kev.
Your are right. The moss on the trunk is for trying to give more age on the bark. Here, in southern Chile, winters and rains are very long (8 months aprox.) and that makes that moss grows all around the tree and on its bark to. That´s a graet idea to give some "patagonian-naturalitic" look to my little Notho...

Next repoting I will clean de bark.
Thanks for your comment.
Gabriel

Gabriel

Member





I am quickly becoming a fan of southern species.


Reiner Goebel

Member





On a recent trip to Chile I was very impressed with the Nothofagus. It has great bark, small leaves and branches that have natural movement. In many ways it reminds me of the Korean Hornbeam.
Nicely done.
Jerry
www.bonsaihunk.us

Jerry Meislik

Member





Hola Compañero
Felicitaciones se ven muy buenos....
Saludos
Shito

shito

Member






---
Permissions in this forum:
You
cannot
reply to topics in this forum