Hey all,
I was at our club auction and got a couple new trees. Just looking for input on where to go. The first tree is a 27 inch tall Shimpaku with a split trunk. I got it for 35 dollars and was pretty happy to get this size of a shimpaku for that price. It was in a broken pot so I slip-potted it into a pot of the same size for the time being. In my opinion (as a novice), the two trunks should not be the same height and it should be rotated in a new pot so that the trunks are not parallel when viewed from the front. I also think an oval pot would look better. Anyway, have at it and let me know your thoughts.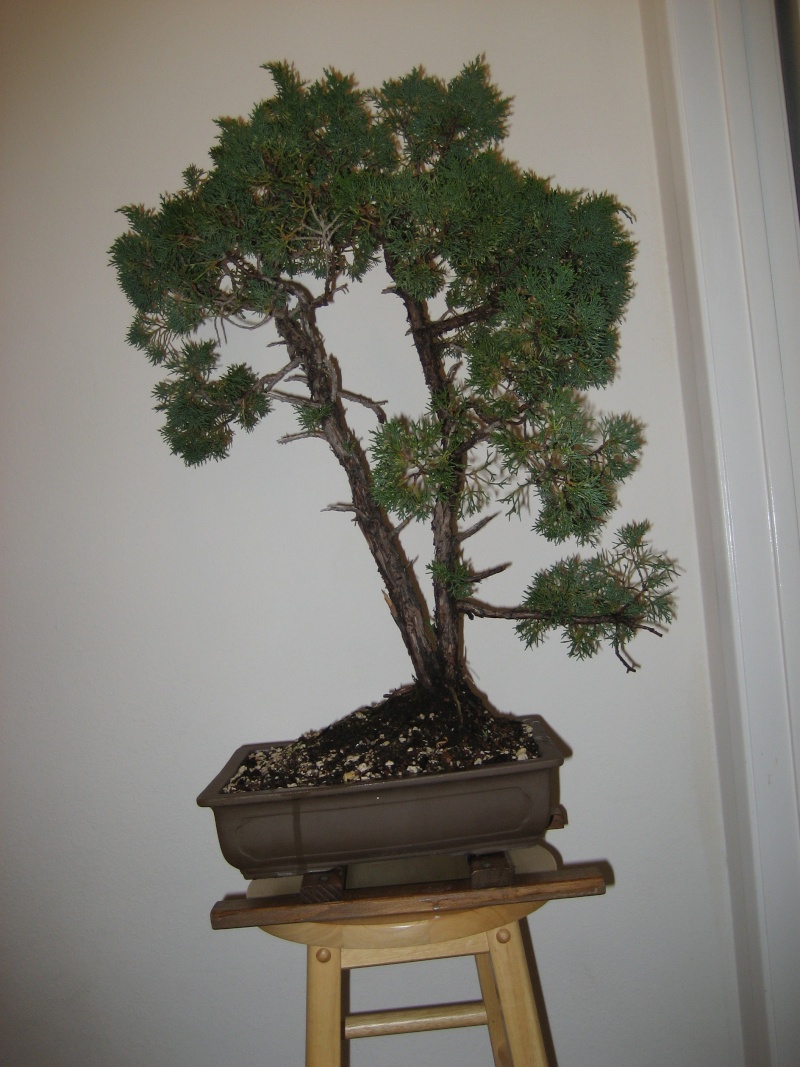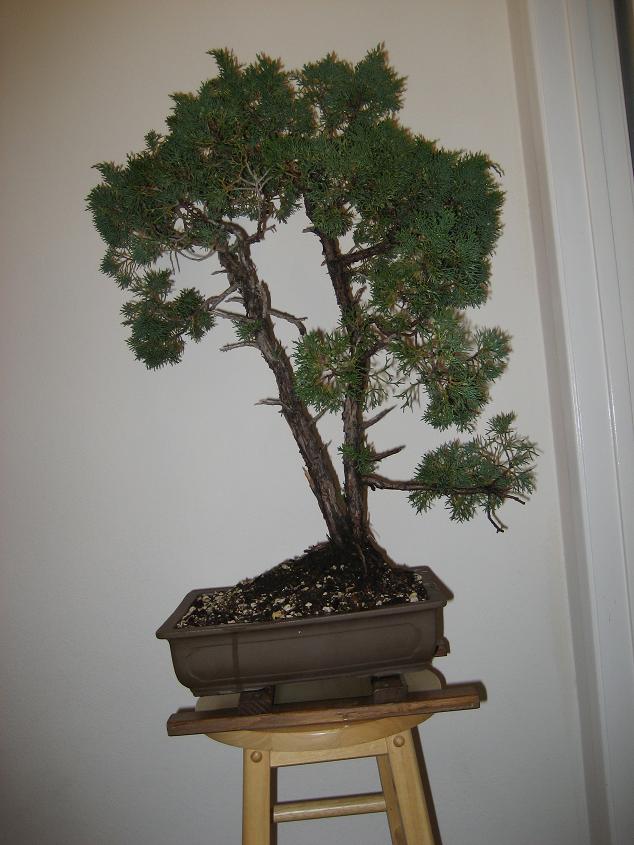 The next is a little procumbens nana (as if I don't have enough of them). It stands 12 inches tall currently. It was 9 bucks. I slip-pottted it also and stood it up because it was laying over to one side. It has mature foliage and may make a nice small tree with a little work. Any thoughts on this little guy would be appreciated also.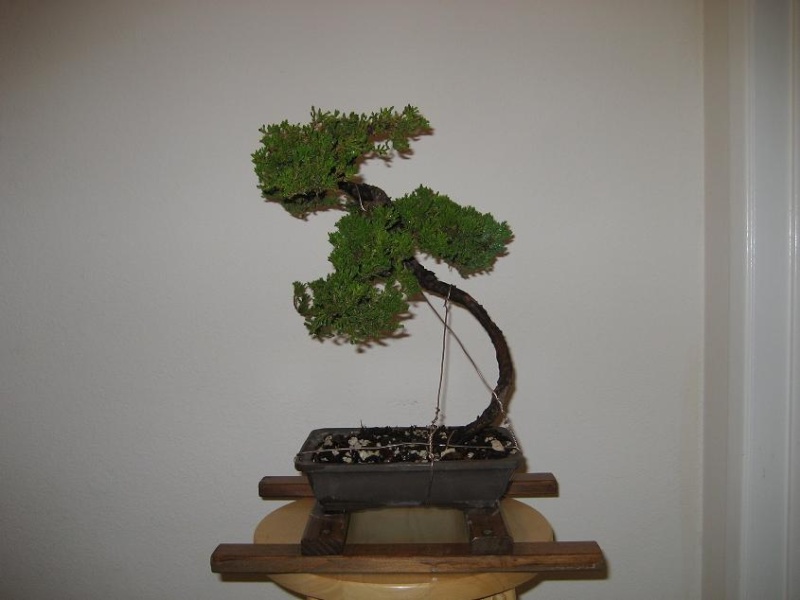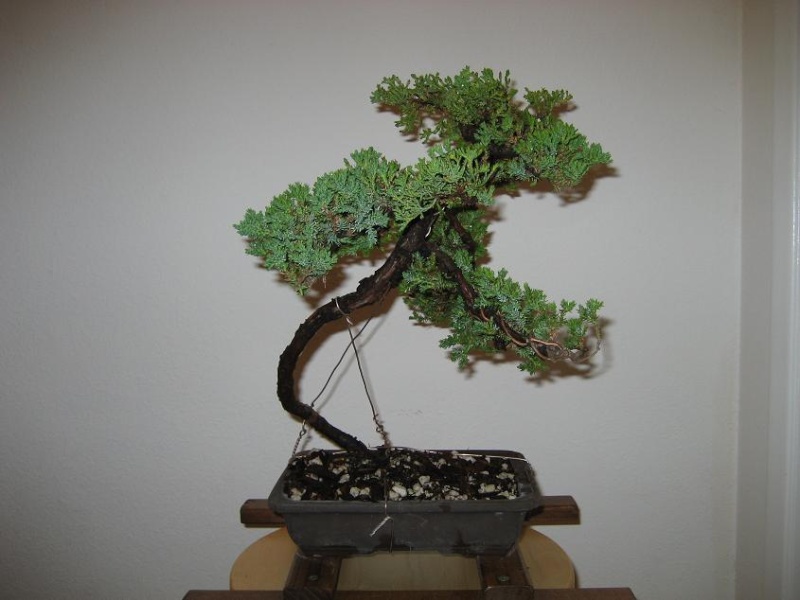 Tona

Member





Those are a couple of nice trees. On the first -- which I like best, the height similarities don't bother me as much as the very straight trunk on the left. Those trunks look slender enough that I think you could wire some movement into it fairly easily. A little more movement in the other trunk might not hurt, either, but . . .

Have fun with them.
_________________
Jim Lewis - lewisjk@windstream.net - Western NC - People, when Columbus discovered this country, it was plumb full of nuts and berries. And I'm right here to tell you the berries are just about all gone. Uncle Dave Macon, old-time country musician

JimLewis

Member





hi, great bargains - well done !

first tree the equal heights dont matter too much - if the trunk contours match each other they will look ok, i'd be looking to loose some lower branches on the right hand trunk, thin the tops of both and build a single tree image from the branches attached to both trunks, then you will have the balanced tree image with the added interest of 2 trunks.

juniper 2 for me should have only lowest branch and delicate jin for the rest, thin the single branch, wire every last bit and create several layers of foliage so you have a graceful literati image - ome of the hardest to do properly but one of the most pleasing images to look at.

cheers Marus

marcus watts

Member





Thanks Jim and Marcus,
I did some cleaning and a bit of wiring on the twin trunk today. The foliage was pretty dirty and clogged with dead needles etc. I arranged and lowered some of the branches and it looks a lot more balanced. I haven't removed the lower branch yet Marcus but it is likely going eventually. I think that I will rotate the tree when I re-pot it and move it closer to the center in a wider oval pot. By rotating a bit I will lose the slingshot effect as a poster on another site called it. There is some nice shari above the roots (bad photos don't show it) that I think will determine the dominant or front trunk. I think I have decided on a front based on showing the shari. I will try and take some better pics with a better background and lighting tomorrow and post them.

The second tree also needs to be viewed from a different angle, I will rotate the pot and post that picture also.
Thanks for both of your inputs.

Tona

Member






Tona

Member





_________________
Jim Lewis - lewisjk@windstream.net - Western NC - People, when Columbus discovered this country, it was plumb full of nuts and berries. And I'm right here to tell you the berries are just about all gone. Uncle Dave Macon, old-time country musician

JimLewis

Member






---
Permissions in this forum:
You
cannot
reply to topics in this forum