A couple of weeks ago some of my friends came over and helped me (well, I really helped them) replace the table tops in the main display area. The original table tops were made of pressure treated lumber 24 years ago. They have a guarantee of about 20 to 30 years, so I guess I got good value. They were stained about every five years or so with a semi-transparent deck stain.
The supports are cement blocks which have Boston ivy climbing all over them, often on to the tables too. But they are easy to trim. The green foliage of the Boston ivy is better to look at than the grey cement blocks and is attractive both in summer and autumn when the foliage turns red.
The new garden table tops are identical to the old ones which are comprised of two pieces of 2" x 10" lumber 12 feet long with a single pice of 2" x 12" board between them with spacers to make a top about 34 inches wide. When completed a 1" x 4" board was used as a skirting to "finish" the table top and to give it a more massive and also support. Non rust deck screws were used to attach the top three boards to the 2" x 6" boards holding them together, two were used for every table top and were positioned on top of the cement blocks, and are not visible. All the screws were attached from the bottom so there are no heads showing. No, the skirting was not mitered for these table tops, but my friend did miter the two tables we use for watering after transplanting. A semi-transparent deck stain was finally used, two coats. In the photos the tables seem quite "bright", but I know from experience they will not look like that by springtime.
A special table was designed and constructed to hold my shohin and smaller size bonsai which have 6" x 6" upright posts attached to the table top. Kind of interesting and effective in my display garden.
I put a lot of work and funds into these tables and because of my age, they will not need to be replaced by me again.
Bill
Please note that the actual table top color is NOT accurate in the photos, they do not "glow"....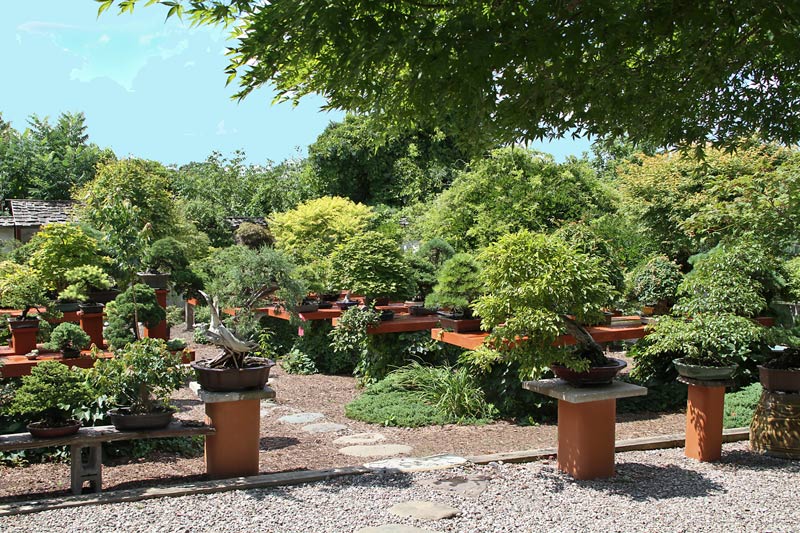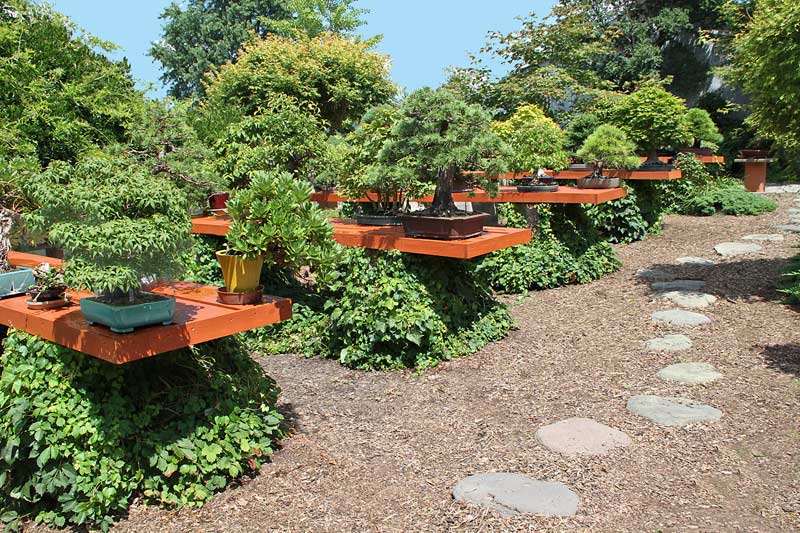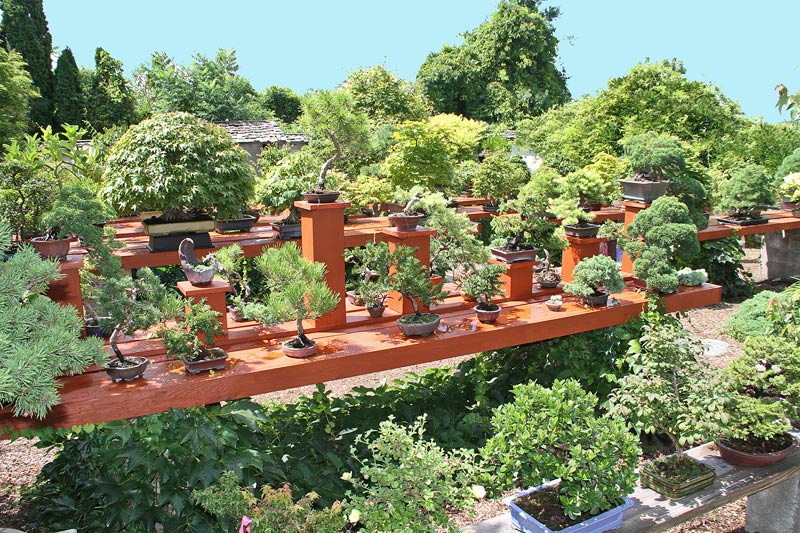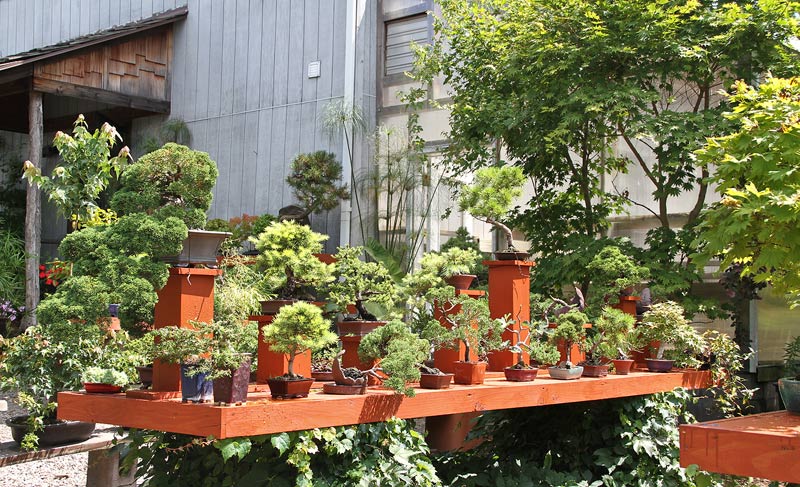 William N. Valavanis

Member





Very good Bill, I love your work.
The benches will look quite special when the color tones down a bit I think.
I like the ivy.

Mick

Looks very nice Bill. I am now undertaking the task of rebuilding my benches, and thankfully do not have as many as you. That was a big job! Does the ivy grow naturally there, or did you plant it ? I have many types of ferns that grow naturally on my benches here in Florida, and must constantly be cut back, or they take over. Can't wait to see your garden in person.

Ed
Ed,
I just planted young plants at the base of the cement blocks they knew what to do. No need to train them. There are a few more tables which need additional Boston ivy and I'll split some off and plant them in spring.

It will be good to welcome you to our garden in June for the 3rd US National Bonsai Exhibition.

Bill

William N. Valavanis

Member





my opinion ............old wood and cement blocs look a little bit better but ...this color underlines fact that you want something display

good work

martin kolacia

Member





Looks great Bill. Cant wait to see them during the open house Sept. 3rd and the 4th.

Neil

Neil Jaeger

Member





I like your garden and the benches look nice. I am color blind so I'm not disturbed by the brightness. I like the way the ivy looks. If I plant some I hope some of the mealy bugs will go after the ivy; versus my trees.

The Chimney liners make nice tree stands as well; strong, attractive, durable, heavy, and minimal investment for something which will last a lifetime.
Best,
Todd

Todd Ellis

Member





Wow, that must have been a gigantic effort. Looking at the result, I am sure it was worth it. I am looking forward to seeing it next June.

Reiner Goebel

Member





Todd,

Chimney flu liners are excellent in holding the table tops, plus they look good, I love the color. However, when placed directly on the ground they tend to absorb ground water then split when the water freezes and expands in winter. One way to prevent that is to not place them directly on the ground, but rather on gravel or even better is put them on top of short cement patio blocks.

WHEN they do flake off, simply turn them over and start the process over again. A single bonsai looks great on top of a large cement patio block, as shown in my first photo. The chimney flu liners come in many sizes and a diamond tip saw easily can be used to shorten them so different height can be incorporated into your garden or indoor display. I've even taken constructive adhesive to glue one on top of another to increase their heights.

Bill

William N. Valavanis

Member






---
Permissions in this forum:
You
cannot
reply to topics in this forum