For the past three years The Bonsai Society of Upstate New York has organized summer bus trips in the area to see bonsai gardens, collections and nurseries. Marc Arpag has done a splendid job organizing the events.
In 2009 we visited the Montreal Botanic Gardens and the garden of David Easterbrook.
In 2010 we visited The Kennett Collection, US National Bonsai & Penjing Museum and the garden of Sean Smith
This year, 2011 we visited Bonsai West, the garden of Suthin Sukolosovisit, New England Bonsai Gardens and the Larz Anderson Bonsai Collection at the Arnold Arboretum.
We left at 6 am on Saturday and returned home at 10 pm on Sunday evening.
We were warmly welcomed at each stop and our 25 members enjoyed, learned and bought lots of new items to add to their bonsai collections.
I hope you enjoy our photos as much as we enjoyed the visit.
Bill
PS: Everyone is welcome to attend The Suiseki Bonsai Study Group of Upstate New York first Suiseki Exhibit on September 3-4, 2011 at the International Bonsai Arboretum's Annual Open House & Sale. This year, to celebrate my 60th birthday, award winning bonsai artist Harvey Carapella and I will each be presenting two demonstrations on advanced bonsai techniques. All events free, contact me for additional information and I hope to welcome you to Rochester soon.
BONSAI WEST
Michael Levin toured us through his park like garden setting explaining his history and the interesting background of some of his masterpiece specimens. His wife arranged for a delicious lunch after a 7 hour bus trip and we enjoyed eating under his shade house.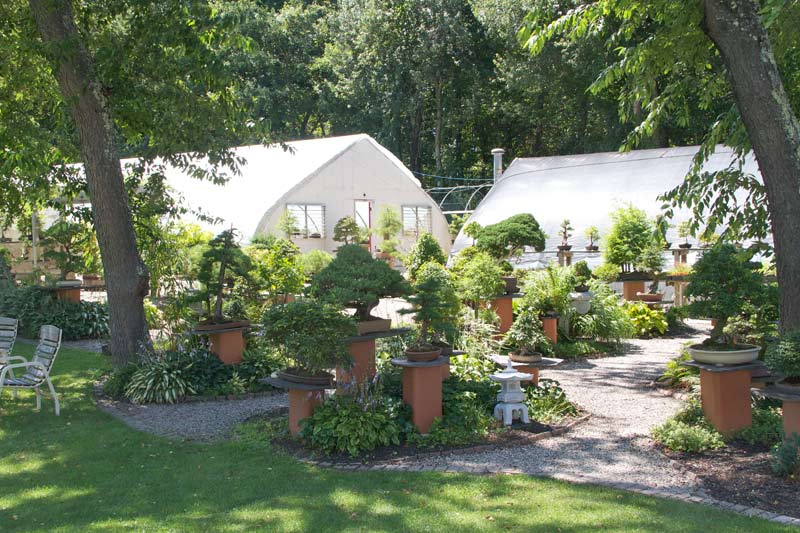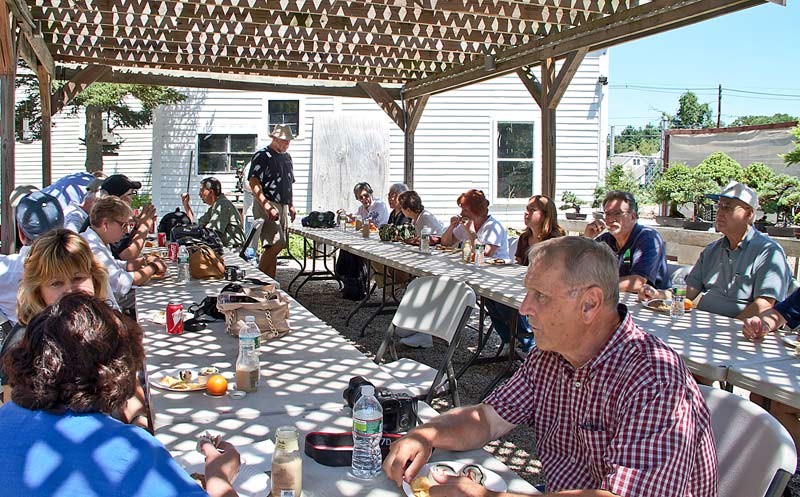 SUTHIN SUKOLOSOVISIT
Suthin and his lovely wife made us feel welcome to his bonsai nursery and private bonsai collection featuring hundreds, perhaps thousands of bonsai, mostly shohin size. He had loads of beautiful large trident maples as well as shohin size trident maples. His evergreen shohin bonsai were in one area while the deciduous species were kept on different tables.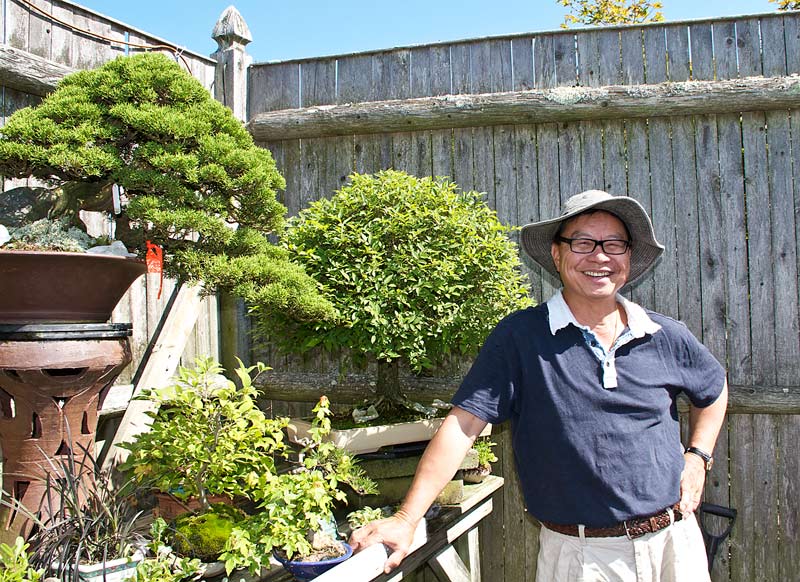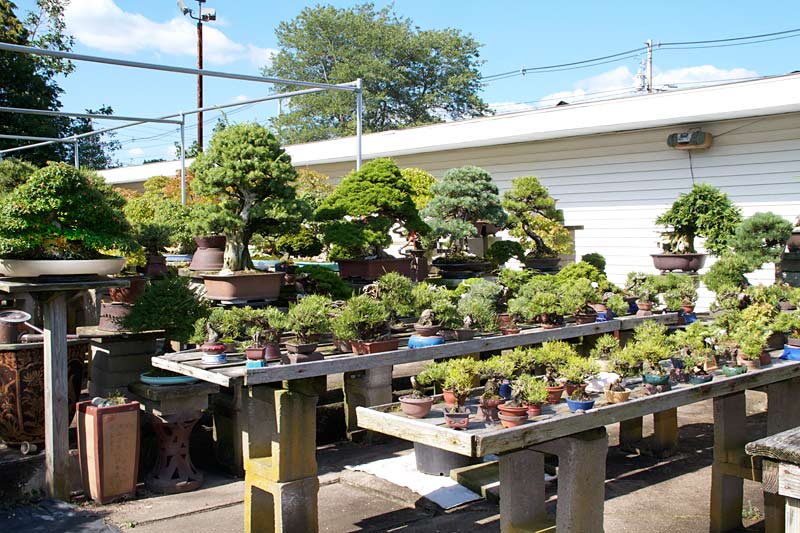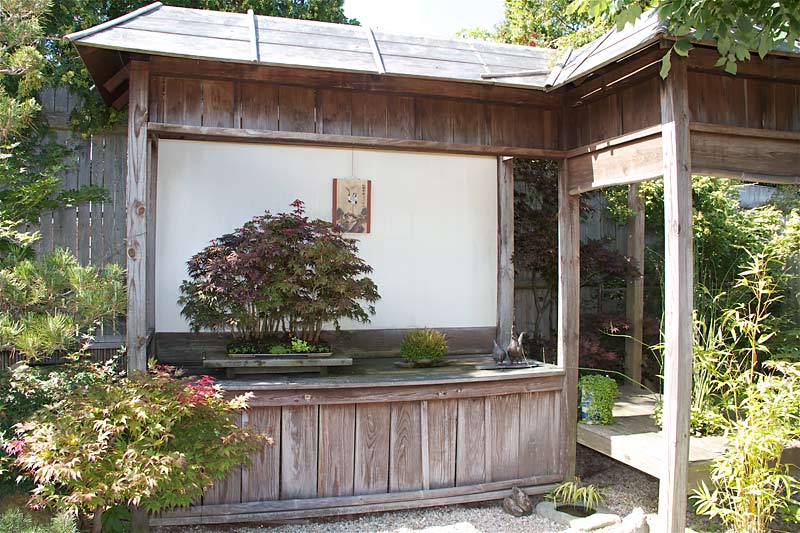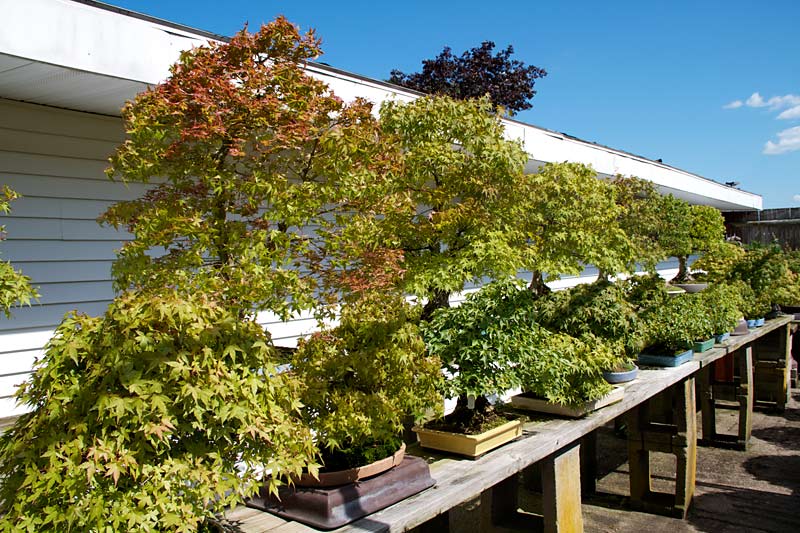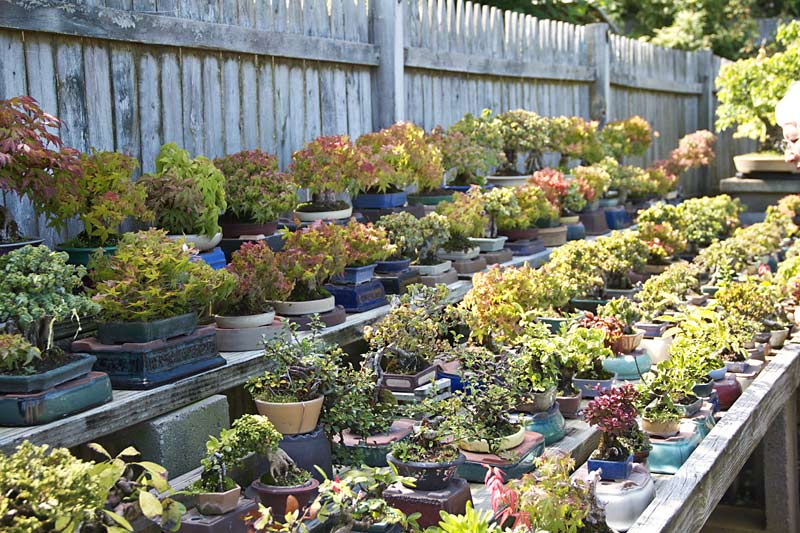 NEW ENGLAND BONSAI GARDENS
Hitoshi Kaneage and Teddi Scobi have done an excellent job in organizing a beautiful bonsai nursery where people can purchase bonsai, pre-bonsai, tools, a large assortment of containers, supplies, books, magazines (guess which one), tools as well as offering classes to the public as well as bonsai hobbyists. There are many greenhouses filled with unusual items and have a beautiful area, under shade where we had lunch. Hitoshi showed some of us his three car garage area filled with old Japanese Tokoname-ware containers.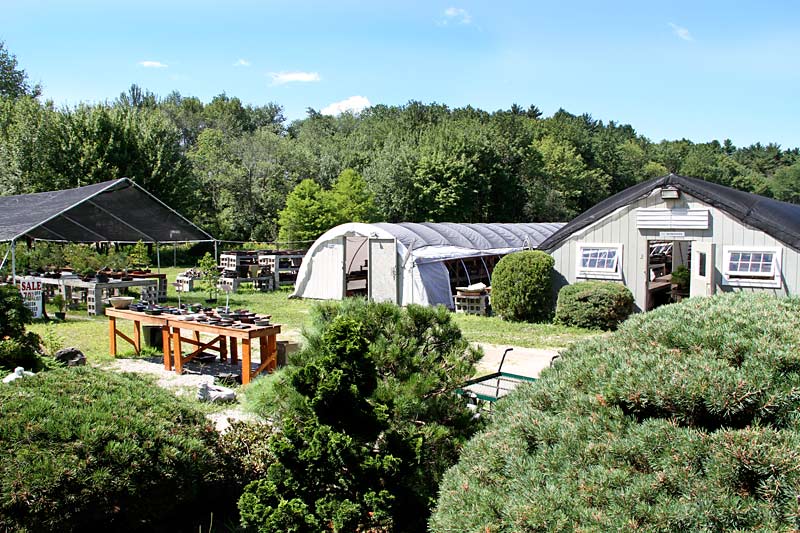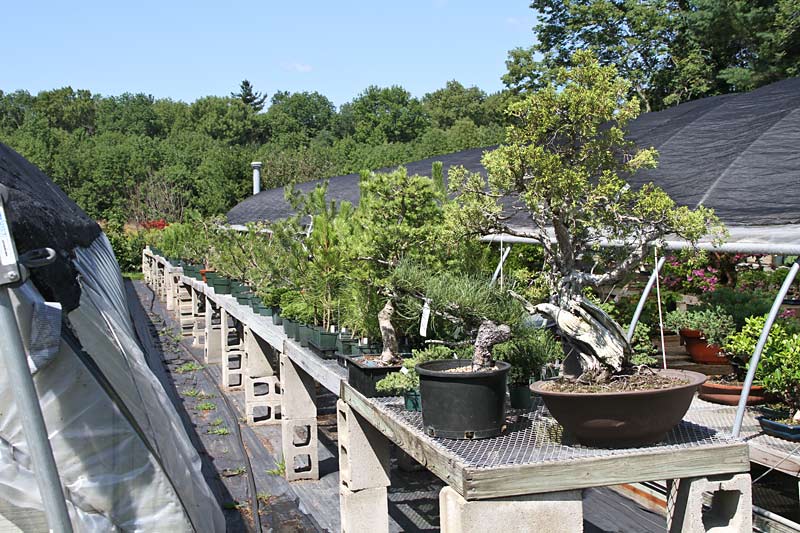 LARZ ANDERSON COLLECTION OF BONSAI AT THE ARNOLD ARBORETUM
This is the oldest collection of bonsai in North America. The curator, Colin Lewis, drove from his home in Maine to Boston to show us around this interesting collection. Colin explained the history of the collection which is kept in a locked lath house for security. Mosty dwarf hinoki cypress, the collection also has a few other species. Connie Derderian, a past curator, removed the lower branch from one of the old dwarf hinoki cypress bonsai in 1969. I remember seeing it at that time in a nursery pot and now Colin has developed it into a beautiful bonsai.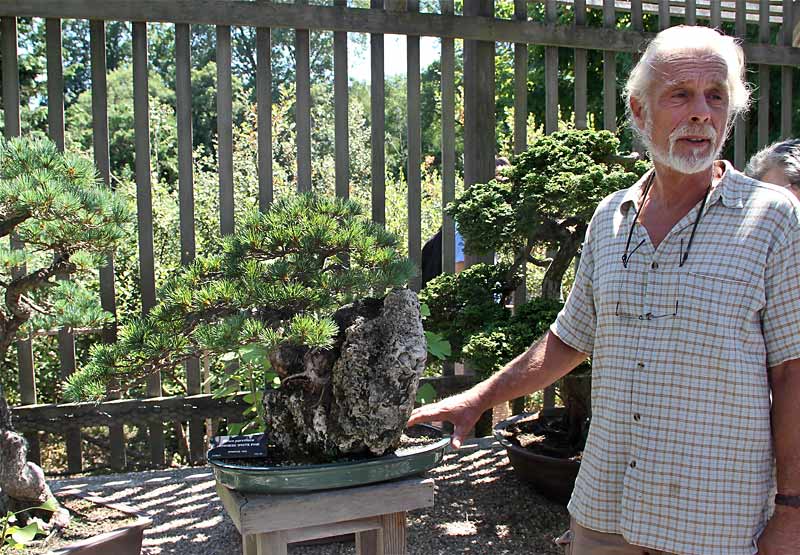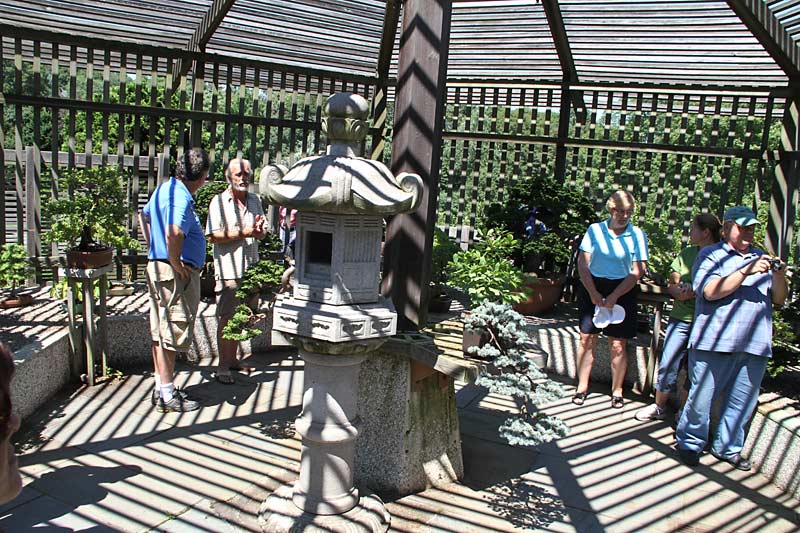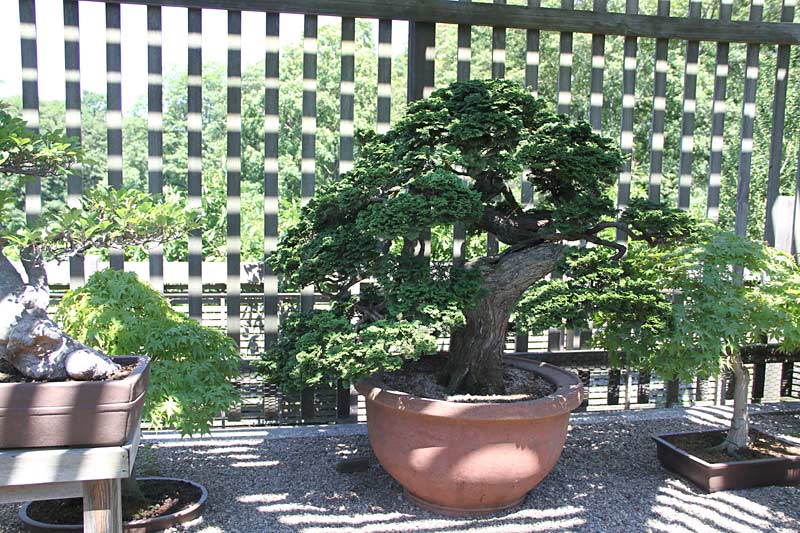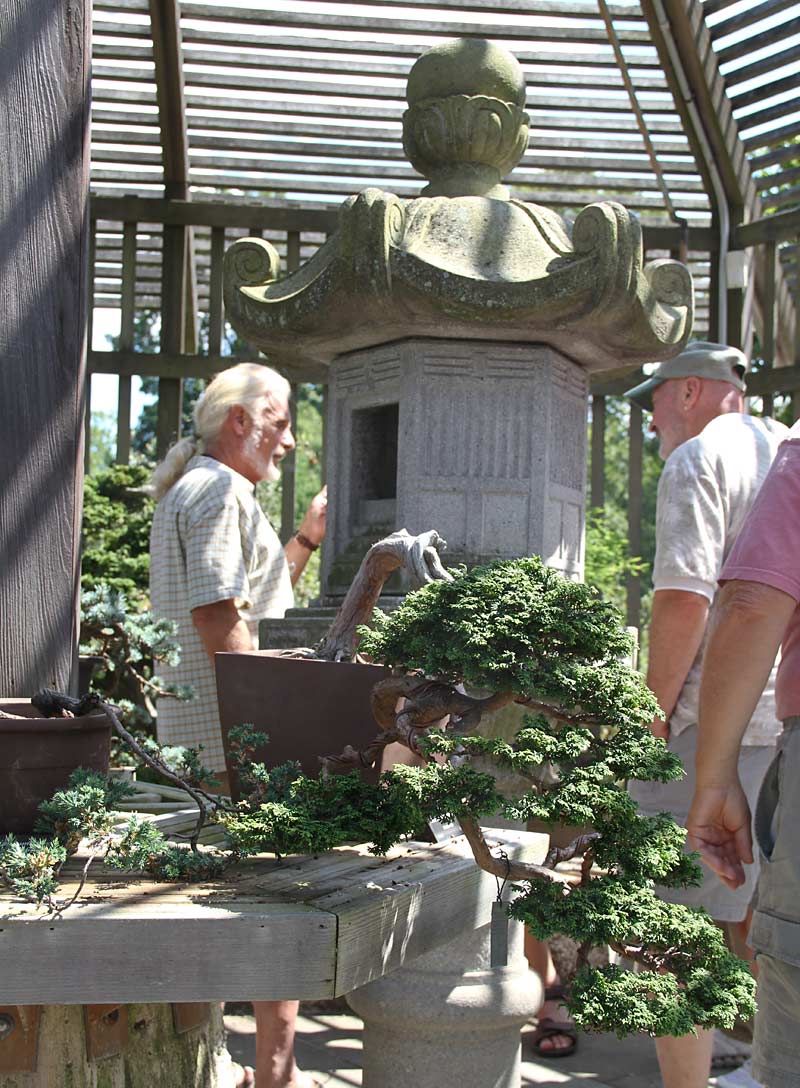 William N. Valavanis

Member





Looks like a great trip. Thanks for sharing photos of some really nice collections and nurseries.

Suthin's assortment is amazing. I like his outdoor tokonoma too.

There are lots of nice bonsai in the US that don't get any internet visibility.



Rob Kempinski

Member





Nice photos. I guess I never really thought of it before but I guess I am very fortunate to live within 1 hour of all these beautiful places!


---
Permissions in this forum:
You
cannot
reply to topics in this forum