I am new to the forum and have a juniper that has deadwood (shari) along the front down to the soil. There is green algae/mold just above the soil level. What is the best way to treat this. I think it is compromising the deadwood. You can see the dark area at the bottom of the deadwood. The soil mix is 30% pumice, 30% turface, 15% pine bark and 15% cactus mix. I live in a hot area where summer temps. are 100 degrees most days. That is why I do add some organic to the mix.
Tona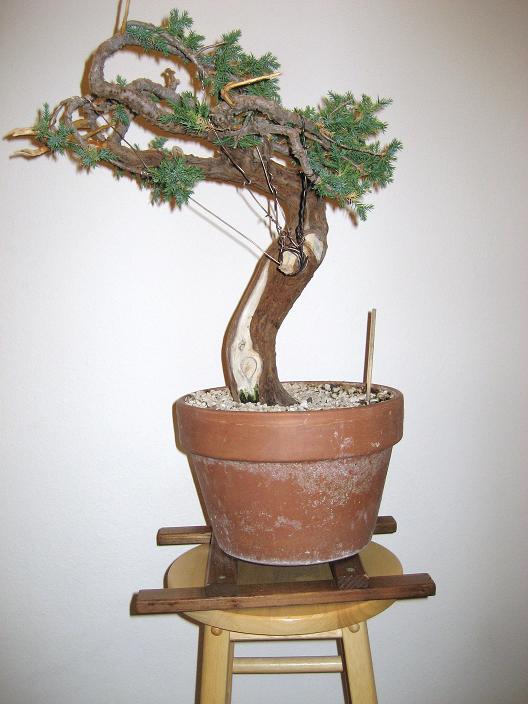 Last edited by Tona on Thu Jul 28, 2011 1:19 am; edited 2 times in total (Reason for editing : Soil type)

Tona

Member





Hard to escape that in areas where deadwood meets the soil.

You might try . . .

When you next repot, clean off the area, then use lime sulfur, followed when that has dried with Minwax Wood Hardener liberally at and below the soil level. This may require that you lift off an inch of soil a day or two before you repot to let the lower area of deadwood dry out so you can apply the lime sulfur and then wood hardener. It also will require to to heel the plant into some moist soil for an hour or two after you apply the wood hardener to let it dry before finishing the repotting.
_________________
Jim Lewis - lewisjk@windstream.net - Western NC - People, when Columbus discovered this country, it was plumb full of nuts and berries. And I'm right here to tell you the berries are just about all gone. Uncle Dave Macon, old-time country musician

JimLewis

Member





Thanks Jim,
I will give the min-wax a try. I may be re-potting in late summer/early fall.
Tona

Tona

Member





Wet dry cycles really accelerate wood rot - the fungus that makes the wood spalted loves it. At the soil level the tree stays mostly wet but then dries, then quickly wet which will ruin juniper deadwood. The best thing is to remove the wet wood with carving tools (think like a dentist), dry it with a hair dryer and let it sit a day or two to fully dry and then put some sort of preservative on it. Personally I haven't had much success with MinWax wood hardener. I have recently switched to Rot Doctor - a very strong but effective wood preservative. If you have to, you can build up the dead section with some sort of epoxy, things like Bondo, material used to fix car dents, plumber's epoxy, I've even seen cement used (see photo below) or what ever you can find. It takes some work to make it look natural (and it may never look totally natural - kind a of like a tooth filling) and it will not be totally permanent but it will keep the water off the dry wood underneath and make the good wood last longer. The key is to get the wood as dry as possible prior to working on it with the chemicals. If that doesn't work then do what software developers do and make a bug a feature in the design.

Sorry for the lousy photo but the rotted bottom section of this tree belonging to a friend of mine was built up with cement. There is a much better shot of it in the First US National Exhibition Photo Album.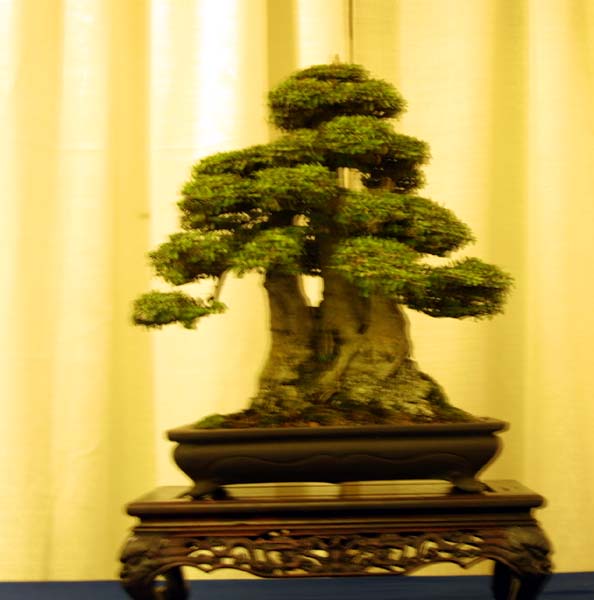 Rob Kempinski

Member





Thanks Rob,
This area of the trunk is a bit deeper than the deadwood area above it due to bad wood being removed. The possibility of using a "filler" is a good idea. I have a meeting with my Bonsai club next week. There are a few seasoned Bonsai enthusiasts that I am going to ask about this also.
Tona

Tona

Member






---
Permissions in this forum:
You
cannot
reply to topics in this forum