I rescued this juniper from a backyard. It was very bushy and growing one way (as you can see). I have done some work on the trunk and cut it back pretty hard. It is back-budding nicely but I still have the problem of the main branch growth going one way. I think I am just going to go with that and let the foliage fill in. I'm fairly new to Bonsai so any suggestions are welcome.
Tona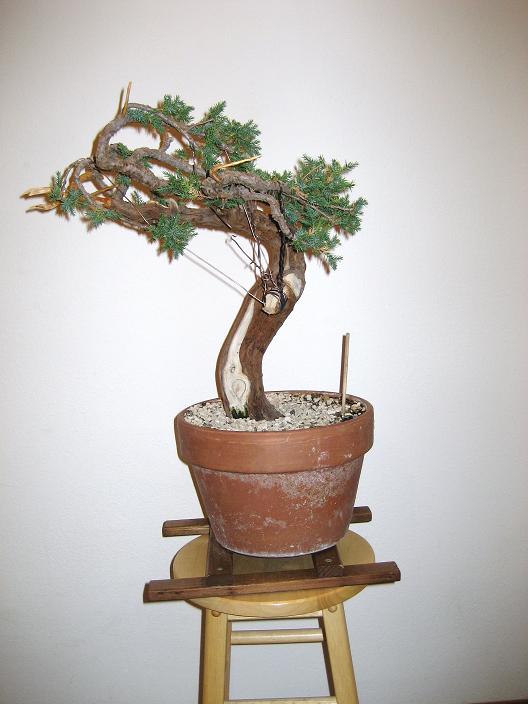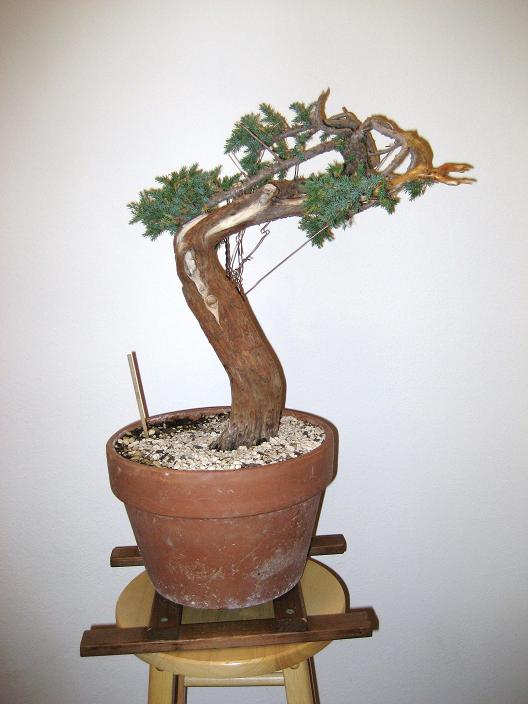 Tona

Member





WOW!
Nice find! I hope it all goes well for you and it!

John Buttino

Member





Actually, I like this tree very much. I think a different planting angle on the next repot will solve any issues you have with the tree. I hope you don't mind, but I created a virt to show you what I am talking about. I noticed that by tilting the tree, the main branches cascade down the trunk. At this point, all you would really have to do is let the tree grow, develop pads and do some fine wiring. I hope this is helpful.
Rob
No Rob I don't mind at all. I need all the advice I can get. I will likely re-pot after the summer heat is over in a rectangular bonsai pot.
Thanks,
Tona

Tona

Member





Just a couple of words of caution.. Only if this tree has been in this pot for more than 2 years or in health problem situations should this tree be repotted. Judging by the trees look, it does have some age. Generally, the older trees do not like to be disturbed that much. In this case, from the time of the last repotting, I would wait a minumum of 2 years. Also, if this tree was collected and put in this pot within the last year, 3 years might be good.

_________________
"Eschew obfuscation"

John Quinn

Member





Nice tree!

Sadly, we can´t work Junipers much in Central America. It is really upsetting to see all the videos on youtube about how you guys can bend, twist, prune foliage and roots, jin, shari, burn, bare root, etc... in a single go and the tree is healthy afterwards.

In our case, we can´t repot and prune at the same time else the darned thing dies.

AK_Panama

Member






Those "tremendously worked trees you see do get a significant rest before any more work is done on them. Also, in Virnigia, I can repot OR prune and wire; not both. I have learned the hard way. Now that I only do one or the other in a season my trees are living. Todd

Todd Ellis

Member






---
Permissions in this forum:
You
cannot
reply to topics in this forum