Hi again group
I posted pics of this olive a couple of days ago. I've since bare-rooted the tree for a few reasons. One, there was a thriving ant nest in it that was unwelcome. Two, It was in a tiny bad with about a tablespoon's worth of soil.
Anyway, I sawed off the base of the stump as there was no root activity down there and mostly dead wood. I followed the rough line of fibrous roots that will actually form a decent nebari if I love and hug it. The pot it's in is too small by far and I'll pop it into something decent once I get new soil.
Anyway, it looks a bot like a giant potato that's started sprouting. Any suggestions on where to go from here will be warmly recieved. This tree's just not talking to me right now, but I'm either seeing a twin-trunk type of thing, or chopping back the smaller section of the trunk and creating some deadwood action in the distant future. There is a bit of deadwood in the trunk and original sawed off branches, but most of the bulk is quite alive.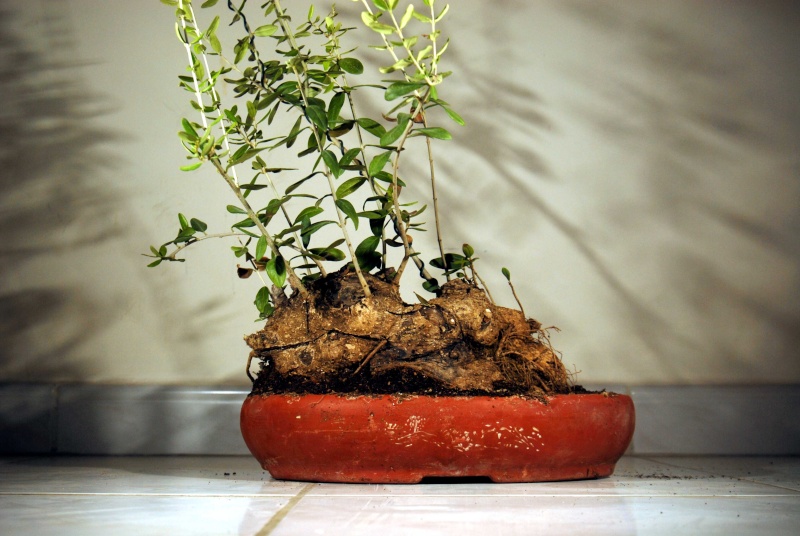 Thanks
Damien

Damienindesert

Member





I will hazard some general advice and say that if it isn't talking to you now, then let it grow and perhaps it will talk to you later. I would be tempted to plant it in the ground for a couple years until it establishes some more health, taper and character. I would imagine it eventually as a twin sumo or in the raft style. Fun material though, thanks for posting. I will interested to see how it progresses.

David

MrFancyPlants

Member






dorothy7774

Member





Thanks Fancyplants and Dorothy. Dorothy, your CG is wonderful. My potato is starting to grow some identity

@ Fancyplants, Field growing is a bit difficult in urban Dubai

, or it would have been the first thing I'd have done, so we'll have to settle for a big pot on my balcony. I'm in no hurry with this one, but I'd like to set some initial primary branches and do a bit of wiring to what will be future trunks.
Thanks guys

Damienindesert

Member





Hi folks
So the saga of the potato-olive has been bugging me for a while now and I finally made a decision on it. The pot was full of roots in the short time I've had the tree. I decided to make two potatos out of one and rudely sawed my little olive in half

. One reason was because of the entirely horizontal-looking trunk. The other reason was because the roots were all coming from two poles on either extreme of the tree and a good amount of the wood in the middle was dead.
The other half looks like half a potato still, here's what this half looks like after a few days of carving. I opted to keep one trunk on this one and have done some preliminary wiring just to set the shape. Once it's set, I'll allow my potato to grow free and thicken out a bit. The carving needs refining, but that will come a bit later (when I have time). Comments and advice are always welcome.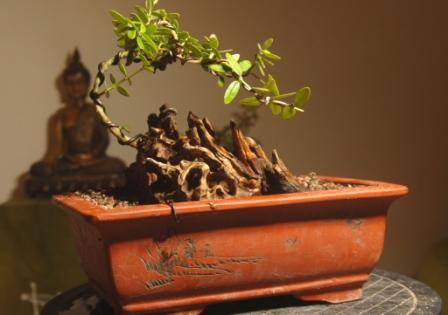 Damienindesert

Member






---
Permissions in this forum:
You
cannot
reply to topics in this forum