I have a problem with random leaves on my eastern hophornbeam becoming deformed, yellow then eventually dying. The leaves on the tip of the branch may become deformed but then new leaves coming out may not be affected. Any ideas on the cause or ways to prevent the problem?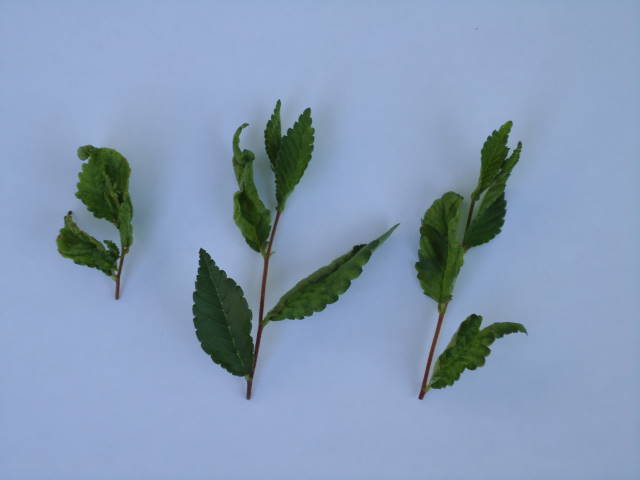 Elroy
Ottawa, ON
Is there an agricultural extension service available that would test for virus? That's my guess. Meanwhile, keep it away from your other trees. Dispose of the dead leaves away from your yard. If it is virus, destroy the tree and dispose of it, with the soil, away from compost or landfill. Sterilize the pot in your self-cleaning oven if it is ceramic. If plastic, discard.
Iris

bonsaisr

Member





On the middle and right branch, the newer leaves look ok. Did this tree have an attack of Aphids or other sap suckers. I would nspect the curled leaves for critters or damage. If you can't find anything, cut back hard and see what the new flush looks like and DISINFECT YOUR TOOLS.
Good advice from Will. That looks like the results of a sucking insect (aphid, white fly, mealy bug, etc.) on young growth just popping out.

I don't THINK Canada has an equivalent to the Agricultural Extension Office in each "county."
_________________
Jim Lewis - lewisjk@windstream.net - Western NC - People, when Columbus discovered this country, it was plumb full of nuts and berries. And I'm right here to tell you the berries are just about all gone. Uncle Dave Macon, old-time country musician

JimLewis

Member





I have cut back and most new branches are fine with the odd scattered deformed leaf. I have not seen any aphids. Sometimes it looks like it could be leaf miner damage but I don't see any critters.

Canada does not have a county extension service anymore. It has been replaced with a call centre and a few regional service centres. Quite a loss.

Elroy
Ottawa ON
Notice the mottled light and dark green color. That is generally a sign of virus. How valuable is the tree? There are virus testing laboratories that you can mail leaves to. There are also home virus testing kits you can send for, but they are less reliable. See what you can find on the Internet. If testing is not available & it is not an expensive tree, I would ditch it to be on the safe side. Many viruses are spread by insects, so no matter how good your sanitation, there is still a risk.
Iris

bonsaisr

Member





I found a US Forest Service fact sheet which states that "Leaf blister causes blistered or deformed leaves but is not something which needs control."

http://hort.ufl.edu/database/documents/pdf/tree_fact_sheets/ostvira.pdf

Elroy
Ottawa ON
---
Permissions in this forum:
You
cannot
reply to topics in this forum