Hi again everyone,
I had posted a pic of this mugo on the old site...
I am hoping to get some advice on what to do next with this tree...
Last year the tree looked like this: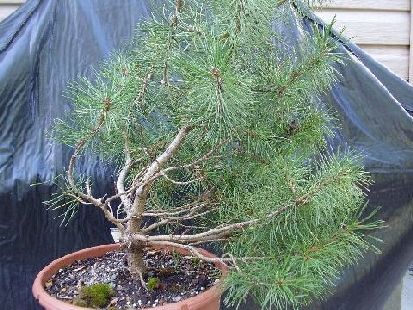 I have re-potted the tree and changed the planting angle, like this: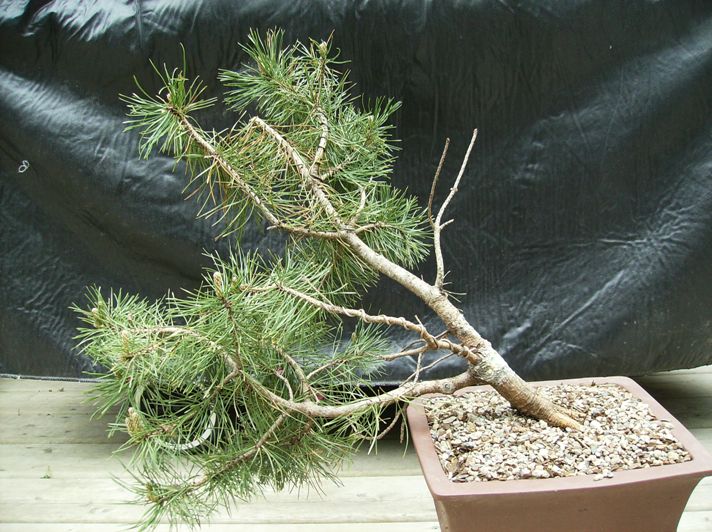 I am not sure whether I should go for a windswept, (which I've read is VERY difficult with mugos), or a semi cascade...?
I was hoping some of the artists on here might steer me in the right direction...
should I be pinching off the candles? Also, the "carving" I had to do to correct the big "knob" where many branches were emanating from has resulted in the big sap stain you see in the pic. Can this be cleaned?
Finally, the tree doesn't seem very healthy to me...lots of brown needles and not very green. The needles seem way too big compared to the nice mugos I've seen on here and in books. I have totally changed the soil to some "Real" bonsai soil I've recently acquired, and I've fertilized lightly once this season
Thanks in advance for the suggestions!
Here's one more bad pic: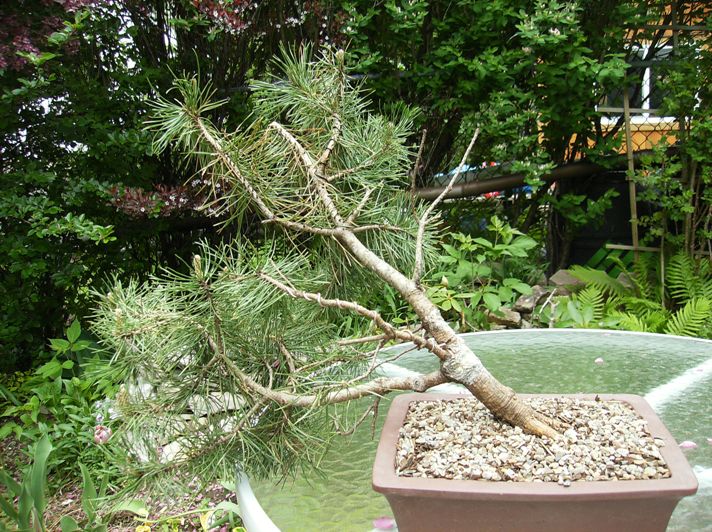 You have three "branches" growing out from a simple spot on the trunk. That area will develop an ugly swelling in time. I think you need to decide which of the two larger branches you want to keep (the middle one serves no purpose that I can see.

Personally, I'd choose the smaller of the two branches, then work this into a full or semi-cascade over a few year's time. the tree (and its bark) is still very young.
_________________
Jim Lewis - lewisjk@windstream.net - Western NC - People, when Columbus discovered this country, it was plumb full of nuts and berries. And I'm right here to tell you the berries are just about all gone. Uncle Dave Macon, old-time country musician

JimLewis

Member





How long ago did you repot? I looks like it has some candles ready to extend, and if they do, I think the health is ok. I wouldn't worry about the sap.

As far as design,I think the first branch will be your main trunk either as a cascade or semi cascade, however, depending on what lies just under the soil, informal upright could be possible. I don't see any rush in removing the current main trunk. I would start by getting the first branch ready to be the main trunk by removing bar branches and doing some wiring to bring the shape towards your future design. Leaving the main trunk intact for now, would help the tree's health through this process.

Good luck,
David

MrFancyPlants

Member





Thanks for the replies...
I repotted about one month ago, then I read I should have waited till mid summer...

I guess I was over anxious.
The tree does have many candles, so I think it will be okay health wise...
I will try to wire it this fall (my first attempt at a semi cascade

) and re-post.
Jim, what is considered "young" for this species? I know for certain that this tree is at least 20 years old, and I thought the bark should be more "gnarly" by now....?
Just curious; How do you know for sure the tree is as old as you say?

Vance Wood

Member





I thought someone might ask that...I received the pine as a gift around 14 years ago. At the time it was a fair size already as a nursery plant, so I give it at least six years there...who knows...could be more?
I always did think the bark looked younger than it should...?
it's been in a pot for 5 years now.
That is the problem with the Pumilio strain, it is slow to produce a decent bark. Next time try to find Tyrolean.

Vance Wood

Member






---
Permissions in this forum:
You
cannot
reply to topics in this forum