Page 2 of 2 •
1, 2

attila wrote:

Robert Steven wrote:No target..simply enjoy the process...

I agree with Robert many people thinking of finish "product " when involved with bonsai, there is a rush to finish like a race, they forget the joy of the journey and progress which takes place over decades or a lifetime. even once you think a tree is finished but how long for???? you need to maintain the structure you need to have sacrificing branches so on..and soon maybe you change your mind and going to restyle it and it begins again all over so there is no finished tree ever (even a dead tree can be reused e.g phoenix grafting) it is a 20th century and now the 21st century disease- instant gratification- get a cure....slow down

regards

Attila
Practicing bonsai is a self culture-cultivation (修养)as well, no ending point to reach the final accomplishment. Do I translate correct ?
great words of wisdom in this thread....

there does seem to be a race to finish mentality in many peoples' minds.....I dont think they can grasp the concept of 10 years work is often needed to make even a young looking branch, but it is amazing how quickly the years go by when you are tending bonsai trees.

lovely shaped trunk, and the branches will match it perfectly

Cheers Marcus

marcus watts

Member





This plant in Vietnam known as cold rice plants, we have many wild, my income on the small trees planted, I was surprised about its healing ability, I think can be matched to create branches in the position very good plan, just have the tubercles on the body beautiful u. I have photos taken with the phone but it is not very good pictures.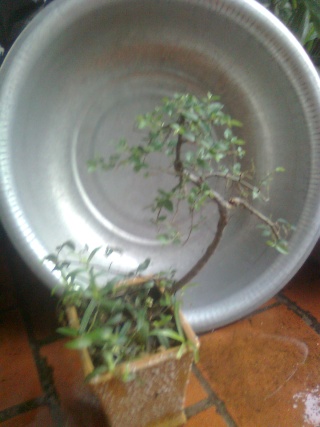 tap pi lu

Member





Page 2 of 2 •
1, 2

---
Permissions in this forum:
You
cannot
reply to topics in this forum