Firstly, here's a little background to our collaborative exhibit that we created for the Bonsai South West Show 2011 to which we were invited to exhibit recently here in the UK.
We were allocated six 1.8m wide tables (2 lots of 3 tables, back-to-back) to utilise as we saw fit. I should explain at this juncture that the "we" I refer to are five bonsai friends, three of whom (Bob, Terry and Paul) are from the Swindon Bonsai Society and then there's me and my "better half" Ritta who are members of the Artistic Bonsai Circle (ABC) from South Wales.
For the last couple of years at this event we have pooled our resources to create a relatively large exhibit which we hope others will enjoy. We arrange the display according to what we think looks best irrespective of club boundaries or having a "Swindon side" or an "ABC side" to the display, so it's a real team effort and aimed at providing enjoyment for the visitors.
Our exhibit consisted of some Shohin and Mame as well as a couple of larger trees all formally displayed as you will see.
So here are some photos of the joint display that we created, and placed in the order of as if the viewer was walking anti-clockwise around the display.
Paul's first ever shohin display -
Our cork bark Chinese Elm grown from a cutting about 40 years ago. Dan Barton pot.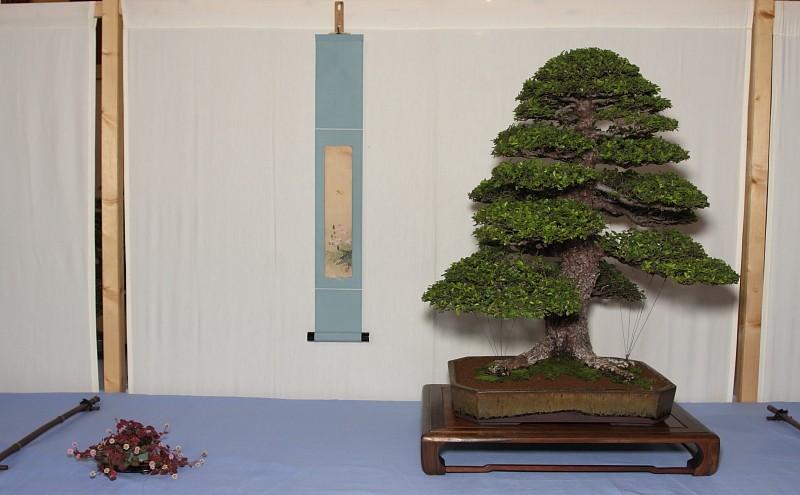 Terry's Pomegranate grown by himself from collected seed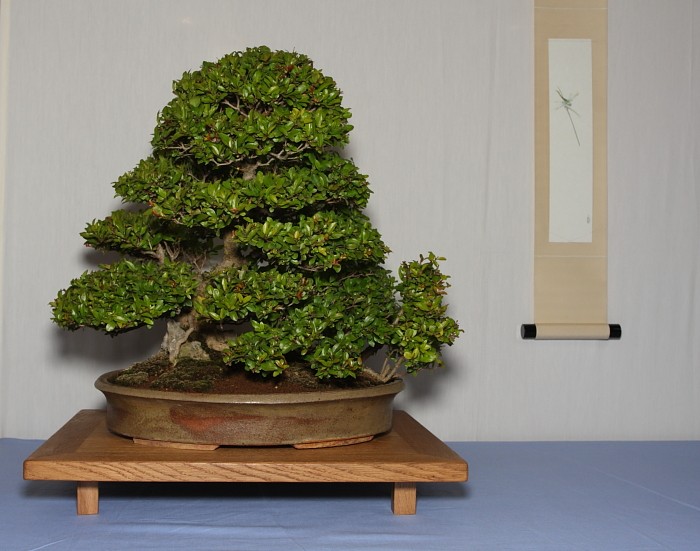 Bob's Mame display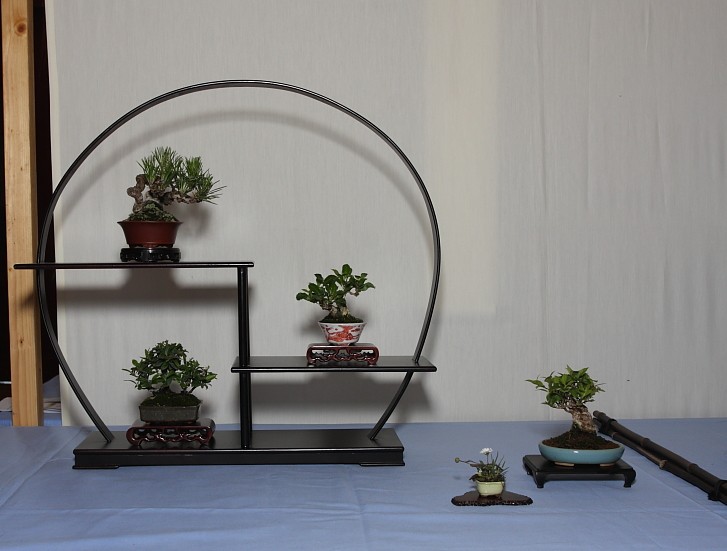 Bob's 2 tree Mame display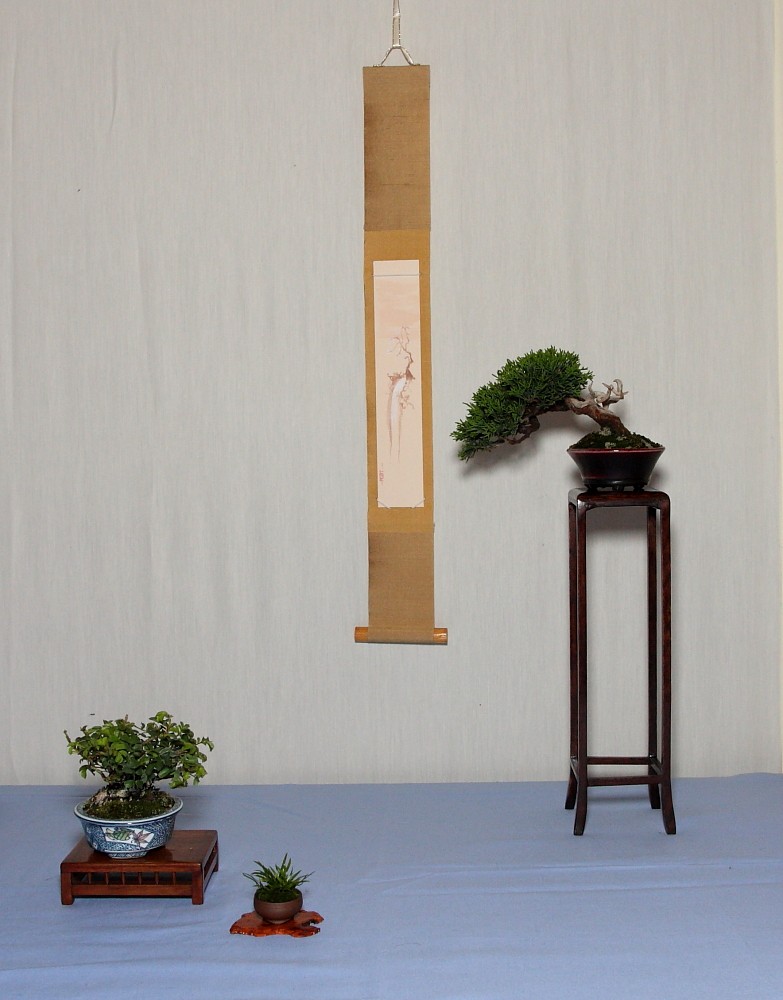 Our 4 tree shohin display (Potentilla, White pine / Chinese Elm/ Pyracantha)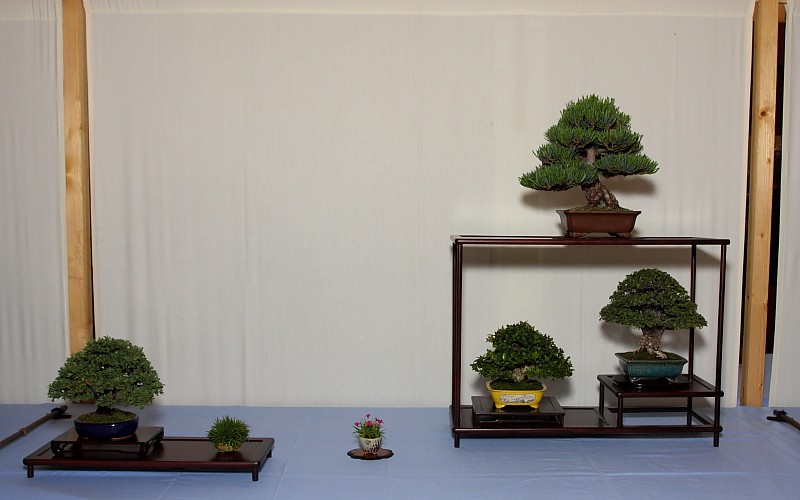 Our 2 tree shohin display (Red pine and Zelkova)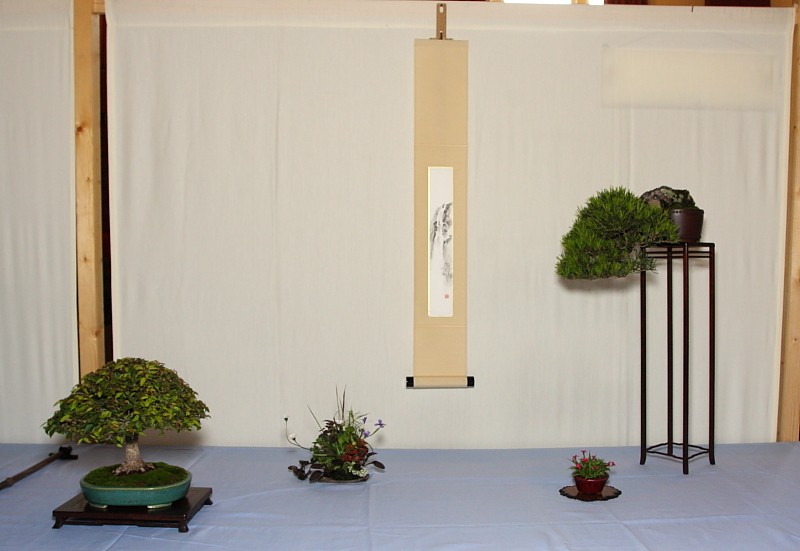 You can see some closer shots of the accent plants used in our display here
http://ibonsaiclub.forumotion.com/t6930-some-of-our-accent-plants-we-used-in-our-displays-at-the-bonsai-south-west-exhibition
Mark & Ritta
Last edited by Mark Cooper on Sun Jun 19, 2011 9:31 pm; edited 1 time in total (Reason for editing : additional photo)

Mark Cooper

Member





Great trees and very nice displays! I love the Kusamono. Thank you for posting.

-dorothy

dorothy7774

Member





Lovely display... I like the little cascade pine.

Hope the display was a success!!

Any closeups of the trees?

Thanks
Bryan

DangerousBry

Member





Hi Mark
Beautiful presentation and great trees. Joy for the eyes. Congratulations.
Gretings Pavel

Pavel Slovák

Member





Beautiful Mark, I love that Cork Bark Elm

Ian Young

Member






Enjoyed your display at the show and now enjoyed your photo's. thanks..

JR

Member





great to meet you both at the show - i applaud the attention to detail you give to the very small trees, big trees are certainly miles easier !!

.
see you at your Cornish bonsai soc. talk later in the year
Marcus & Mandy

marcus watts

Member





Always great to see the Cooper's and Cap'n Bob's displays.


---
Permissions in this forum:
You
cannot
reply to topics in this forum