Page 2 of 2 •
1, 2
Very nice show Cosmos.
congratulations!
I love your Thyme and the rock too.
regards,
jun

cosmos wrote:Small buckthorn (Rhamnus oleoides)
I like the way you put tags on your trees,all trees are properly identified with their scientific and comon names in bold letters then a few things about the tree perhaps. The name of the owner in tiny letters below.
regards

Ka Pabling

Member





cosmos wrote:Ligustrum
I have one of these, I think mine is a Chinese import. Actually my wife bought it at Miami Tropical Bonsai about 8 to 10 years ago.

Billy M. Rhodes

Member





Thanks Jun and Pabling. More pics from the show. Hope you enjoy them.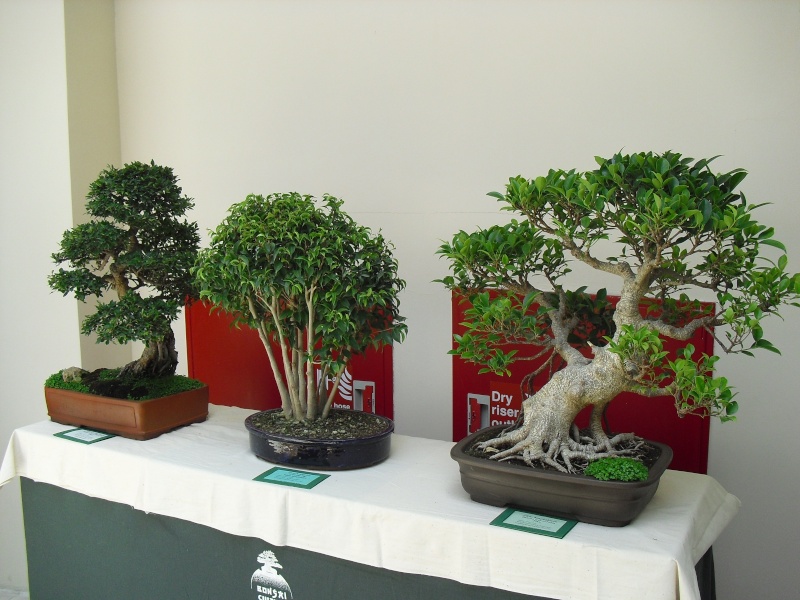 cosmos

Member





Hi Cosmos,

Thanks for sharing the pics. Excellent trees and so is the venue. My favourite I must admit is the Thyme. Despite its size, its trunk looks weathered and beaten, much like the Olive trees. If someone were to tell me that the fiery bush of Moses in the Bible looked like this stunner.... I'd believe it. Great show.....

I have also seen a different approach in the name tags. The date of when the tree was first exhibited.... very unique indeed. Not too sure if this approach is taken anywhere else but a great approach indeed.

Ravi

Ravi Kiran

Member





lovely trees cosmos,

I mostly enjoyed seeing the tetraclinis and the thymus (mediterranean species).

ANy notes on cultivation of these species ??(maybe in another thread ....not to pirate this one!!)
Congratulations!!! Splendid exhibition in a majestic and conducive environment. Looks like most of the trees are trained the orthodox way...in clusters for each tip of the branch. The natural style not in trend? Btw, what's the present style or shape that's the in-thing now where bonsai competitions are concerned? Thanks and congratz again.
Regards...

roykoibon

Member





Hi Roykoibon
We are still in our infancy but still are doing great strides for a very small island in the Mediterranean. When we invited Master Salvatore Liporace 3 years ago he told us that we are desinging our trees in the classical way. He even told us that the new ratio of girth and height (aspect ratio) is 1:3 or 1:2 if you can help it. But when it comes to yamadori you have to let the tree talk to you and style it the natural way. Given the fact that we have small valleys it is very difficult to find yamadori and many of the species are protected. So we have to start from humble beginings, like from seeds, cuttings or air-layering. Having made twinnings with Sicily, we are learning new techniques with the mediterraneans; like that olives and wild olives (olivasters) can be grown from very large cuttings; like that bouganivilleas can also be grown from very large cuttings.
Hi Stavros
When I have the time I will do a thread on tetrclinus and thyme like you said.
Hi Ravi
We put the date of first exhibition because we used to get problems about the age of the tree and the visiting public always is asking how old are the trees.
All of you thanks for your kind comments.

cosmos

Member





Page 2 of 2 •
1, 2
---
Permissions in this forum:
You
cannot
reply to topics in this forum