hello forum IBC
I do not know how to describe this rock, I found it very nice, but do not know how to name it, for you will give my opinion on this rock,thank

nguyển thái lý

Member





Hi NTL... The photo is leaning at a poor horizontal angle to appreciate the stone's front. For suiseki-style appreciation, the figurine (pagoda?) set on the top, right side is oddly placed for expression-- it limits rather than expands the view & adversely affects visual flow; the figurine reduces options for perceiving the stone. The broad table of the lower tier suggests considering it as either an extensive flat ground (slope/plateau, step/cascade/terrace or distant 'shelter rock' stone) or more limited piece of ground ('hut on tableland' stone). It is perhaps best to avoid a classification of contour that limits the imagination.
Rotating the image may or may not be a true view from the front, but it comes closer to arrangement which aids appreciation.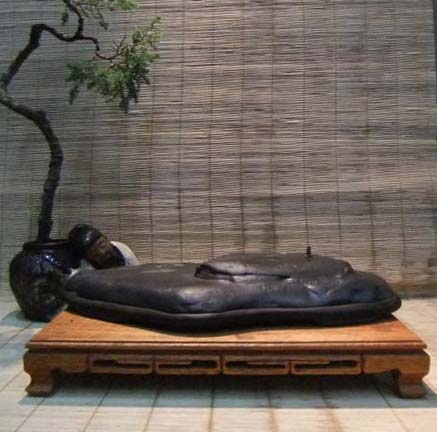 Last edited by Chris Cochrane on Thu Jun 09, 2011 4:43 pm; edited 2 times in total

Chris Cochrane

Member





hello Chris, I will draw experience for next time, I thought the pictures would do well to ice, so I put it in, I have learned from experience chris, thank you very much

nguyển thái lý

Member





I like the stone & its mounting. By not naming it as a particular view, it has more imaginative presence. In an intimate lesson on display (e.g. Keido-style), a host might reveal one scene intended for a particular guest and another scene intended for another guest. Choices of utensils in tea ceremony often carry particular & different allusions for guests chosen at a single gathering.

The visual flow from-right-to-left is strong and appealing. No breaks or rough edges appear, and the depth as well as the profile of the daiza suggest that the stone has a natural bottom.

Can you share who carved the stone's seat/daiza?

Chris Cochrane

Member






---
Permissions in this forum:
You
cannot
reply to topics in this forum