I got this pre bonsai rafting premna from a local nursery 3 year ago. I was told that it had being trained for 2 years...
I hated the way he trained the foliation, a common mistake in many tripical countries, many people train their deciduous tree in connifers way; either the ramification structure or the crown with single apex line. Only connifers have "apical dominant" structure, not deciduous trees...
I am one of the wire suppliers, but I always advise people not to use too much wire on their deciduous trees during the training if not neccessary. Wire is usually only used for initial directing purpose, but the correct way to train the ramification in deciduous trees is by clip-and-grow...no other way !

Robert Steven

Member





Last edited by Robert Steven on Tue Jun 07, 2011 12:14 pm; edited 1 time in total

Robert Steven

Member






Robert Steven

Member





I will be faithful, waiting for your development Mr Robert


priya uthama

Member





Bigger pot, faster development
Don't worry with Premna on this size..they are fast enough since we need to repot and do root-prunning every 6 months.

Robert Steven

Member





What a beaut!!

Is rafting not the same as a raft style bonsai? Where can I learn more about this style?

AK_Panama

Member





They are the same. Despite of the technique of making the raft, the main skill is to form the trees placement to create composition, dimension and perspective. Basically, the concept is similar to make grouping style bonsai. There are many ways to create raft style bonsai, but this one was from nature.
Here are my other raft style bonsai collection...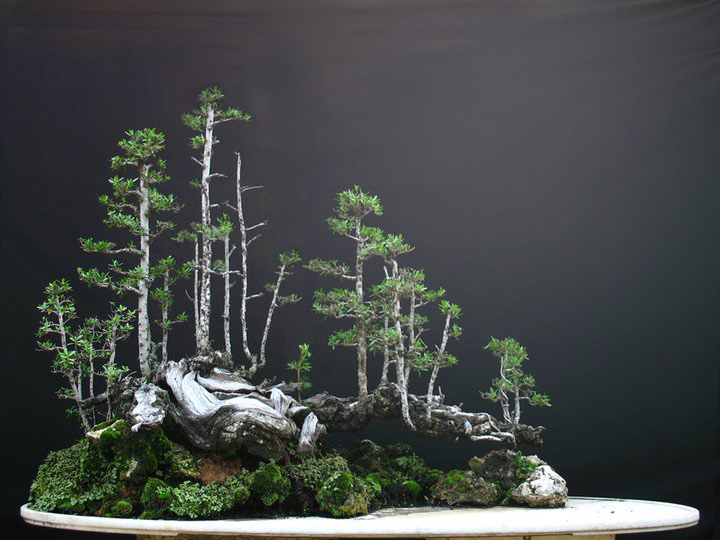 Robert Steven

Member






Robert Steven

Member





Thanks for sharing Robert!

These compositions are outstanding!

AK_Panama

Member





Thank you Robert

,
almost no wire?.
regards,
Pongsatorn.K

pongsatorn.k

Member






---
Permissions in this forum:
You
cannot
reply to topics in this forum