Can anyone help me to identify the type of Bonsai tree I have?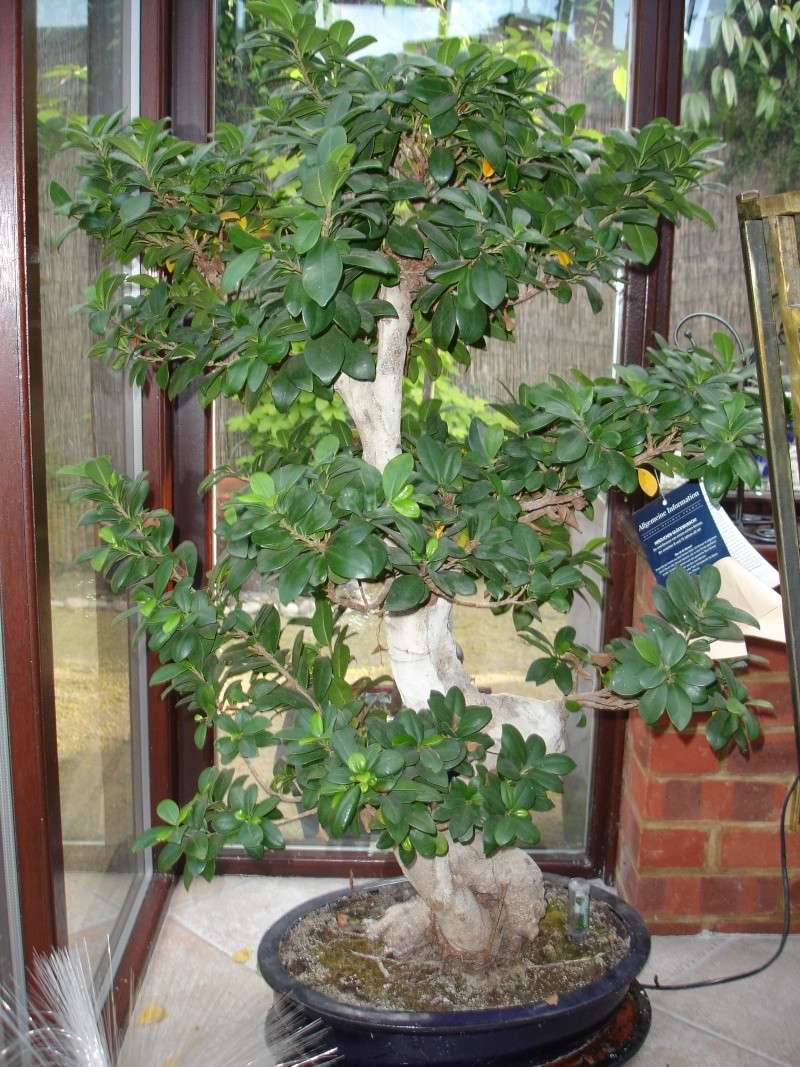 I was given my tree as a gift approximately 5 years now and it seems to have done quite well up until now. Unfortunately the information on the tree, is all in German but what I can make out is that the tree was between 8 and 15 years old when purchased, how long it had been sitting in the garden centre before then, is anyones guess. It does say on the label Herbae Optimae Formae, I don't know if this helps?
My bonsai is rather tall as it stands about 3 foot high and lives in the conservatory, which it does seem to like. There is no heating in there in the winter and the french doors are often left open in the summer.
I have noticed recently though that although there is new leaves coming through, I am loosing a number of leaves which are at first going yellow then dropping off. I have also noticed that a large number of leaves seem to be suffering from black spots. I have never repotted it either in fear of killing it off which I have learnt from todays research that perhaps I should have. I have never prunned it either.
Please help as I love my Bonsai tree and I don't want to suddenly wake up one day to find all the leaves have dropped off! Any help would be gratefully received.
Thank you in advance.
Last edited by Sandie on Thu May 21, 2009 12:02 pm; edited 1 time in total (Reason for editing : Photo's now included)
A picture would be a good start point for a forum member to help with any identification. There are guidelines on the site as to how to do this and I personally found Jim Lewis' tutorial on posting pictures most helpful. To find this, go into IBC Forum: Testing and you'll see it as a Sticky.
My understanding of Herbae Optimae Formae is that it is the "trademark" of Bunnik Plants who are a major player in the house plant industry, so no help with the ident there I'm afraid.
Looking forward to your pic. BTW - I'm betting on either a Chinese Elm or, more likely, a Ficus of some sort.


fiona

Member





Green Island Ficus - Ficus microcarpa

It needs to be outside as much as possible in your climate. Protect below 50 F

Needs repotting to a larger pot or repotting to the same pot with major reduction in plant volume (lots of pruning).

You really have two or three trees there.

Billy M. Rhodes

Member





The location you have it in is directly in front of the window could be deadly for your tree.
The temperature can exceed over 100 degrees F (while the temperature outside seems cool) which can dry your tree out severely. Yellowing of the leaves is a usually a good indication of under watering, and black leaves are usually a sign of over watering.
Definitely takes Billys' advice also. That tree needs some fresh soil in its life.

Where are you located BTW?

Joe Hatfield

Member





Joe, don't forget to check the poster's region. He's in the UK somewhere, so an indoor location near glass is probably best for a tropical, until frosts are past. My two year old Green Island Ficus cutting is doing fine in an unheated greenhouse, all year round, here in North Wales.

_________________
"It is not the strongest of the species that survives, nor the most intelligent. It is the one that is the most adaptable to change." - Charles Darwin.

Kev Bailey

Admin






---
Permissions in this forum:
You
cannot
reply to topics in this forum