I was having a hard time finding a picture of one but this is the closest I could find.

PICTURE NOW HERE

Its the type of juniper that has really really twisty curved trunks with thin deadwood. I remember watching lindsay Farr's vid and the japanese guy was demonstating, all he seemed to do was create a spiral shari up the trunk and then later on just brought out a bigger older one saying this is how it will look after awhile. I can understand how this would produce the thin deadwood if the live vein was also thin and allowed to build up on itself but he never meantioned wiring. Wondering if the shari alone will eventually cause the small junipers to curve on themselves. These are hardly seen in the U.S. from local hobbyist so I really wanted to learn how to do this.

Gideon

Member





Hello Gideon. These swirly compact Junipers are wired to create this type of movement. The deadwood is made after the wire has set or marked the tree.
Hi Gideon. What Will says is how the issue was presented to me too.
There are now rather a lot of this type of "corkscrew" juniper around, and while there are undoubtedly some absolutely lovely ones around, I'm beginning to find them a bit contrived in their twists. IMHO they have also nearly taken over as the cookie-cutter bonsai of today, and if I went to a show where there was a number of them, I think I'd get bored with them pretty quickly. That is of course not to say that a skilful bonsai person couldn't make something that bit different out of them, as indeed many have done already.
Here are mine which are still works in progress (and I'm not suggesting I am one of the skilled bonsai people I mentioned

)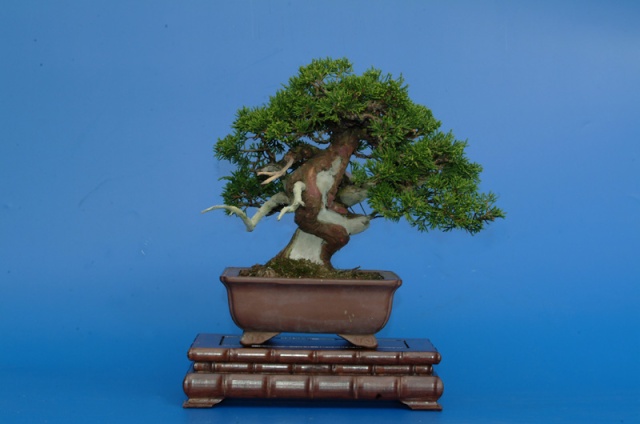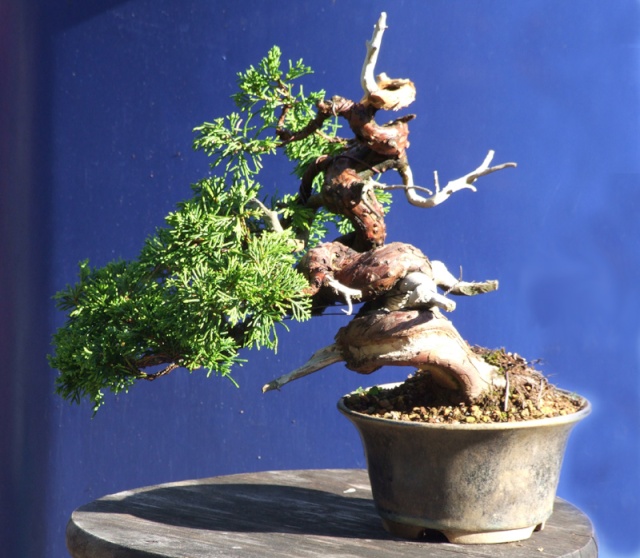 Last edited by fiona on Thu Jun 02, 2011 10:55 pm; edited 1 time in total

_________________
"Espouse elucidation"
_____________________________________

my website

fiona

Member





Not a few of these kinds of trees -- especially from western North America -- can attribute Ma Nature to their twistiness, with only a little help from wires and winches administered by those who collected them from the mountaintops.

If you want to see more of these kinds of trees -- I call them designed by MixMaster, and don't really care for them -- here is a page full of them: http://www.google.com/search?q=kimura+bonsai&hl=en&client=firefox-a&hs=t0C&rls=com.ubuntu:en-US:unofficial&prmd=ivns&tbm=isch&tbo=u&source=univ&sa=X&ei=XM7nTdHzHse4tgfC89i9Cg&ved=0CDIQsAQ&biw=922&bih=508
_________________
Jim Lewis - lewisjk@windstream.net - Western NC - People, when Columbus discovered this country, it was plumb full of nuts and berries. And I'm right here to tell you the berries are just about all gone. Uncle Dave Macon, old-time country musician

JimLewis

Member





Fiona, those 2 examples you posted are very different, at least to my eye. The first looks much more natural while the trunk on the second is closer to what I consider the "cookie cutter corkscrew trunk". I know nature can produce these kinds of trunks, but there's still something different about those vs the mass produced ones. I've seen table after table of starter plants with these types of trunks at some bonsai nurseries and they just look too artificial to me.

As for the Kimura trees...certainly not everyone's cup of tea, but I don't agree with the comparison of them to the "corkscrew" trunk junipers. Completely different animal IMHO.

Chris

coh

Member





coh wrote: As for the Kimura trees...certainly not everyone's cup of tea, but I don't agree with the comparison of them to the "corkscrew" trunk junipers. Completely different animal IMHO. Chris
I'd tend to agree with this, not the least because the real corkscrew ones tend to be shohin sized whereas those ones of Kimura are mostly larger bonsai. Perhaps the artifciality is more pronounced at shohin size.
I also tend to like Kimura's trees even if they are styled to the extreme.

_________________
"Espouse elucidation"
_____________________________________

my website

fiona

Member





hi, to answer the actual question these junipers are mass grown from cuttings on bonsai 'farms', then 1,2 or 3 wires are wound tightly up the trunks and larger branches, which are then twisted and curved repeatedly. the wires are allowed to cut in deeply so the live vein becomes quickly swollen and pronounced, then the wire is removed and the wood underneath stripped of bark and cleaned up. i think its about 5-7 years to create these twisted junipers from start to finish. the wires can be removed and re-applied several times over this process to give more twists and smaller live viens.

I feel there is a place for them in our hobby as a nice piece of affordable bonsai material to practice on, but now there are 10's of 1000's being commercially created so they do loose the wow factor very quickly when you see them everywhere.....but most people i know have one as it is nice to easilly get hold of a little juniper that looks like a bonsai before you start ! , and some look good when they are done too.

I totally agree with the poster about trying to create alternate styles from them - i bought one on a whim, realised everyone had a twisted informal upright just by wiring the branches, so have made a full cascade dropping from a vertical rock slab.

marcus watts

Member





Interesting, since this the website Gideon attached to his original post is in the United States. The "corkscrew" material is very hard to come by over here. It seems rather interesting that there are no bonsai nurseries in the U.S., at least that I'm aware of, actually attempt to cultivate juniper material in this fashion. A few of the members already mentioned how this style of material is rather commonplace, yet that must be for a European market since the availability in the States is next to nil except for a very few pieces with, for me anyhow, prohibitive price tags.

Orion

Member





Here are 3 good threads I've bookmarked that detail the formation of these trees:

http://bonsaistudygroup.com/shohin-discussion/shohin-juniper-%28variety-unknown%29/
http://bonsaistudygroup.com/shimpaku-juniper-discussion/jim-gremel%27s-shimpaku/
http://bonsainut.com/forums/showthread.php?t=788
---
Permissions in this forum:
You
cannot
reply to topics in this forum