[img]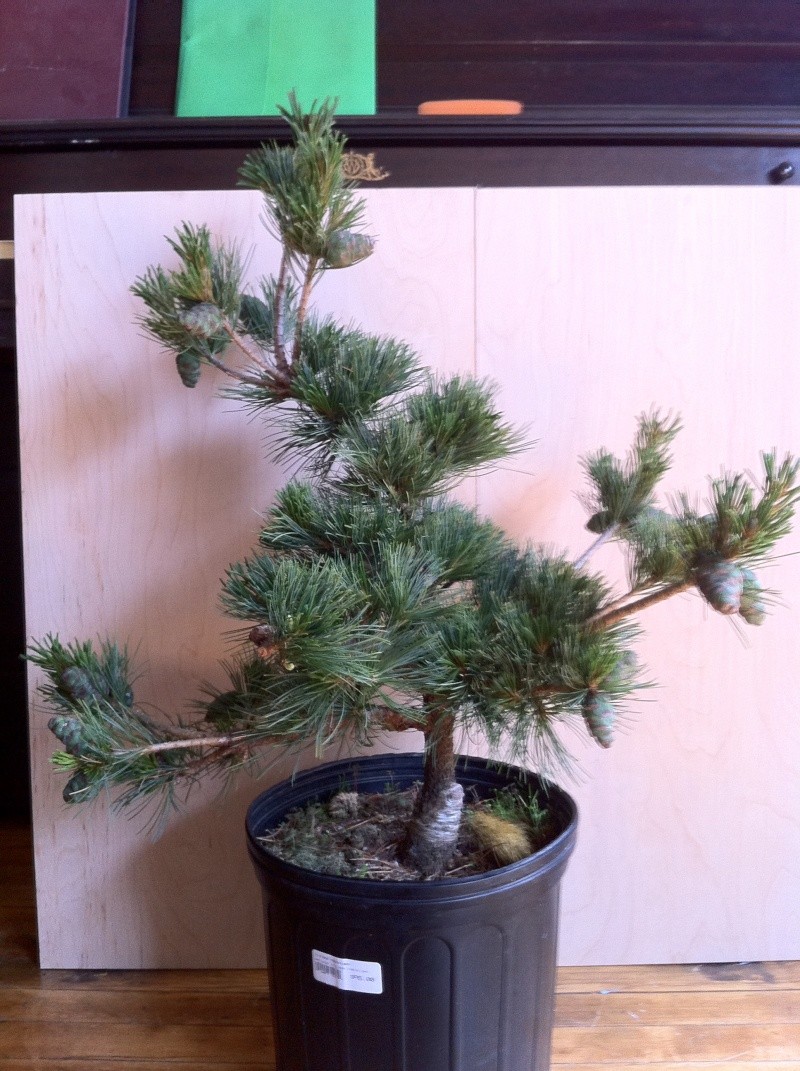 [/img][img]
[/img][img]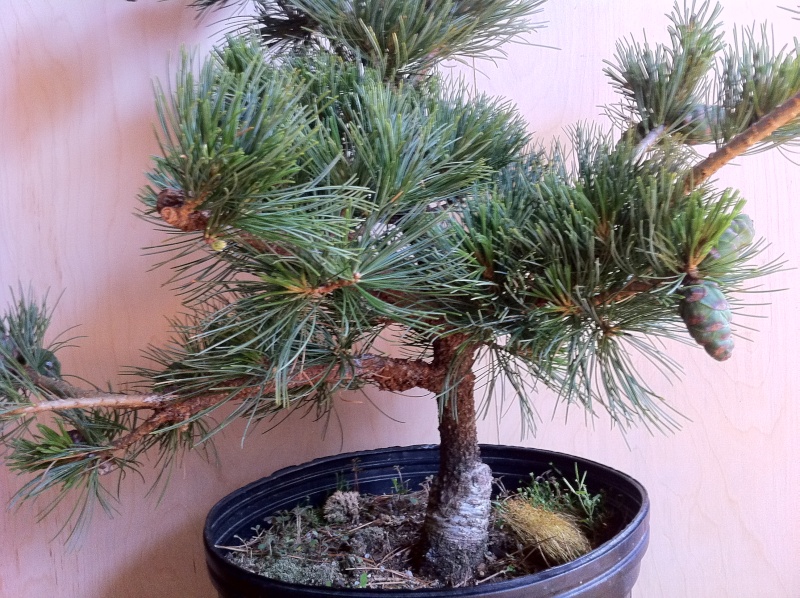 [/img][img]
[/img]
Hey Everyone,
Here's a JWP I bought early this spring. I plucked some needles to expose some empty branch space. This is my first JWP so I'm not sure how to get buds back further on the branches. I know not to cut the candles, but I'm not sure what else I could do. I also don't know when the best time to repot and cut off some of the root mass that is there from the pot it was bought in. I'm pretty sure I've heard hard branch pruning is done around october november time. All info is very helpful! Thank you!
Lawrence

Lnatural

Member





Since no-one else has responded, I will attempt a response, but I welcome any corrections as I am far from an expert.
I see two major issues at first glance that will need attention: the swelling of the graft at the base of the tree and multiple branches coming out of the same part of the trunk. You'll need to figure out a schedule leaving a year (or two?) between major operations and not reducing the top or bottom too much in one year.
I like to look for the smallest possible tree. It is hard to design a tree by picture, but I'll take a shot as long as you take my design with a grain of virtual salt.
Based on the second photo, keep the first branch on the left as a sacrifice for now although it will eventually go. The first on the right will be your first branch; It will be shortened to the first two or three buds, but no hurry; let it thicken some. I think cut number one and two could happen now, but leave large stubs. I see the smaller branch before cut number one as your new leader. You'll want a branch on the outside of the resulting curve. Leave some options available for now, but reduce the length to a few buds if it is that fat branch in front.
The swelling graft union is a tricky issue. Ignore it for now. You are going to need to repot into bonsai soil and/or grow box sometime in the next year or two. Maybe you could try approach or thread grafts of seedlings above and around the union eventually, but I have never attempted that ambitious of a project. Maybe the tree will grow on you enough so that the swelling is not an issue (pun intended).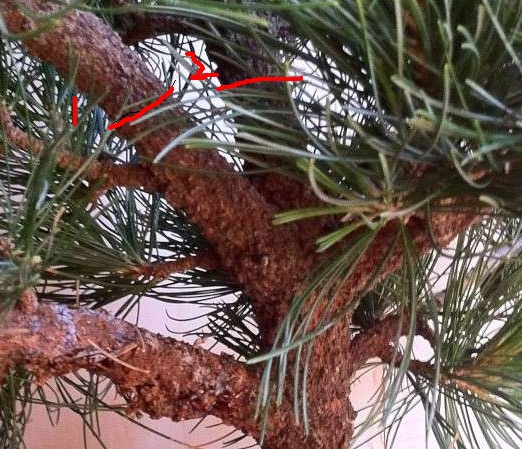 MrFancyPlants

Member





Thank you for your input MFP I appreciate the response. I'm a little hesitant to cut anything major right now, from what I've read around November is the time for hard pruning. I most likely will be cutting off quite a bit laterally and the top vertical pieces when I get around to it. The space between branches needs to open up in some places. I think I'm going to re-pot the tree at the end of June. I'm scared to see how much root mass is there, although it drains well so I don't think its root bound in there.

Lawrence

Lnatural

Member





Lnatural wrote:I think I'm going to re-pot the tree at the end of June.

Lawrence
Oh, good Lord! Who told you that? As far as I know, you can only repot a JWP in March. I would love to be proved wrong. You can repot a mugo pine in late June.
Iris

bonsaisr

Member





JWP are 5 needle pines (5 needles in each cluster). Their care is slightly different to 2 needle pines such as scots and mugo. No expert here so don't take this as gospel, but JWP are less forgiving than other pines when overpruned so you have to develop them slowly. I think it's best to repot in spring just before the buds start to grow, this could be march-early may depending on your climate.

One thing you could do (and someone please correct me on this) would be to remove the cones, forcing the tree to divert resources into vegetative growth.

Happy growing


It's nice to get some reliable info about this tree. Thanks Iris, you probably saved this tree's life. Am I right in doing a little branch pruning in the fall? I like Rich's idea of removing the cones. I am scared to do anything to this tree, I've heard so many stories of them not making it. If anyone has any more info I should know about this little guy I'm all ears.

Gracias, Lawrence

Lnatural

Member






tim stubbs

Member





Thanks Tim, very helpful website. I'll stick with the white pine for now, I'm about at my bonsai garden capacity

Lawrence

Lnatural

Member





Hi,
I wrote all of that stuff on JWP you've referenced on Bonsai4me and have been watching this post for a day or 2 now.
The whole article is here and is only a record of my personal experience and opinion with some 2nd hand knowledge gleaned from "an expert" - NOT Hot shot expert advice as the current picture of this tree will demonstrate
http://bonsai4me.com/AdvTech/ATJapaneseWhitePine.htm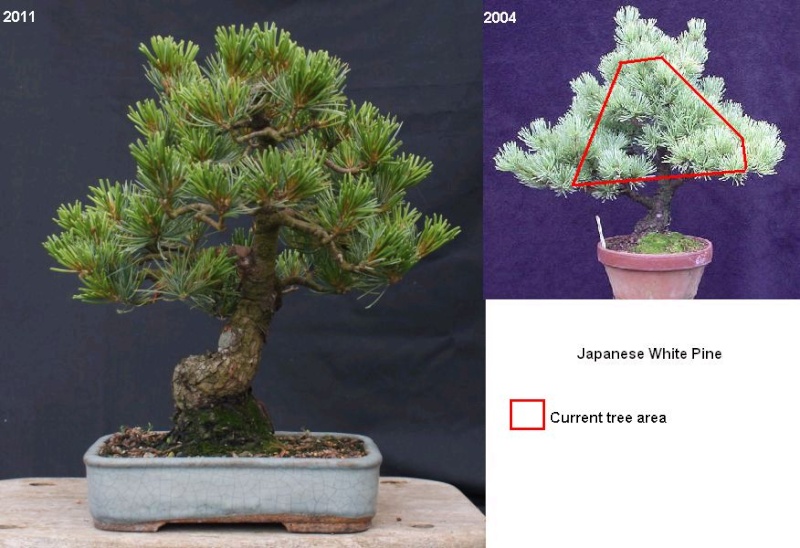 The main thing with Lawrence's tree is that it looks quite immature and is possibly a garden centre tree rather than one cultivated in Japan and exported as bonsai starter stock (which is what I was/am dealing [and still struggling] with)
The graft looks typical of a tree intended for the yard rather than a bonsai pot.
A JWP should be more than happy in Brooklyn climate-wise and will of course develop more quickly if planted out in the ground.
Is that possible?
I've also never seen cones on a JWP even on 1m+ tall mature bonsai and the furry looking reddy/brown bark is not within my experience but be that as it may.
I think it needs to grow and I wouldn't think about re-potting or anything like that until the tree has grown well for at least a season.
If it's seriously rootbound, just move it up a pot size infilling with free draining soil and fertilise well at least once a week in the growing season.
Looking at the tree now, you are unlikely to be using anything outside the yellow circle so could prune this off early winter.
Pines are very slow to develop so there's a long way to go with this imo .
Just as a note, summer re-potting is possible for JWP and other trees but only recommended on JWP if you're nuts and/or are not of nervous disposition

Hope this helps if only a bit
Thks
TimR

wabashene

Member






---
Permissions in this forum:
You
cannot
reply to topics in this forum