Does anyone have any examples of Pinus Virginiana? I've believe I've seen some in the wild(near the beach) with short needles and the ability to back bud even on the trunk.

MrFancyPlants

Member





It is so frustrating when you post a question and out of 2000 or so members, nobody answers.

Pinus virginiana, scrub pine, is used for bonsai, but Google showed only one picture of a P. virginiana bonsai, & that was in an ad for seeds. You're on your own.
Iris

bonsaisr

Member





Well . . . In the FWIW Department . . . I don't DO pines. Don't have any feel for them. But I yanked this little (7-inch trunk) crooked Virginia pine out of my pasture before a horse stepped on it a couple of years ago and put it in a pot.
I can't imagine it will help you much, but it does show they can live in a pot.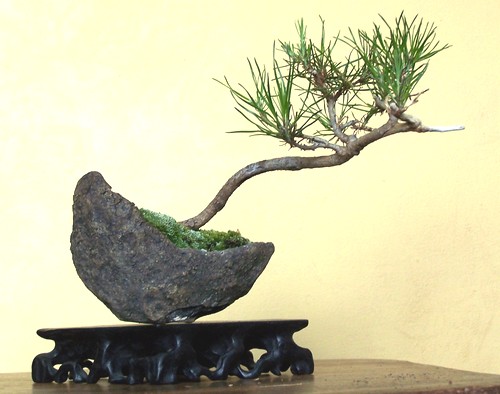 _________________
Jim Lewis - lewisjk@windstream.net - Western NC - People, when Columbus discovered this country, it was plumb full of nuts and berries. And I'm right here to tell you the berries are just about all gone. Uncle Dave Macon, old-time country musician

JimLewis

Member





This is my one and only pine in my collection..a P. virginiana that was collected from an abandoned coal strip mine site in northern West Virginia in 1992. The pot and stand were crafted by Dave Lowman. I have had success with training this tree utilizing the methodology that Vance Wood uses for his Mugho pines. Hope this helps you.
Regards,
Tom

Tom Simonyi

Member





Thanks for the replies. Wow Tom, that is a nice one you have there and thanks for the pointer on training methodology. Do you have any older photos of it?

Jim, I know the feeling about not having the knack for pines, but I've been working my way up to it.

Thanks again,
David

MrFancyPlants

Member





David...thanks for the kind words...I appreciate it...I will look for older photos as you request...

Regards,
Tom

Tom Simonyi

Member





Jim, I know the feeling about not having the knack for pines, but I've been working my way up to it.
I guess he difference between us is that I'm not particularly interested in pines, so I'm not "knacking" so much. I don't really know why I pulled this one up -- and that's what I did, literally -- pulled it up. It's been pushing new needles now for 2-3 years. It's likely to always be my only pine.
Tom . . . Nice job on yours. Same "style" as mine, but infinitely better.
_________________
Jim Lewis - lewisjk@windstream.net - Western NC - People, when Columbus discovered this country, it was plumb full of nuts and berries. And I'm right here to tell you the berries are just about all gone. Uncle Dave Macon, old-time country musician

JimLewis

Member





Jim...thanks for the kind words....interestingly enough, I have killed many conifers over the years...this tree has been the only one that has survived, and I have no plans to add any more to my collection....at this point in my life I would rather stick with species I am more confident with :-)

Best regards,
Tom

Tom Simonyi

Member






---
Permissions in this forum:
You
cannot
reply to topics in this forum