Hi folks
Today I was working on my first ever Cotoneaster, a C. Horizontalis found at a local nursery. After rummaging through the dozen or so that were there (and getting glared at by the help for digging in the pots) I found what I hoped would be a good candidate, with a single trunk, some sort of rootage, and the possibility of decent branching and a hint of a leader. This is the mop after she got home. Sorry its blurry.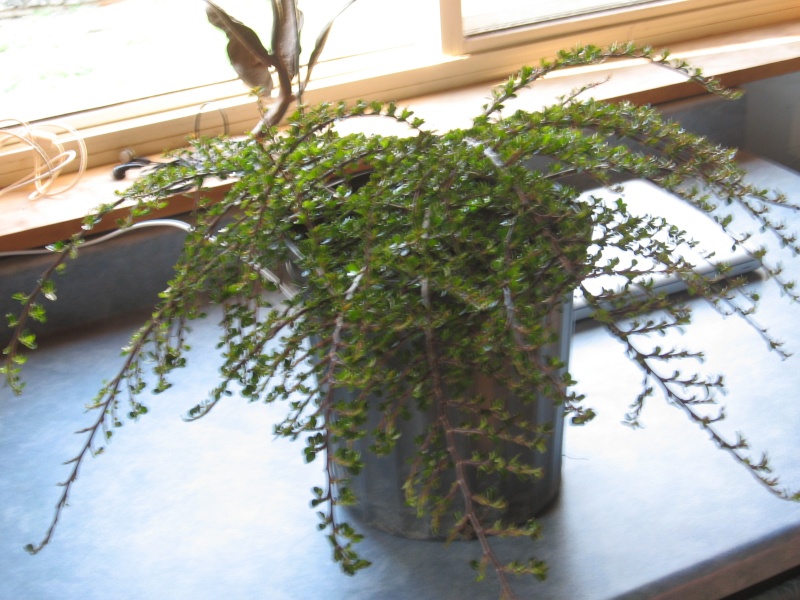 After root raking and hosing I was left with an appreciable and healthy root system, but as so often happens with nursery stock the plant was planted very deeply in its pot so what I thought would be a 3 inch long trunk became a 4 1/2 in long trunk and the surface roots I managed to dig down and find at the nursery were poorly positione to high up on the trunk and had to go. This is what I was left with.
After a struggle, I managed to get her wired into my brown lotus pot, this will of course NOT be the finished pot but will work for training. Still I had to orient the tree in a slanting style to make use of my now uneven root spread and try to plant it situated somewhat correctly to aid my eye throughout the pruning and styling process to come.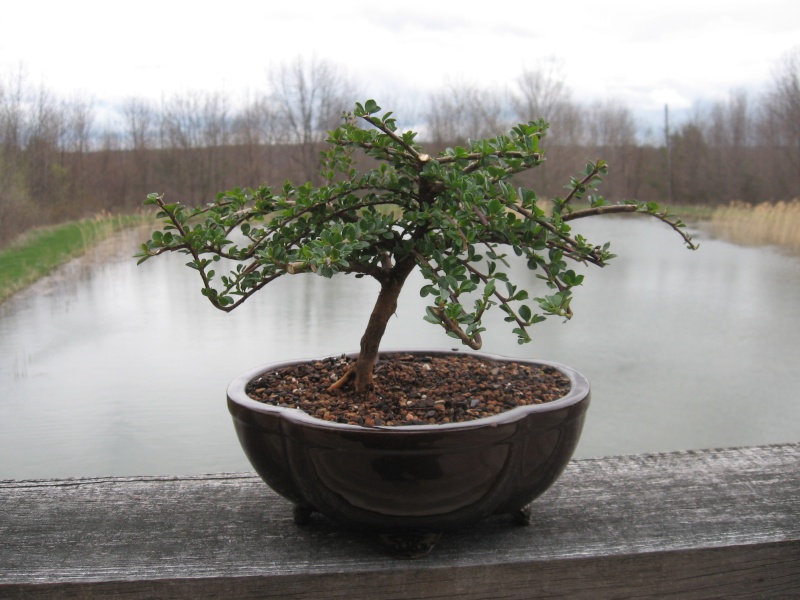 From here I worked on the lower left branch first, then trimmed back the second main right hand branch, then managed to trim down and find a leader; working from the bottom to the top. This is a basic 'rough-in' back to the "bone structure" as I call it. Each branch was taken back to 2,3 or maybe 5 buds depending on how much extension would be required, and to find a tree shape hidden somewhere in that mess. The trick was to keep everything in porportion to everything else, that way as growth continues the overall shape will remain constant (hopefully) After an hour or so we had this. Sorry there are no intermediate pruning shots but the camera batteries needed to re-charge.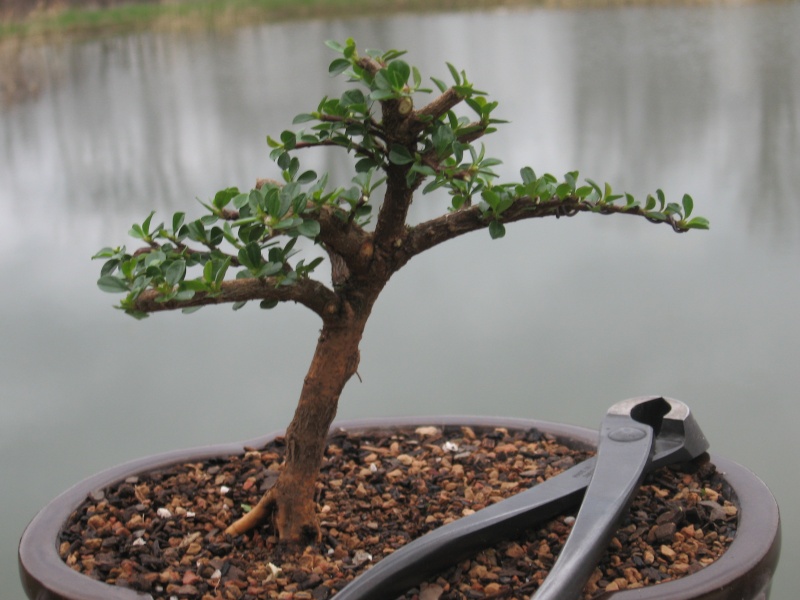 I must say I was suprised how well it turned out, now its the tree's turn to do some work. Many buds on the ends of the larger branches were only just barely open, and having left a good root sytem I hope for prodigous growth. Next year she'll be slipped into a nice little 4 inch deep peet green pot I have, I'll probably slant the tree down even a bit further, and a guy wire or two may be brought to bear on those lower branches, for a guy who slaves away at medium to large size trees, this little guys was a real treat, Thank you Jim for the inspiration-
M.O.T.M
Hi MOTM.
If you want to get the best progress for the growth of this tree, it would be more helpful to put it in an even larger container than the lotus pot...and cut main branches further back. because right now it got almost the same girth as the trunk and that won't look good when the tree grows older. then let it be, dont even attempt to style it for couple of years, let it grow wild to fast track the development.
regards,
jun

Jun-

thank you for replying to my thread, After a few days consideration I think what I need to do is layer this tree off its stem, I hesitate to call it a trunk. I like the branching and I agree I should probably cut further back, yet all the growth and developement it the world is not going to compensate for this trunk being twice as high as I want it. I need to get that number one branch down to 1/3 finished height. How would you go about layering a tree such as this when space under the canopy is limited. Would ground layering be a good idea for this little guy?
I wouldn't do a lot more cutting right now. Find a slightly wider pot and then feed it heavily and let it grow for a couple of years. THEN start to work on it.
_________________
Jim Lewis - lewisjk@windstream.net - Western NC - People, when Columbus discovered this country, it was plumb full of nuts and berries. And I'm right here to tell you the berries are just about all gone. Uncle Dave Macon, old-time country musician

JimLewis

Member





Jim

I'm thinking of setting up a ground layer for it, then sinking it in a gallon pot until next year, either that or a tourniquet wire right where I want those roots up on the stem and again potting it up and forget about it till next spring..what do you think? These guys naturally like to ground layer so I thought it might work out. I'm not going to cut anymore of it I promise.

---
Permissions in this forum:
You
cannot
reply to topics in this forum