This is my favorite Cal Jun because of the 360 degree twist in the trunk from bottom to top. I try to imagine the force of nature that made it grow this way, The height from pot rim is about 41 inches. The pot is by Dale Cochoy. I've been preping it for upcoming shows.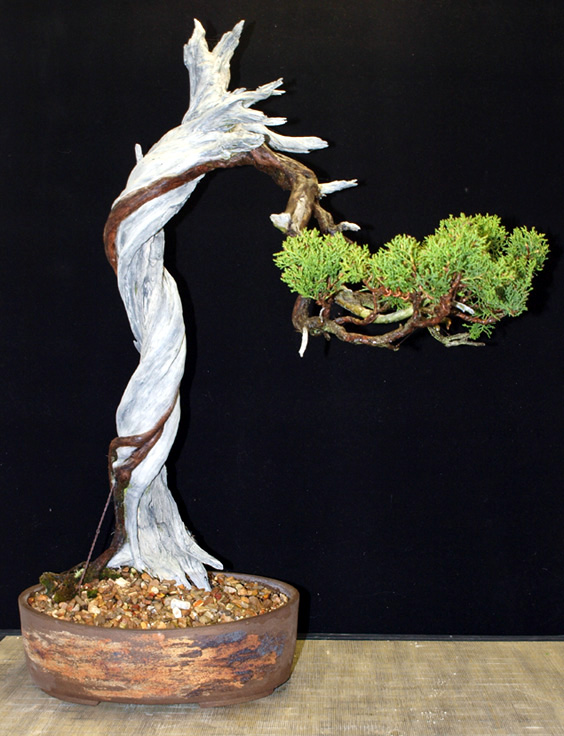 mike page

Member





That's some beautiful movement. Do you have any photos of the tree's progression?
Mike,,all your trees look very nice!!! I know you have to spend a lot of pain stacking time working on them..it is show ready!! take care john
Hello Mike. No doubt about the stunning twist on the trunk. It's magical. The foliage for me is not reflecting the age and distress of this tree and has little aged structure. By bringing the bottom branch down, I think a more mature image will be achieved. Sorry about the bad sketch.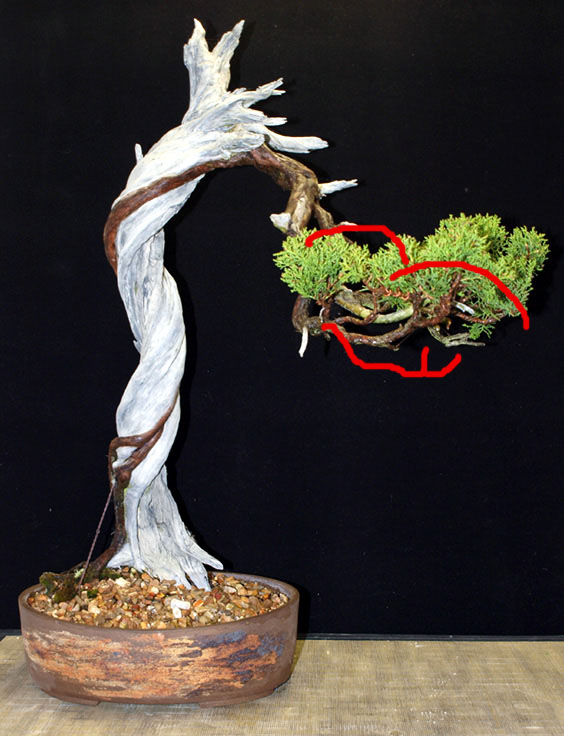 It does seem to be your style to maintain a flat plain of foliage that runs parallel to the ground. I do think a little fine wiring could make the tree look more mature. Will, is this what you were thinking? (as always, I apologize for my terrible virtuals, I don't own photoshop).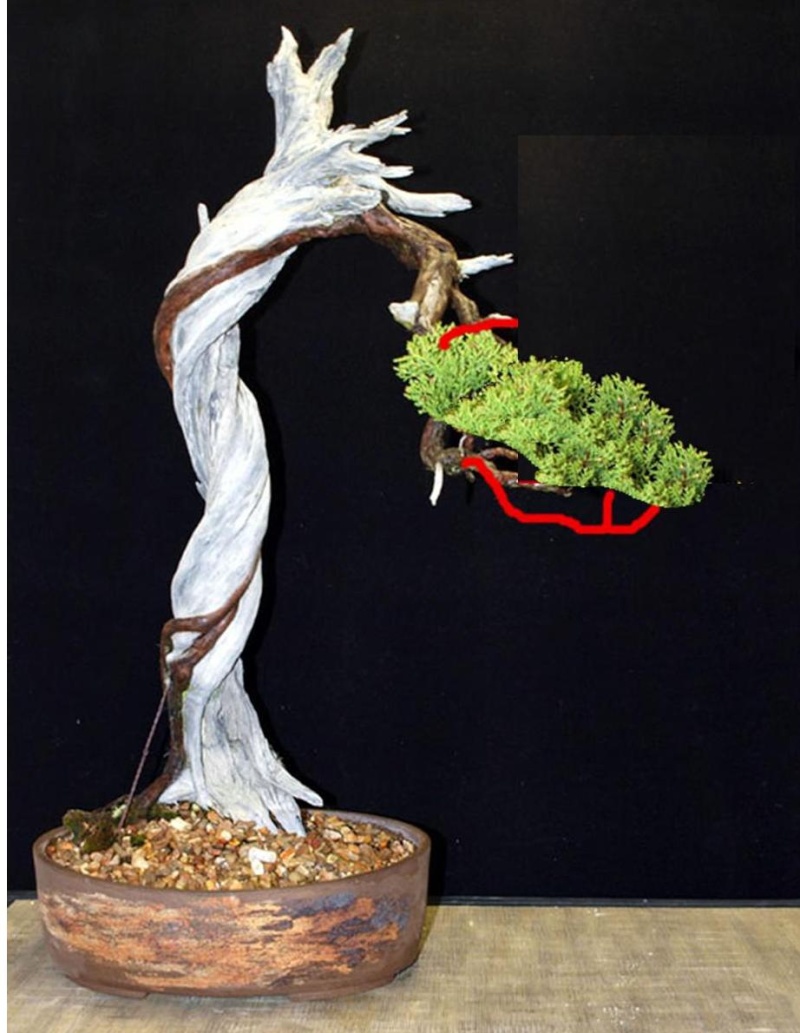 Yes Mike thats much more like it.

Mike, looking good. Your photo needs something for scale. Big tree/pot.
You REALLY use some big aggregate! It makes the photo look like a shohin!

I would love to see this in a show. Is it going to the Cow Palace?
Dale

Dale Cochoy

Member





Wow one of the best bonsai I've seen( to my eyes at least ). I love unique deadwood bonsai. I do agree with the foliage though little work and it'll look super old

giga

Member





Hi Mike,
I love your Juniper. The foliage pads do need layers to enhance the age. You have your flat pads style; I tend to make curvy contrived branches. Its part of the learning curve I think. Most bonsai people tend to favor a styling pattern. Some are better at it than others. I'm trying tobecome more naturalistic in my work.
The glaze on your (Dale's) pot looks like a desert. Perfect for your tree! I like the contrast of bark to deadwood!
Best, Todd

Todd Ellis

Member





Great trunk movement. But Dale is right - the tree needs some sort of a reference point to give an indication of its true size. It wasn't until I saw it on another site that I realised it wasn't a chuhin or shohin and that's to its detriment. And curiously, somehow, the foliage looks less "flat" when you consider that this tree is 41" in height, although I too (personal opinion only) would prefer more in the way of defined pads.



_________________
"Espouse elucidation"
_____________________________________

my website

fiona

Member





---
Permissions in this forum:
You
cannot
reply to topics in this forum