This is a Kishu juniper that I picked up in an autumn sale in 2006, it's been a great tree to work with and has developed fairly quickly.
I've posted a few progression pictures below showing the various stages of development.
This first picture is the tree back at home after purchase in 2006.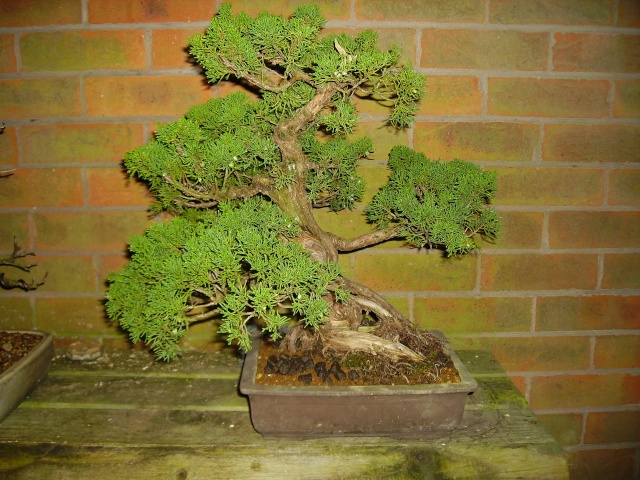 The next 3 shots are from March 2007 when I took the tree to Kevin Willsons nursery for it's initial styling.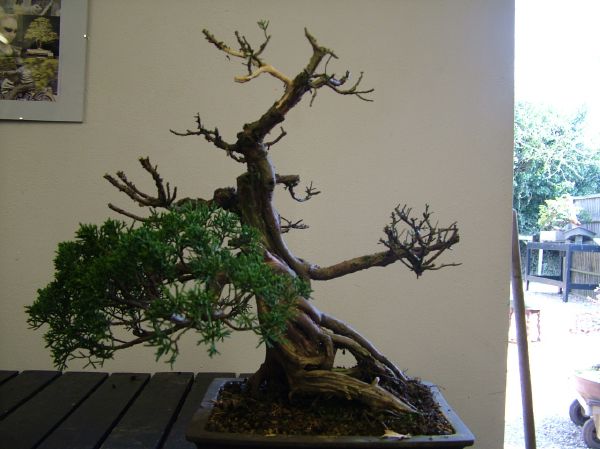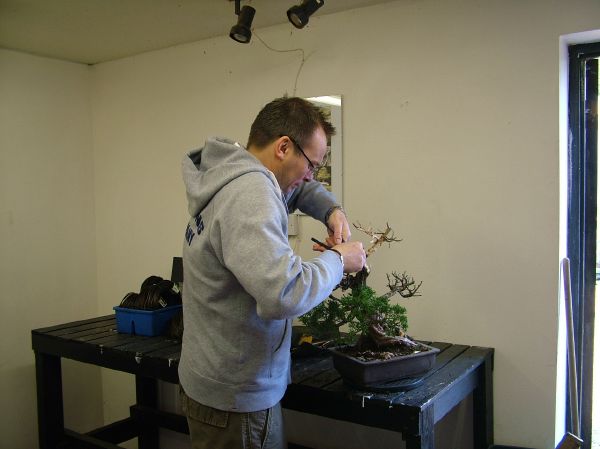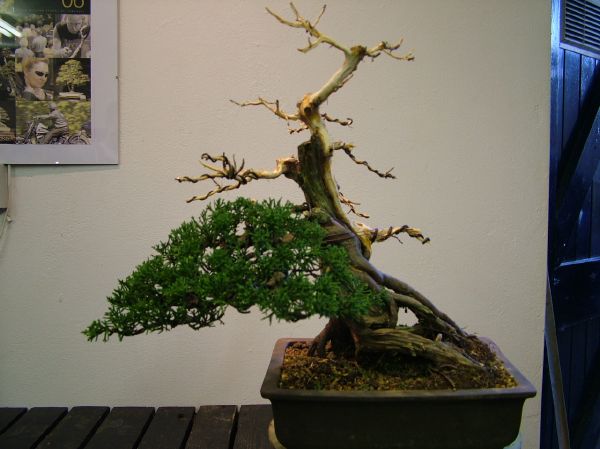 In May 2008 Peter Warren opened up the foliage layers, and refined the deadwood.
Basically all I've had to do with this juniper is feed & water and clear out any growth that falls below the developing pads or grows out past the pads after it gets around an inch long.
March 2011 on display at the BSA Shohin Off event at Willowbog.
I did a partial re-pot in April 2010 to lean the tree further over to the left to improve the flow of the tree.
Future development is to let the bottom left pad extend further to give the tree more flow to the left and improve the density of the pads.
I'd love to be able to display the tree on a large root stand one day...... I just need to win the lottery !
Hello John. Great progress shots and the transformation from a relatively young looking tree, to an aged and ravaged Juniper is superb.
You did a great job on the tree, looks a lot better and mature.
Only needs a little maturity and improve the density of the pads .But thiss will come in time!
Nice!

Will & Yannick,

Thanks very much for your comments, as with most things (except my hair), hopefully time will bring improvement.

Just returned from lunch at the local where I sampled Bulmers new crisp fresh cider, very nice.....think I'll go and prune some trees.....I tend to get artistic after a few shandies.

Cheers

John
Great Progression

Ian Young

Member





Hi John
Very nice work and development. Nice tree.

Pavel

Pavel Slovák

Member





nice design. great improvement

best wishes, sam
Ian, Pavel, Sam, Stavros,

Many thanks for your compliments.

Regards

John
A couple of pictures of the tree on display at the 13th Noelanders Trophy this year
The foliage pads are developing slowly but still need many years to mature and tighten up.....a little sunlight in my backyard wouldn't go amiss but you can't have everything....I've got a receeding hairline and plenty of ear hairs...what more could a man want ?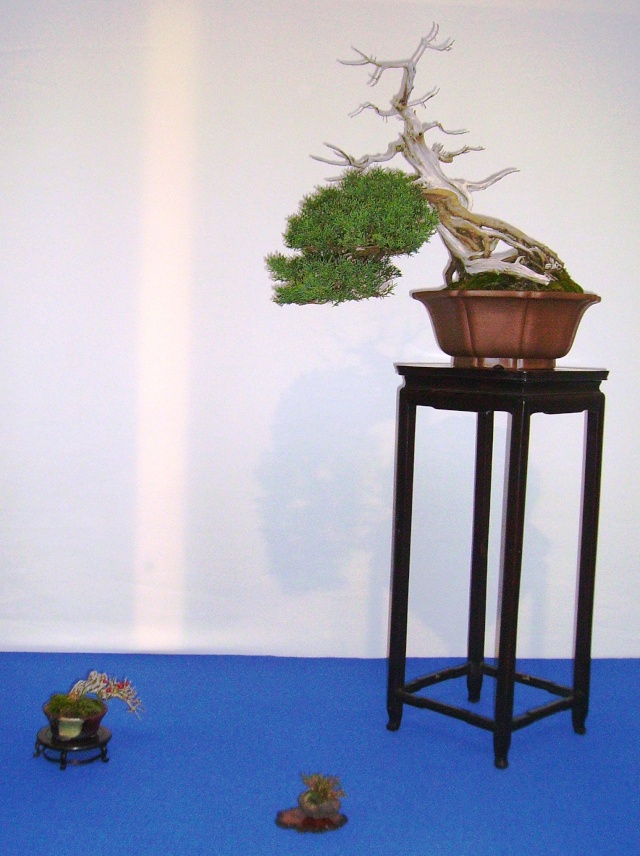 Accent tree, ilex serrata in a nicely ageing little pot I bought on e bay recently.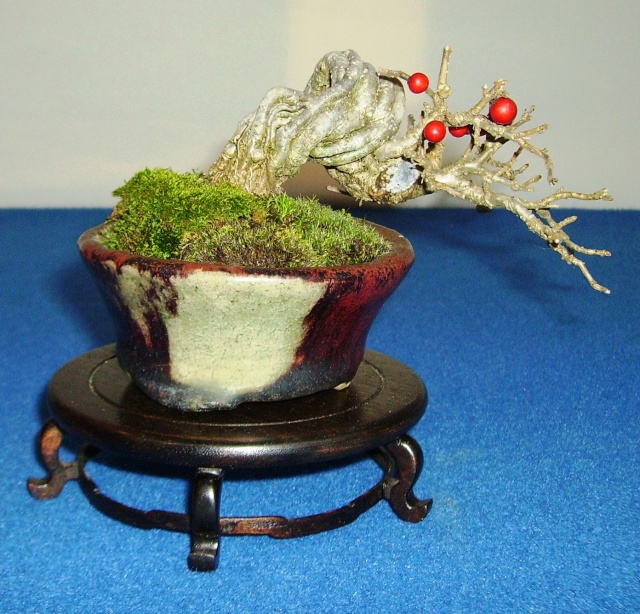 Accent plant, fern.....don't ask....I don't know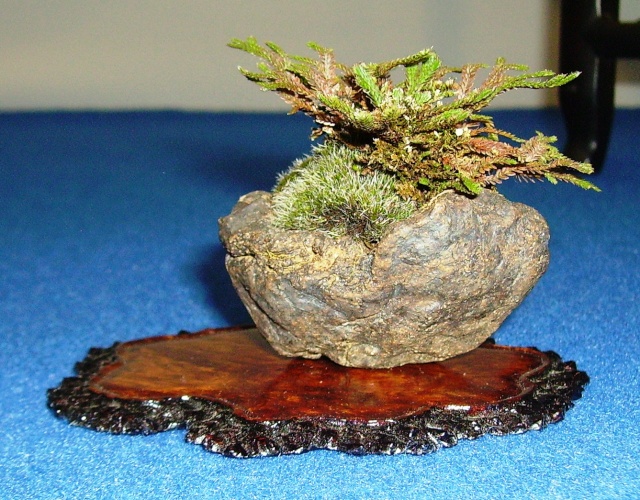 Regards
John
The Fern is called a tassel fern, they are epiphytes, and it seems you get all over the world, I also have a couple in our hothouse that I rescued from felled trees, have seen them grow on the forest floor in Knysna forest, but they preferr up in the branches, Very prehistoric plants!!
Tassel Ferns

Tassel ferns are magnificent ancient plants that love warm damp places. The Tassel ferns belong to the Lycopodium genus which contains about one hundred species, including the Coral fern and Club Moss.

The World Heritage Rainforests of North Queensland contain many rare species of Tassel fern. It is a thrilling sight when walking through the rainforest, to see the pendent stems of a Tassel fern hanging from a wide branch of a giant rainforest tree.

Andre Beaurain

Member






---
Permissions in this forum:
You
cannot
reply to topics in this forum