Hi IBC,
Here is the pic of my Bougie in its Spring garb.. The tree is an urban yamadori and was actually rescued from amidst the demolition debris of an old house making way for a commercial complex. I had no idea that I'd land this tree when I walked amidst the partly torn house. Its three years since and I have reduced the height of this tree by about a third, and the root ball by three fourth and am waiting for it to ramify and fill out. Guess its another two years or so before it'd be what I want it to be….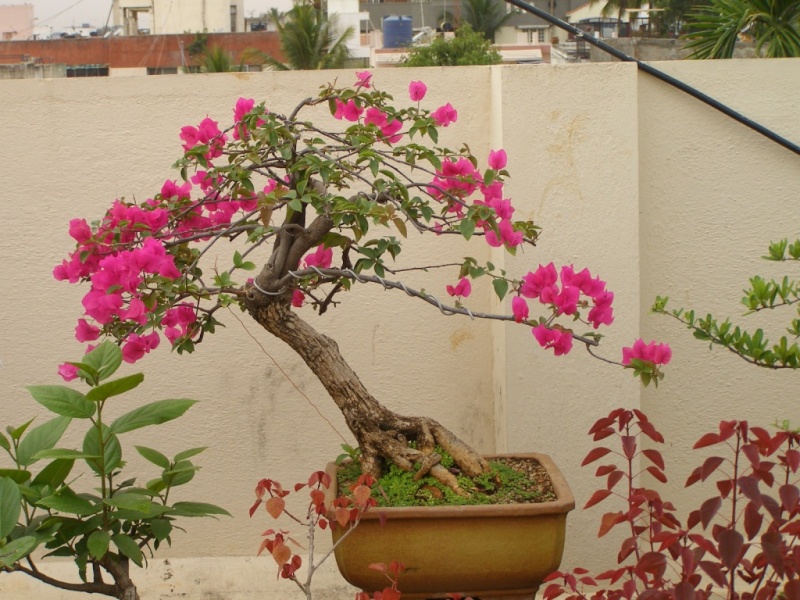 Thoughts are most welcome....
Ravi

Ravi Kiran

Member





We all like flowers, but I think you need to cut some of these branches way back. Bougies backbud very well, like to be pruned, and tolerate dryness.

Billy M. Rhodes

Member





I agree with Mr. Rhodes. The top of the tree has several stems that already have bark inclusions as well as cross branching. Selectively remove some of these problematic stems or remove them all and start from scratch. All of these stems together will eventually cause reverse tapering at the top of your tree.

Lazaro Quintino

Member





Dear Billy & Lazaro,

Thanks for the comments. Do understand what you say and yes that is part of the plan. You'd also see that the primary branches are not thick enough. I've let the tree grow so that these primary branches thicken. Once they do I plan to cut them back hard so that the tertiary branches start developing. That's why I am giving myself a two year time frame (hopefully) for the tree to be near done.... Thanks again...

Ravi

Ravi Kiran

Member






---
Permissions in this forum:
You
cannot
reply to topics in this forum