I was given this ficus as a gift. I was thinking, since the trunk shape is kind of awkward, maybe chopping it before it curves up and trying to go for a semi cascade style would be the best option. I appreciate any advice, ideas, etc. in regards to the styling of this tree.
Thanks
Here's a very poor virtural of your ficus showing the semi-cascade. Since ficus is very good at back-budding you should be able to do what you want. One of the things you might want to try before chopping is to tilt the pot and see what other options you might have for styling. I too have never cared for the extreme right-angles of the 'bonsais' made for sale. I have had much success growing ficus with the clip and grow system. Good luck.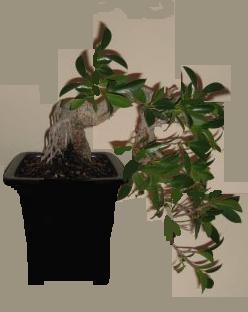 Carolee

Member





But F. benjamina doesn't backbud TOO well, so be careful.
_________________
Jim Lewis - lewisjk@windstream.net - Western NC - People, when Columbus discovered this country, it was plumb full of nuts and berries. And I'm right here to tell you the berries are just about all gone. Uncle Dave Macon, old-time country musician

JimLewis

Member






Carolee

Member





Thanks Carolee and Jim. Carolee I really appreciate you coming up w/ that virtual, looks good. I think I might be going w/ that. I'm not sure what you mean by tilting the pot for more options? Thanks for your tips.- Jim, I don't think my tree is a benjamina, I think it a retusa...
Cover your soil so that the dirt doesn't fall out, and then move the bottom at various angles to check out other views/positions for your tree. It looks like your tree is small enough you could do this just by holding the pot. If you find an angle that looks good (for a semi-cascade you would be tilting it at more than a 45 degree angle), put something under it so that you can look at it from a distance. If you like it, keep it at this angle while styling. When you repot, repot the tree at this angle. Here's a picture taken from this web site.

Carolee

Member





Unless you like cascade trees,i would check the root spread,look good at your limbs maybe you could have a nice informal upright with some wiring and pruning... maybe a little larger pot for some root space..only my opion..john

---
Permissions in this forum:
You
cannot
reply to topics in this forum