hello ibc fellowship!
here is the link to the last article made by our bonsai group
we went to the last premio olea in spain close to tarragone...in the big place of mistral bonsai
we expose some trees ...but no price....the winner was the same gorgeous pine who won the noelander trophy this year
it deserve it
but ..one of our members(jean claude febb) won the firts price with one of the tree suiseki he brought
and finaly i made again a demonstration (one more time with my friend seb rouzot) on a big scott pine of the bonsai musum of biot
so ..to see the pictures
click one the link
HERE
[img]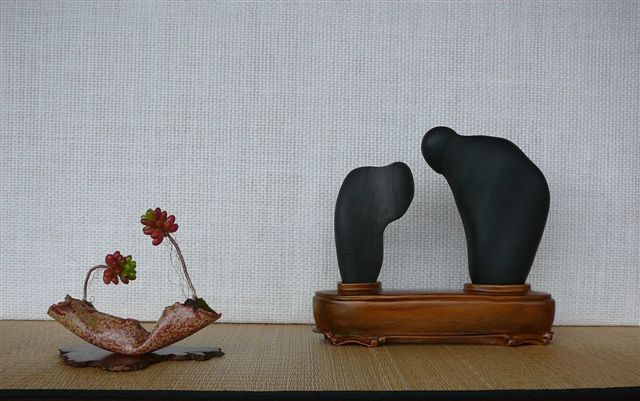 [/img]

cram

Member





Hello Cram. Another great looking demo and another fantastic bit of material. Good to see your work again.
oh thank you will...
yes the tree was really a nice material...
just pleasure to work on trees like this

i enjoyed very much also to meet robert stevens from jakarta and all the spanish bonsai team

cram

Member





Thank you Cram.
Congratulations to Jean Claude
Nice suiseky and nice presentation.

Regards
Jose Acuña

Jose Acuña

Member





thanks jose
i put here a link on the mistral backstage by the edg forum team
pictures of the exposed trees wasn t allowed
so these ones will give you a "mood"

HERE

cram

Member





Hi Cram
Thanks for sharing good photos from a very nice event.
About the suiseki, wich I find very pretty

......I have learned, if the sideplant is big, it should be placed in the background. This one is big, and stands in the front....maybe yo can use this information.
Kind regards Yvonne
Hi Cram,
Very nice stones...i like how it is place in the daiza,thanks for sharing
Regards,
Alex

ogie

Member





to be honnest...i am really a bad new bee in suiseki
so i will ask to mr febb if he want to answer himself and directly here to your ineteresting questions
but..in fact..i don t know if he talk english...
if it is not the case i will try to translate his answers
thank you for interest anyway


cram

Member





Hi Cram
Merci for those pictures, high quality pines.
You have a spacy exhibition room at Mistral bonsai with good light,
must have been a grate occasion.
regards, Sunip

well ...yvonne i don t know what to say to you for the presentation and the accent plant
i can t reach jean claude....he should be on the moon as usually

thank you all for your kinds words anyway

cram

Member






---
Permissions in this forum:
You
cannot
reply to topics in this forum