Hi everyone
Although I joined this club a number of months ago, I have not yet posted any topics. I have generally been content to read the extremely interesting topics and the, sometimes, robust, discussions that ensue. I live in Western Australia and so our seasons are approx. the exact opposite to your's. At the moment, however, we have had almost 60 days without any rain and so keeping my bonsai watered and not sunburnt is a daily chore. Normally, I have to water my trees 3 times per day. I am a member of the West australian "Bonsai Workshop" and the "Australasian Satsuki Bonsai Society".
I have had a question that has arisen from a question asked of my by my mother.
Rather than try and find an online public accessible site where I can post images, to include into my post, I thought the easiest way would be to simply include a link to the same question I posted on a forum on ausBonsai.com. The url is
http://www.ausbonsai.com/forum/viewtopic.php?f=12&t=7912.
For us here in Australia our native plants are endemic whereas the "usual" trees used for bonsai are, here, generally, called exotics. So this club provides invaluable information.
Take care.
Hi Jota3CL (Michael?)

It would be really great if you would post your actual question and especially the pics that accompany it on here as well. Unfortunately to be able to see pics on ausbonsai people are required to register for that forum, and not everyone on here has or would wish to do so.

Would you mind obliging us please? It would be appreciated.


And welcome to your first active participation of IBC - I hope you get the answers you are looking for and other inspiration. It's been great for us to see the way our Australian members work with their native trees.

Regards

Fiona
_________________
"Espouse elucidation"
_____________________________________
my website

fiona

Member





Hi Fiona
Yes, my name is Michael.
I will post my question and try to find a site from which I can allow access to the photos.
Thanks for the kind welcome.
Jota3CL wrote: I will post my question and try to find a site from which I can allow access to the photos.
Thanks for the kind welcome.
Hi again, Michael. It's simplest just to post them direct on to here. There is a tutorial on how to do so - you can find it by clicking
HERE
You don't even need to worry about resizing images - the system does it for you. Your pictures are "stored" in Servimg - the system's dedicated picture host. It's similar to picture storage systems like Photobucket etc - you get your own account and you can store other pics than the ones you upload to here.
Just copy and paste your question from ausbonsai.
Look forward to seeing it all.
_________________
"Espouse elucidation"
_____________________________________
my website

fiona

Member





Hi again. Thanks to the responses from Fiona, I think I have "got it". Here goes...
My wife and I travelled to Koh Samui, in Thailand, about 4 years ago. When we left to go home, we decided to take a number of souveniers for friends and relatives back home. My wife saw these exquisite flowers in hardwood bowls, that had been hand-carved from soap - the flowers not the bowl! The soap was very fragrant and also looked very beautiful (I am just now aknowledging this - my wife doesn't know about this site - because I actually wanted to try and bring back torches (for any US members - flashlights) - about the size of a big mag-lite - that had tasers built into them). Not surprisingly, my wife's decision prevailed.
Our female relatives and friends were thrilled with the gifts and most of them placed the bowls into their bathrooms, where the fragrance would fill the room, but most importantly, the rooms were generally well lit and cool to mildly humid.
Pictures of the bowl and flowers (bear in mind, the flowers are now over 4 years old and have lost their fragrance and have lost about 1/3 of their size) follow.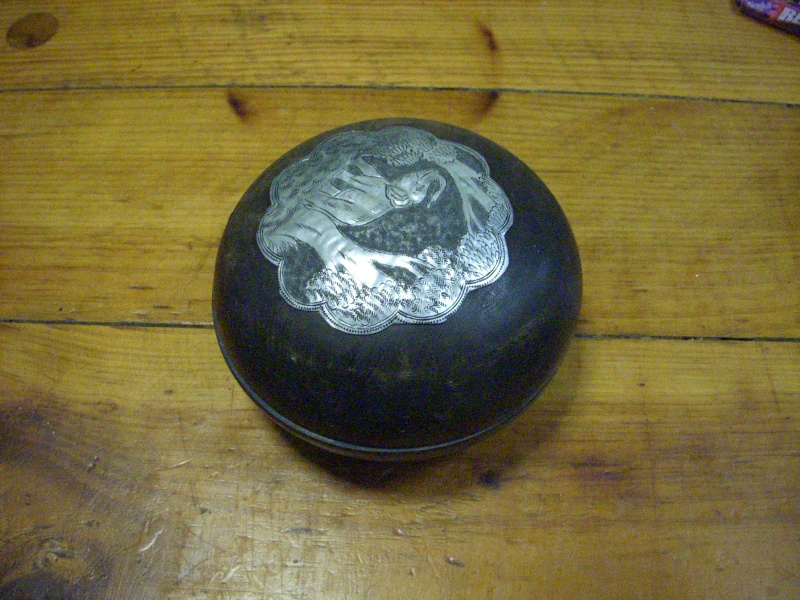 Bowl with lid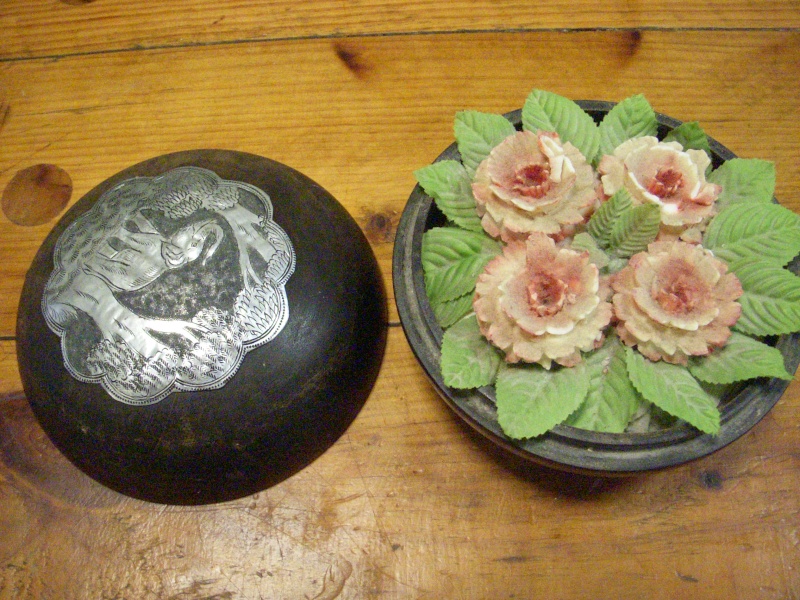 Bowl with soap flowers
My mum is interested in my various bonsai, although she doesn't have a green thumb and doesn't want to risk killing things. However, my dad's thumb and, indeed, his whole hands, are so green that I think he is the world's largest leprechaun (at 6'4"), and, actually, when he was the railway Station Master at Tambellup in the inner southwest of Western Australia in the very early 1960s and near Katanning - where I was born many years ago - he decided that the railway house provided to him needed fencing placed around it. He went to the local woodyard and bought some jarrah picket fencing. About six months after putting up the fencing, almost half of the pickets had started sprouting foliage!
As the soap-flowers, which were kept mum and dad's en-suite, have lost their fragrance, mum asked me whether I might be able to use the bowl and pot up a small bonsai for her to display, again, in their bathroom.
Without the flowers, the bowl has some tissue paper stuck to the bottom, pictured, which I can clean. The diameter of the bowl is 14.5cm (approx. 5 3/4") and the height of the bowl is 5.0cm (2"). I have photographed the bowl together with a "Double A" battery for comparison.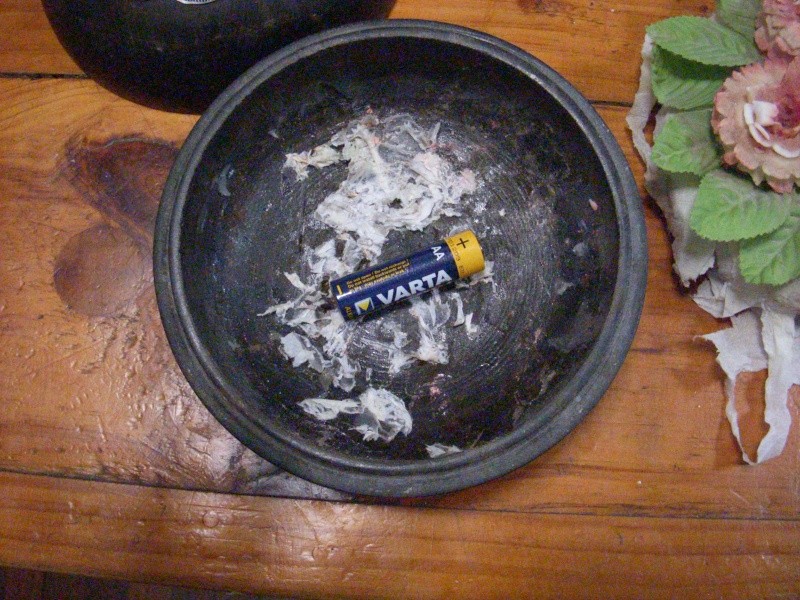 Inside bottom of bowl
Side view of bowl
The bowl is made out of some sort of hardwood (actually it could be made from a coconut(?), but unlike other Asian wood that is brought into Western Australia (which is extremely hot and dry - we have now passed the 60 day mark without any rain whatsoever, here in Perth, whereas, most of the eastern side of Australia has had devastating cyclones and immense flooding), it has not warped, split or dried out. That may be due, in part, to the location in which the bowl has been kept but I think it is some sort of a better class of wood.
I am comfortable cleaning the bowl, cutting out some drainage holes and placing some small feet on the bottom of the bowl. However, if the bowl is to hold potting mix and be watered on a regular basis, I think the bowl needs to be treated to make the bowl waterproof. I have some "Earl's Wood Hardener" (I'm not sure if you have this brand but you must have some sort of wood hardener), do you think this would be appropriate? Or should I use some form of actual "waterproofing" agent?
My concern with treating the bowl with any sort of waterproofing agent, or even the wood hardener, is the potential for some residue being left which may prove poisonous to any tree I may place into the bowl.
Therefore, my question (finally) - in an extremely roundabout way - is has anyone used a wooden bowl for potting bonsai? If so, what did you do to treat the bowl?
Any answers or suggestions would be greatly appreciated. There really isn't any great rush to get this done, because I can just keep "forgetting" about mum's request and eventually give it to her as a Christmas or wedding anniversary gift!
Thanks in advance.
Take care and I hope you and your families are all healthy and happy and that your lives are filled with love and joy everyday.
Michael
"
My religion is very simple, my religion is kindness
." The Dalai Lama
Hi Michael,
I would suggest you look for some kind of black plastic in which some nursery are usingcut to fit then bore holes on the wood for drainage you could use any kind of waterproofing for your wood to further the life span for it,at least you won't worry much of any reaction to your plant,more flexibility,hope it helps you a bit.
Happy growing & Welcome
Regards Alex/Ogie


ogie

Member





Hi.
It's not coconut wood, with the wood grains it's more likely acasia wood.
If you really planned to used this nice wooden bowl as a bonsai pot, It wouldn't last long, no matter what you applied to it it will still rot...you can preserve the outer part with moist sealer but it will rot from the inside.,, but if you really wanted to use it the best way is to cover the inner layer with melted candle wax about 1/4" thick down to the hole you wanted to drill...but it is still not a 100% guaranty to avoid sipping moist into the wood core.
regards,
jun


---
Permissions in this forum:
You
cannot
reply to topics in this forum