Has anyone had any luck with this type of juniper?? i found one with a pretty nice trunk base,,thought i would try it...i haven,t gotten into junipers that much so the pinching ect..i would like to know,,,,,,really any information will help a lot...thank you take care john
They're pretty much just plain old Juniperus chinensis. Perfectly suitable.
_________________
Jim Lewis - lewisjk@windstream.net - Western NC - People, when Columbus discovered this country, it was plumb full of nuts and berries. And I'm right here to tell you the berries are just about all gone. Uncle Dave Macon, old-time country musician

JimLewis

Member





Thank you Jim,,i knew i could count on you...it is just one i want to try nothing great....another project!!! take care john
I have a commercial nursery, Owen's Nursery (they own several really big catalog companies), 30 miles north of me. I went in two years ago and purchased 2 dozen San Jose Junipers from them. All 2 or 3 year old starts. I think I still have around 18 of them. I use them to satisfy my need to be working with some tree constantly, LOL! Several of them are beginning to show some promise. They appear to be quite hardy and fairly forgiving.

Owen's usually has an entire field section of nothing but SJ Junipers for their annual catalog sales of "Indoor Bonsai" material.

Jay

Jay Gaydosh

Member





Here is the one i purchased last yesr from Hollow Creek Bonsai. I will be styling it soon.
Neil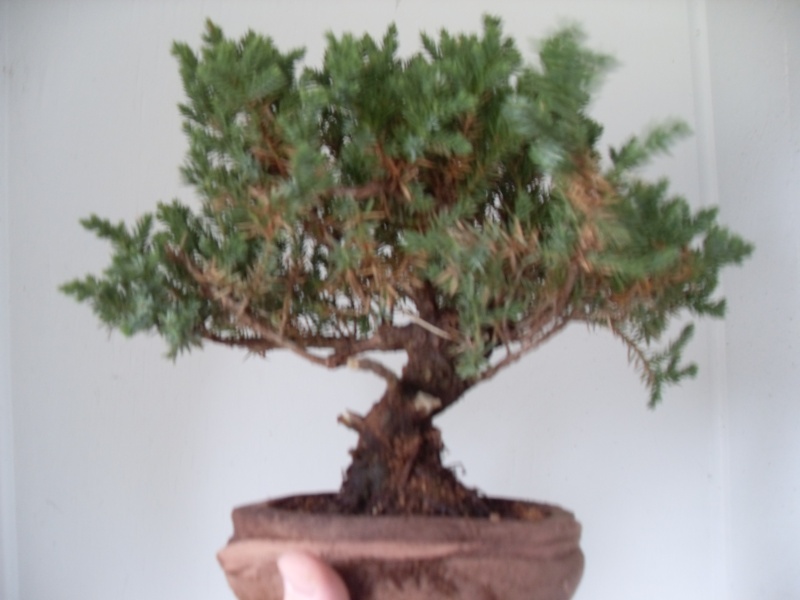 Neil Jaeger

Member





Thank you Jay and Neil,,,the foliage on the one i got is not like yours Neil ..it has longer needles that kinda droop..i may have a different kind..don,t know..thanks take care john
---
Permissions in this forum:
You
cannot
reply to topics in this forum