Page 2 of 2 •
1, 2

Hi Tom,

thank you for your comment.
If I understand you correctly then you think "oval pots".

regards
Peter

peter krebs

Member





Hi Morten,
thank you very much.
I had several encounters with Mr. Daizo Iwasaki, and he also has some pots from me.
I did not know that he has planted in this pot.
I was very pleased to see your photo.



regards
Peter
_____________________________________________
THE WORLD OF THE POT:
http://www.peter-krebs.de/

peter krebs

Member





Hi Peter,

I thought the shape of the pot we can see on the photo from Morten.
I like to build these too. But I changed the design a bit. First I build an oval pot, then cut it in thirds, modify and put together again. That´s why I call it "cut oval" for myself. I´ll show it in another topic maybe.

So how to call that shape - among bonsai and pot lovers? :-)

Thank You.
Hi,

is it called "Lotus shape"?

sulrich

Member





Yes,
thanks for your help Stefan.

regards
Peter

peter krebs

Member





sulrich wrote:Hi,

is it called "Lotus shape"?
Yes.
Regards
Morten
Ok, thank You very much.
I know about lotus shape, I just thought this is a little bit different. I supposed lotus to be based on... no, how to explain it? I thought You could make a circle around a lotus pot, and when You cannot make a circle, just an oval around it, then it isn´t lotus :-) But this was just my opinion and I even don´t know how it appeared in my brain :-)
Ok, then there are lots of lotus shapes.
Thank You all.
Hi Dan,
Your dove on my pot is a fine example of the pottery
can deal peacefully with each other.

regards
Peter

peter krebs

Member





Hello Peter,
Here is my shimpaku in your wonderful pot 'Bonsai peace dove'.

Best regardes
suthin
www.royalbonsaigarden.com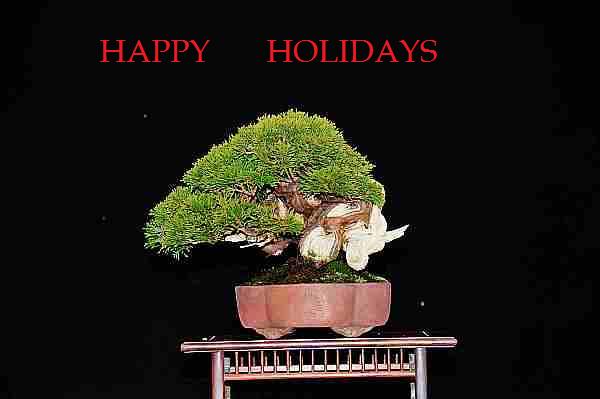 Hello suthin,
Apology for the late feedback.
Many thanks for your Christmas card.
Perfect a combination between tree and pot, that is the higher price for a potter.

Also I wish you happy holidays.
regards
Peter

peter krebs

Member





Page 2 of 2 •
1, 2

---
Permissions in this forum:
You
cannot
reply to topics in this forum