Couldnt help it, bought myself a new ficus.
Its a bit bigger than my others, and this one too.... Has an "S" shape.
I have some plans though. Before: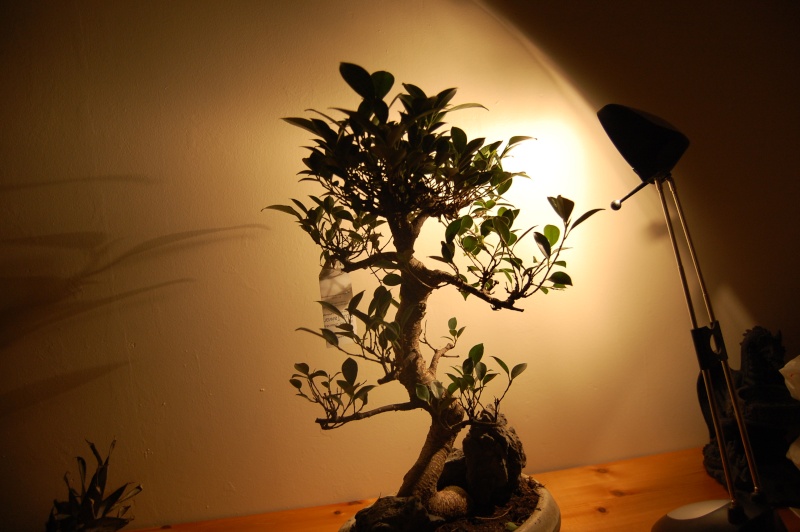 The top: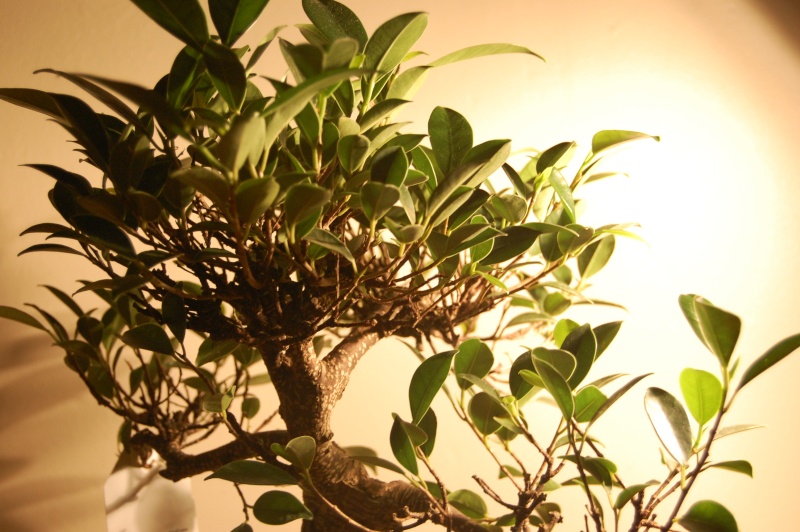 I did some wiring, to just place the branches a bit more. I had to thin it out a lot, cause the inner branches were dying. I mostly removed from the apex, so the lower branches dont die back. I will let them grow out to thicken, since the branches are way too thick up at the top.
I also need to repot it this summer cause the soil at this moment is rubbish. My plan is an oversized pot I have and pure cat sand so it can get a better root system.
This is how it looks just atm at my prefered front: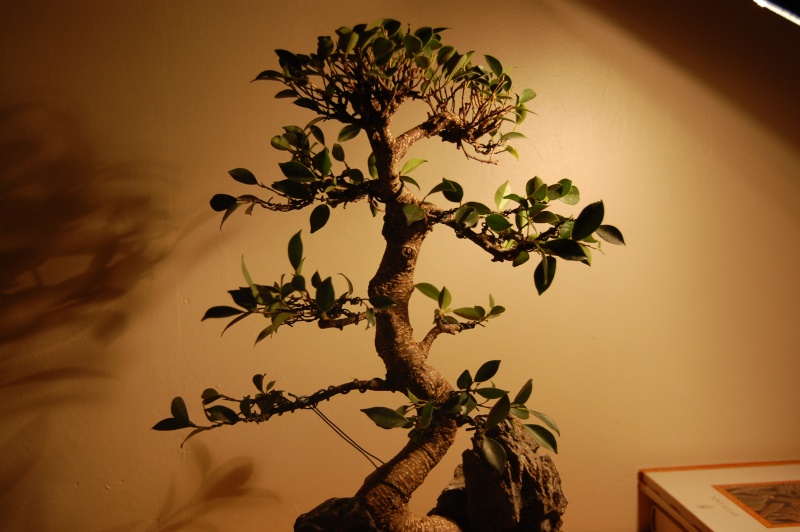 Here are some major problem areas: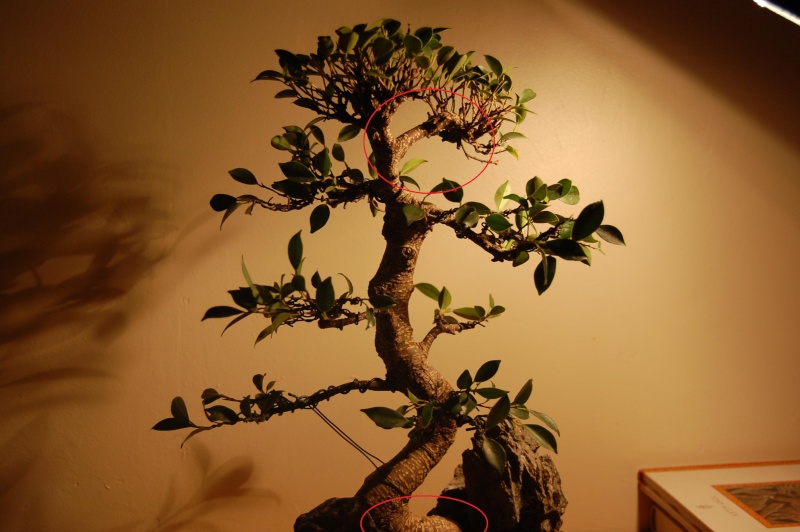 The top ring. The branch marked is just too big. Im thinking of either making it a bigger tree, or just remove it and hope to build a new apex from the other. ++
The lowest there as you see is the base. Im thinking of just stripping off bark at a big area and plant it deeper. So the lowest curve is below soil level. And hoping that the stripped area would be a place to grow new roots, so I later on can remove some of the lowest roots.
There are alot of work to be done to this tree ofcourse, but I think the small changes was good ones.
Id appriciate all your comments. Good and bad, but ofcourse with a reason for the critics.

I dont have many chances to get figs here, so I take those I can get at this moment.

Storm

Member





Hi Storm

would it be a option, to cut the tree ower the third branch?, and just place it lower in a bigger pot for now?.

kind regards Yvonne

The chosen front, will then be the backside
Last edited by Yvonne Graubaek on Sun Mar 27, 2011 9:55 pm; edited 1 time in total (Reason for editing : forgott)
Hi Storm
how about this: layer the top section as indicated by the green line just beneath the apex. Turn it into a raft. After cutting of the layered top section, you could go ahead with Yvonnes' suggestion. In this way you'll have not one, but two promising pre bonsai which is not otherwise commercially available.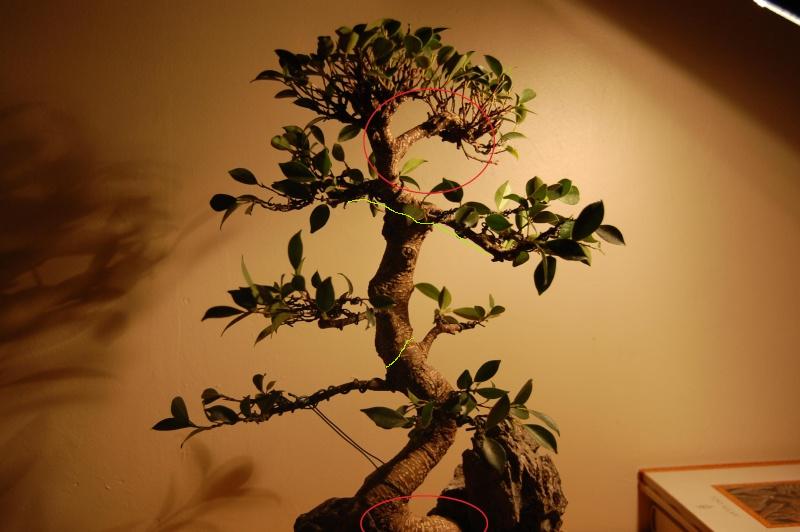 best regards from Loke Emil

Loke Emil

Member





Thank you for great ideas. As for now, I plan to just repot it into cat litter, and let it grow for the summer and see how it takes everything.
But I have a small problem. I have this pot, some smaller ones and one much bigger. Should I repot it into the same pot? Or the much bigger. Its not deeper but probably 3 times bigger. Its square, this is round. Is root rot likely?
I have a small ficus too, and I planted it into a new pot a few weeks ago. It was growing nicely, but it didnt look like there was any new roots since after I repotted it last year.

Storm

Member






Storm

Member





I bet there would be a massive waterlogging even in summer with 100% cat litter...

Hi storm. I dont understand what you wrote. Do you want to owerwater?, this way, you can be sure of no new roots.
Only catlitter? why not some soil, ficus love deep soil. Ficus does not want to be directly weath at any time, not even after new watering.
Also do they not like to be dry.

Kind regards Yvonne
Hi Yvonne. Thanks for a quick reply.
I was thinking it would be too much waterlogging, if I used the biggest pot. Thats why Im probably going for the same as its in atm.
I dont really know what soil to use. Only soil I have other than the cat litter, is garden/flower bed soil. And it stays wet for a long time. And it plugs the holes quite fast..
Im actually not sure what ficus trees likes the most. Ive used the same thing for all my trees, regardless of what species, and theyve been growing, all of them. So I kinda just stick with it.

Storm

Member





Hi Storm
Can you not buy soil in gardencentres?
Anyway...what you need, is to have the too much water out of the pot ( you can use the big pot)
Find som moss, I prefer spagnummos, fill the holes in the pot, from dawn under, with a not hardpressed portion of spagnummoss, make sure it is connected with the table the pot stand on, and the too much water will leave the pot.
This is a very good advice. This is how I keep my trees healthy

Kind regards Yvonne
Storm,

Right now I have a fig in 100% 3/8 inch lava and it gets almost completely dry in 24 hrs. So, if you were going to plant it up that far, that is what I would recommend. I don't have too much experience with root growth in figs, and I don't know how long it would take to fill the pot. However, I do think that is extreme if it is not completely root bound. Do you have another fig that would complement this one that you could plant with it in the big pot?

I like the look of your fig. Is it a bit thicker just above the middle than below? If so, maybe that would be a good place to air layer it?

Jon
I have another. Im just putting it into the pot for growing reasons. Not anything with a finished result

I have thought about many things with this tree. But its hard to show on a picture. I will post more pictures after the summer to show how its going.


Storm

Member





Hi Storm

Just forget about bonsai pots for now, plant it in any plastic pot or whatever that is optimal for the development and health of the tree.

---
Permissions in this forum:
You
cannot
reply to topics in this forum