I've often wondered where enthusiasts obtain these beautiful polished flat slices with bark around the edge? And don't anyone say a tree ... please.

I have seen quite a few at exhibitions and in images but have never pursued them. I must admit they do look very nice indeed. I have no idea on where or how to obtain. I do not have a bandsaw, but can french polish to a mirror finish with the right wood.
Clearly I fully realise they are not weather resistant and will shrink, crack etc in rain and sun. No, this is purely for when I am exhibiting trees.
Any help, advice thoughts would be very much appreciated.
I'm UK.
Thanks
Mike

Mike Jones

Member





You usually will find a few on sale at shows and conventions. Google burl slabs and see what comes up.
_________________
Jim Lewis - lewisjk@windstream.net - Western NC - People, when Columbus discovered this country, it was plumb full of nuts and berries. And I'm right here to tell you the berries are just about all gone. Uncle Dave Macon, old-time country musician

JimLewis

Member





Thank you Jim, I'll try Google then.

Mike

Mike Jones

Member






Hi Mike
I think what you are looking for is japanese "jittas" very thin and highly polished and top quality. The only place I know that sell them in the UK is Dai-Ichi Bonsai in Newbury (01635 200667) it,s where I got the ones I use in my displays.
Hope this helps
Bob
Bless you Bob, thank s a lot
Mike

Mike Jones

Member





Another source is Willem Verlaandren in Holland who was at the Best of British in 2009, I dont know if he will be there this time, perhaps Malcolm or Kath Hughes could provide the answer.
His site is
http://samurai.nl/

Dave Martin

Member





Thanks Dave. Maybe he will be there this year.

Mike

Mike Jones

Member





I got most of mine from Peter at Willowbog - a variety of thicknesses and I don't have any of the very fine ones you see.

They are objects of beauty in themselves, especially the very fine ones. Very tactile.
I need to get out more often don't I?
_________________
"Espouse elucidation"
_____________________________________
my website

fiona

Member





I admired many at the Green Club in Tokyo but could not afford them. They are often finished with very intricate and attractive naturalistic carving, rather than bark, around the edges.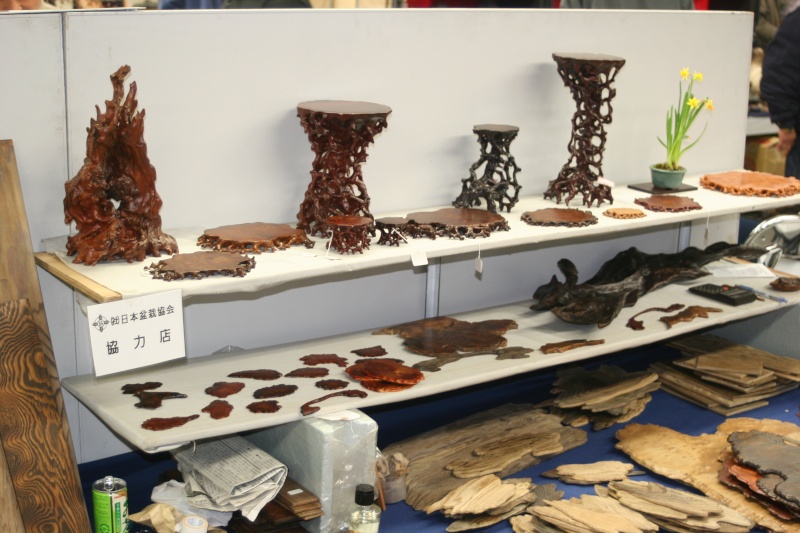 And no Fiona, your penchant is shared by many!

_________________
"It is not the strongest of the species that survives, nor the most intelligent. It is the one that is the most adaptable to change." - Charles Darwin.

Kev Bailey

Admin





Kev Bailey wrote: And no Fiona, your penchant is shared by many!
Not
all
of 'em I hope.

Those are quite lovely items on that stand. Must remember to renew Lottery ticket before Saturday.
_________________
"Espouse elucidation"
_____________________________________
my website

fiona

Member






---
Permissions in this forum:
You
cannot
reply to topics in this forum