In the spring of 2008 i repotted this tree.
What do you all think?
-The acer in 2007.
-The tree after a workshop with Hotsumi.
-The tree after rootpruning.
-detail nebari.
-The acer in a pot of Bryan Allbright.
-beginning of mai 2008
this acer still has a long way to go.
Tonight i will send a picture how the tree looks today.
Greetings,
Yannick
Nice trunk and movement.
The flow of the tree is to the left i.m.o.
Your sashi-eda points to the right ?

I would shorten the first right branche and let the first left one grow longer and fatter.

Fred-4-u

Member





I recognise this tree, have you showed it before? I would consider shortening the first right branch a bring it down a bit, alt. maybe change the planting angle and tilt the tree a bit to the right and maybe turn the front just a little bit clockwise.
Nice tree btw=)

Henrik Stubelius

Member





Lovely tree. I would shorten the right branch as suggested. Perhaps something like this and re grow at a lower angle.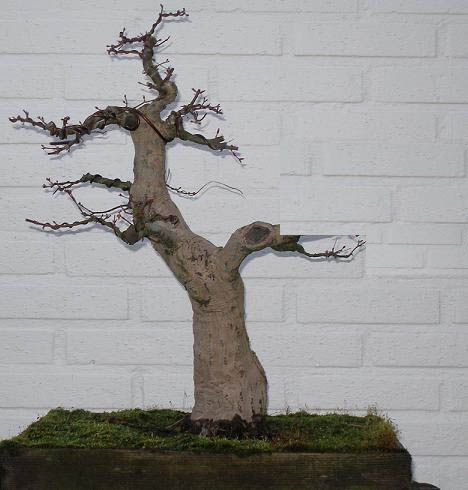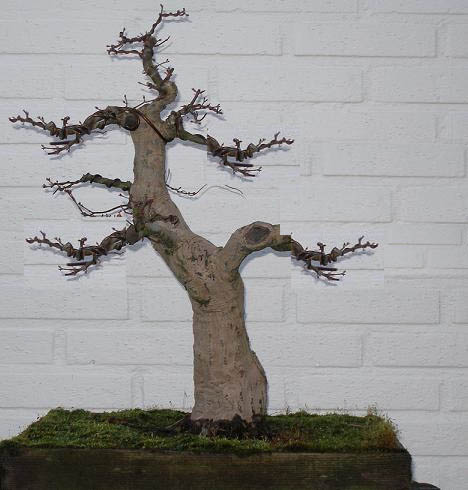 And what if you repoted it in anothe angle? sort of like this?
I've just changed the angle a lit bit to the right of the picture...
Hello ,

Thank you for youre comments.
I think i could only lift tree in another angle if this is possible with the nebari.
Next time i repot this tree i will let you know.

Greetings,
Yannick
---
Permissions in this forum:
You
cannot
reply to topics in this forum