work continues at the bougainvillea stump field. of the original 68 about 50 remain. all are growing like crazy. luckily ted's is less than 5 minutes from my house, so I take my tools up the road several times a week and spend time pruning, carving and repositioning the raw stumps for future bonsai development. todays effort will pay rewards down the road. sharing some pictures of activity at the field of dreams
best wishes, sam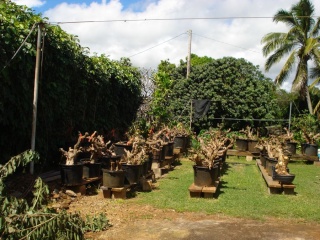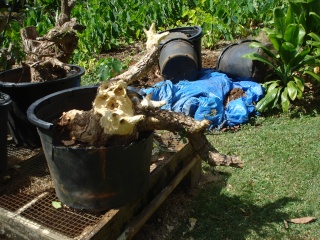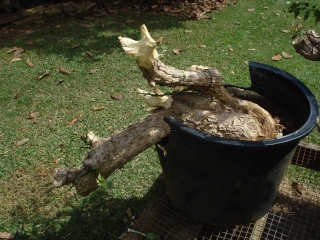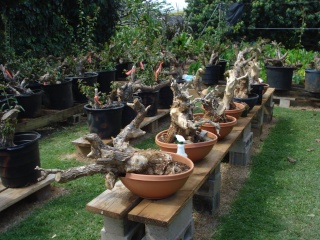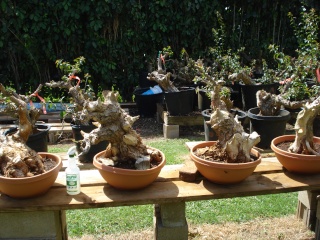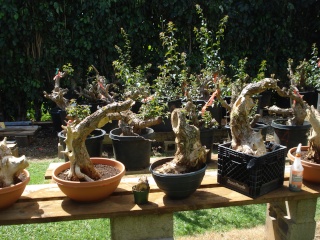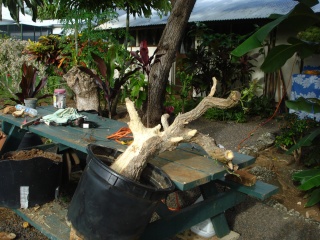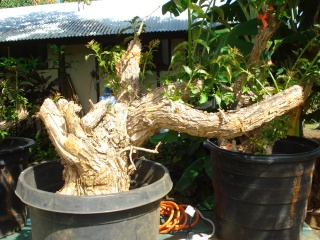 [url=http://www.servimg.com/image_preview.php?
i=967&u=15061647]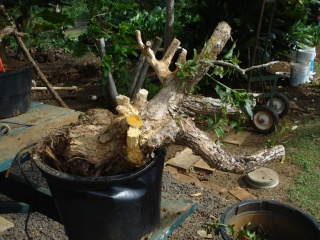 [/url]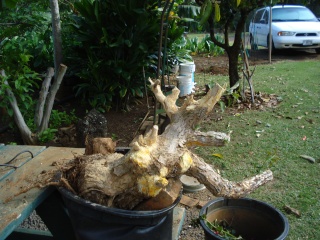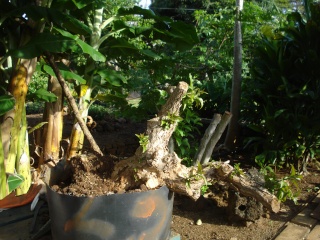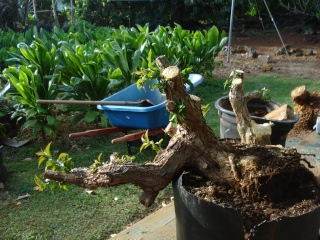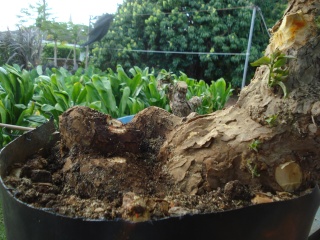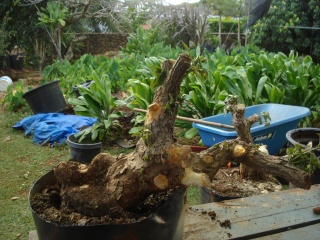 Hi Sam
Whats for sale and when can I get one

No really, any chance of shipping to Maui.


Arno

Member





Hi Sam
A timely rescue. I truly hope that all your efforts will pay off in the future. Keep us posted for I have been waiting for this follow up. Do all the trees have some roots? What mix are you using?

Regards
Cosmos

cosmos

Member





If keep bothering, many will die. Give time and time will give you back.

Best wishes,

Alex
Looks good buddy! I need to make my way down.
Bryson

HIONBONSAI

Member





thanks for the responses, everyone.

arno: send me a pm. shipping to maui is no problem

cosmos: amongst the 68 stumps we found a variety of root conditions - from good to poor. we experienced 100% recovery, not uncommon for bougainvillea in Hawaii. the trees are planted in a 60/40 mix of soil and compost and are responding to regular care with vigor.

alex: thanks for your input

hionbonsai: come by any time you can

best wishes, sam
spent several hours yesterday working on another bougainvillea stump. the task seems endless because we have so many, but we are making progress, one day and one tree at a time. the tree is planted in a 25 gallon pot which provides the viewer with some sense of its size. following are several pictures, before, during and after. in #1 the sides of the pot have been cut away revealing a trunk that is nearly as wide as the inside of the pot. the width of the base is measured in feet rather than inches. several large branches come off the base. the overall impression is a confusing mass of branches, cut stubs and new growth. #2 a notch is cut into one side of the pot and the tree is reoriented. some major wood has been taken off. including a 5 inch diameter branch in back of the apex trunk. #3 a broomstick size dead branch at the apex has become jin. in the event the rather delicate and vulnerable jin snaps, we have a backup jin created from live wood to the immediate left. the rising part of the cascade trunk at the far right has been taken off in favor of a dead stub hidden behind it. there are strong shoots growing at this location to create future branches and foliage. in #4 the work is nearly done for now. although difficult to see, usable shoots have been wired and placed. the tree will be repotted and left to get strong again. meanwhile, the newly carved wood will dry and be ready for finish work, sanding and wood preservation in the near future. enjoy the progression.
best wishes, sam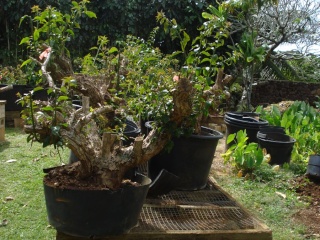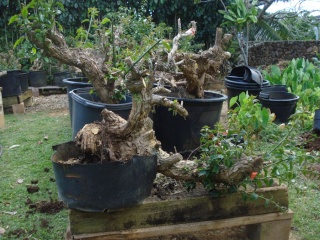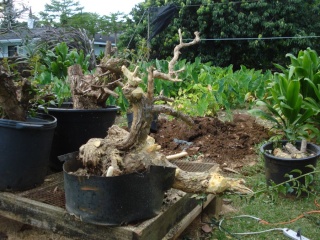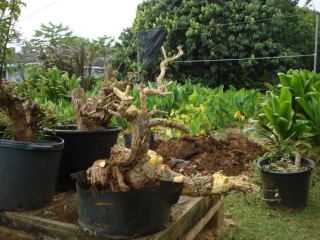 Wow Boug heaven!!
Good luck growing season must be 24/7 in Hawaii



shannon

Member





I think you are being much too invasive!!! The trees took a long time to be as thick as they are. Don't fight against time. Give them room to breathe.
shannon and carlos

thanks for the interest and concern.

best wishes, sam

---
Permissions in this forum:
You
cannot
reply to topics in this forum