I still look at this tree and can't figure out a good plan. On a small needle juniper like this do you try to form pads?
I think this should be the front.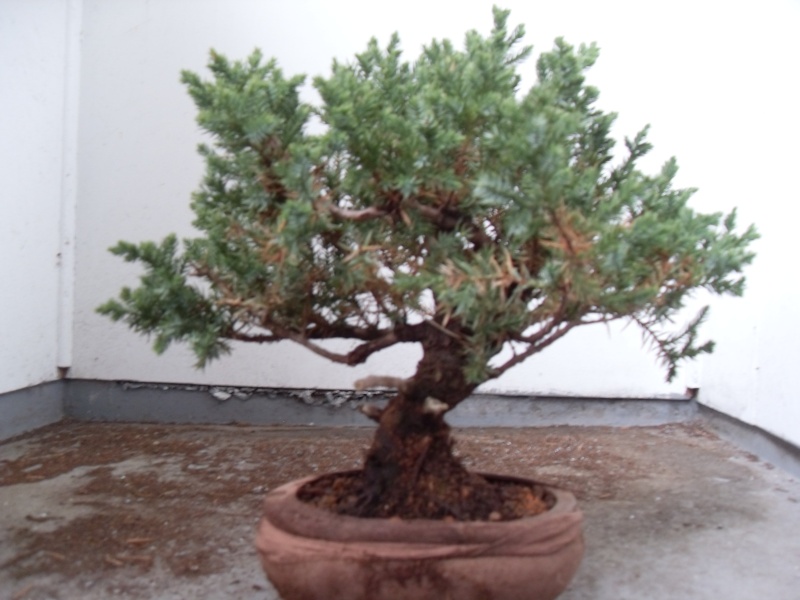 The back.
Its hard to see, so i drew a line showing the trunk line.
Another showing trunk line. The blue circle is where the chop scar is.
Is my best option just staying with the classic "triangle" foliage shape? Or should i try to make pads? Any help would be GREATLY apprechiated.
Thank you,
Neil

Neil Jaeger

Member





Yes you can develop "sort of" pads, they will not look like Shimpaku, but.

However, I think the trunk line is too abrupt, sharp. I would suggest another line, if you can find it.

Billy M. Rhodes

Member





_________________
Jim Lewis - lewisjk@windstream.net - Western NC - People, when Columbus discovered this country, it was plumb full of nuts and berries. And I'm right here to tell you the berries are just about all gone. Uncle Dave Macon, old-time country musician

JimLewis

Member





Very nice! I like your look, Jim.
Thank you very much for your responses. I think the tree was chopped then the "leader" was wired to the "trunk" which made the abrupt turn. I may be able to wire the "leader" up alittle more to help with the look Jim had in idea. Just ready to work on my trees. Our weather is still cold and our big Plantasia is the end of the month and im hoping to work on the tree at our booth.
Thanks again,
Neil

Neil Jaeger

Member





Befor worrying about trying to form a triangle or pads take a look at a lot of tree's in the woods. You'll be surprized how many have neither. Most of the time in my own opinion bonsai should look like the trees that you see.
Hi Neil,

I'd say you have a tree with the basic styling already in place. You don't have to reinvent the wheel. While I do see a prominent left lower branch, I don't see one on the right that is as prominent. You can however wire a good thick branch on the right side. What is needed is thinning the tree. Remove unwanted branches and sprouts so that the tree grows in the branches that you have identified. Once that is done you can go ahead and settle for the basic triangular shape that is almost there needing simple refinement and Voila you'll have a good bonsai.

You have not mentioned the size of the tree. If it is under 10 inches you can forget about the pads. If the tree is larger then you can give pads a shot.

Regards
Ravi

Ravi Kiran

Member





Hi Neil,
I have a similar tree 'under construction', a couple of years further down the line from what you show here. I've asked about it on here before - here's the thread if it's of interest. I think a similar design would work for your tree (though that's not to say there aren't better things you could do than my ideas!).
http://ibonsaiclub.forumotion.com/t2302-san-jose-juniper
Tom

Tom

Member






---
Permissions in this forum:
You
cannot
reply to topics in this forum