Greatings, my friends
I've just joined this wonderfull forum, after a long time following it, and admiring the fantastic works of art that get posted here so often, but now i have decided to make my humble contribution, with some of the trees i've started to work on, not to long ago, the tree i intent to start the refered contribution with is a yamadori made last year, wich i am putting many hopes on, and in my (very short) experience in this art i think it´s got a great potencial to become a very good bonsai in the near future (maybe 2 or 3 years), what are your opinions?
Welcome Ferdy!
Good luck with your tree, it got a nice trunk movement.
regards,
jun

Hey Ferdy,
You have a great yamadori starter there, I'm thinking though, maybe it should go in a bigger pot to get some strong growth in those branches.
Mick
Hi Ferdy
image 1 as the front. Since the movement of the trunk is best seen.
With proper care, the tree has a promising future.

jupp

Member





Hi, Ferdy-San!
It's good to see you around here.

I've got to find some time to pay you a visit and see this tree live, as well as all the other you have in your yard.
Cheers,
Nuno
hello again,
and thank you all for your positive comments, i have been considering to return this tree to a larger training pot to achieve a faster growth, i totaly agree that this pot is a litle small for this stage on the tree formation, thanks for the advice, and for you Nuno, "mi casa es su casa"... you know what i mean, see you the 20th at the club's assembly.
Hello again,
this olea was the first project i posted here in the forum, and since i shown it last, it has progressed considerably, it is now reaching the stage, where a pot is required, anyone has any sugestions???
best regards, Ferdy
Hello friends,
I thought i'd come by and leave here a update on the progress of this tree, it is surprising the amount of growth it sends out all the time, it has allowed for good progress and this is how it is now...
great tree, thanks for sharing with us it's progression!

appalachianOwl

Member





Hello Ferdy
The branches developed some good girth in two years.
The first (red) one could use some more girth in relation with the second and third branch.
Are you going to develop the green one more?
I would be careful with the yellow one or it will be to thick, i would keep it short.
But all this you know for sure.
Sunip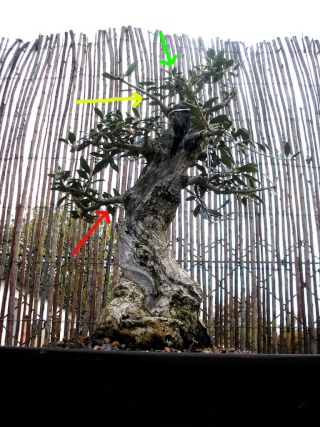 Hello friends,
once again i come here to show the last improvements done to this tree, this time it was in the midle of april, during a "olive tree workshop", on witch our teacher Rui Ferreira, found a new angle to plant the tree, and after a litle prunning, wiring and bending, this is the result...

---
Permissions in this forum:
You
cannot
reply to topics in this forum