Now I've sucsess to posted my pic. This is the first time I joint to this bonsai forum, I would like to show my Kengai ficus.
I got it two years ago from a friend, he planted in the plastic pot in some few years until its root reached ground deep enough. Its height about 2 metres.
In my home yard I cutted its height also long root, change with new soil. and I found a kengai shape then I planted in a small drum, healthy grown. In the last December This Ficus start to plant in a new pot with new soil. Still not satisfied me, really in progress. I hope in a few years in the future my ficus tree will become a good bonsai. To all the friend, please give me some idea, critique or anything to make this tree become more beautiful, thanks
S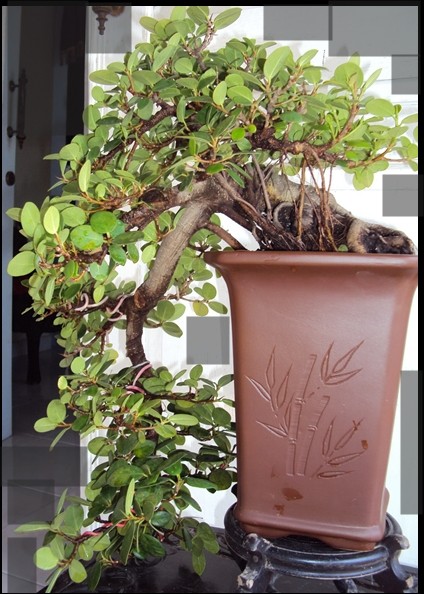 no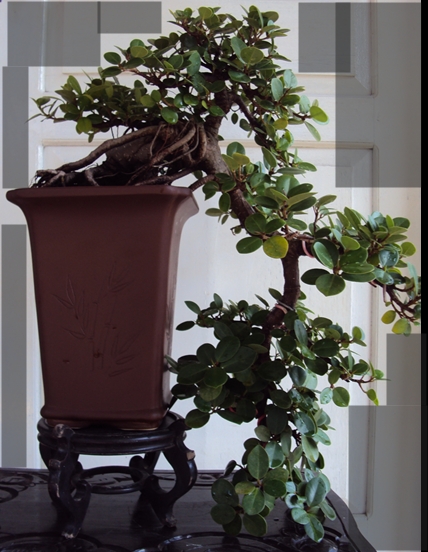 Note : Pic No. 1. back fiew & pic No. 2 front fiew
- Sorry for my English not good enough

Mangku

Member





Your English is great. Thanks for posting.

You can defoliate this tree for a better look at the structure. At this point I think you have too much foliage and too many branches.

Billy M. Rhodes

Member





Thanks Billy for your idea, as I said before, I am still not satisfiend with this shape, so I need any idea, critique and comment from any person.
In October last year I have prunned this tree, but here in tropical all plant become green so fast especially in rainy season like now. Actually its branches must be remove some in next few month.
This one of my ficus I just prunned last week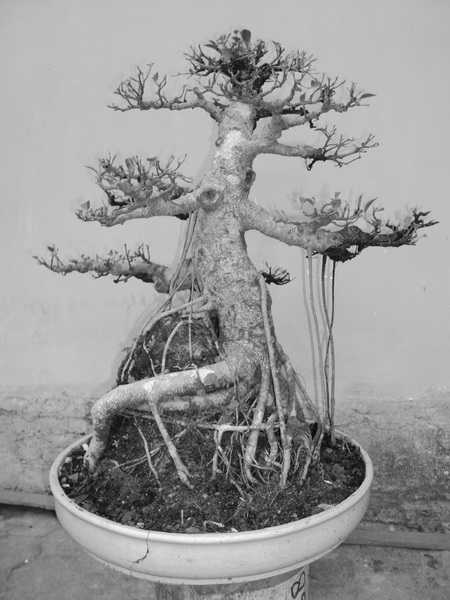 Mangku

Member





I think your Kengai Ficus isa nice looking tree. If you wire the lowest hanging branch to match the direction of the "One right above it" you would add more movement to the tree. You might need a more shallow pot for this though.
I'll try to create an image for you.
Best, Todd

*****
**********
************** ****
/// **********
///// **********
//////// >
////////// ******
______________ ************
[ ] **************
[ ] ****************
[ ]
________

Todd Ellis

Member





I created an image of a tree in a pot, but when I sent my message, the image did not work.
Anyway, consider bending the lowest (large) branch towards the right; in the direction of the branch above it.
Best, Todd

Todd Ellis

Member





My thoughts would be to eliminate the vertical cascade branch as it drops straight down and lacks movement. Good semi cascade.
I am with Will on his suggested branch reduction. The result would be very pleasing. Do give it active consideration...

Ravi

Ravi Kiran

Member






DreadyKGB

Member





@ Todd Ellis :
Thanks for your idea. Yes, that is one of alternative to shape this ficus. I am always waiting your image, hope it will work good next time

@ Will Baddelay :
Nice idea Will, I have ever though abaout this style, but not now, I must waiting the proggress of the vertical branch first, I'll try to bend
this branch use bigger size wire to achieve ideal shape.
@ Ravi Kiran :
I honoured your idea too. Sure, I must consider very much before we remove that branch.
@ DreadyKGB :
Ooooh, it is very nice image. thank you very much friend.
Friends,
I very, very appriciate all your kindness such as comment, idea and advice to me.
This is the first forum I found where every one free to comment give any idea or teach any one else about their bonsai. I am happy can joined this forum
Bravo for IBC....!

Mangku

Member





You could have a very nice cutting by taking off that lower branch. I would do this in late Spring or Summer.
Best, Todd

Todd Ellis

Member





I am with everyone else!! prune that long stright branch..with a more shallow pot maybe you could tilt the tree more to the left to bring the apex more upright...my opion that will make you a much better tree.. post again with your desion...take care john

---
Permissions in this forum:
You
cannot
reply to topics in this forum