Hello all member,
today I'm need help to identifying this tree that I have buy last week. this conifer is Chamaecyparis or in Truja family?, may be sunkitst?. please help.

and second question, this kind of conifer is suitable for create bonsai or not and why?
thank you very much for all help

regards,
Pongster.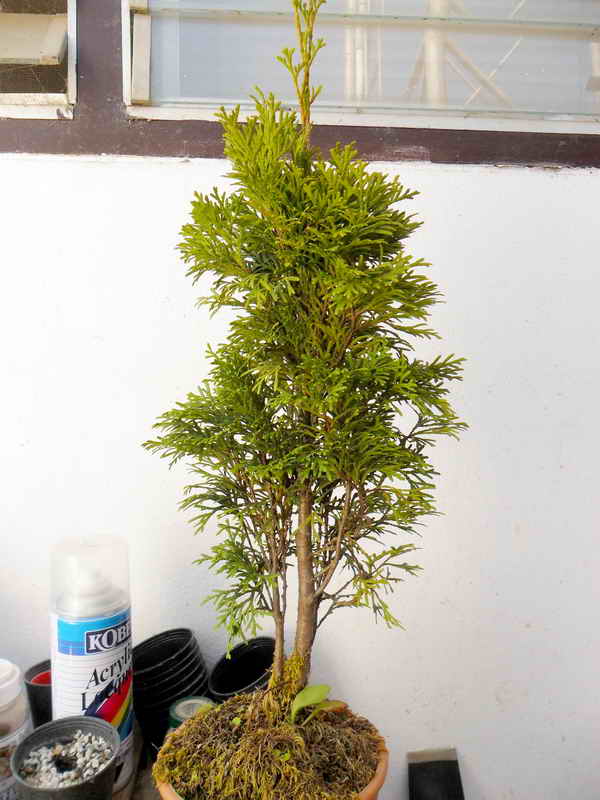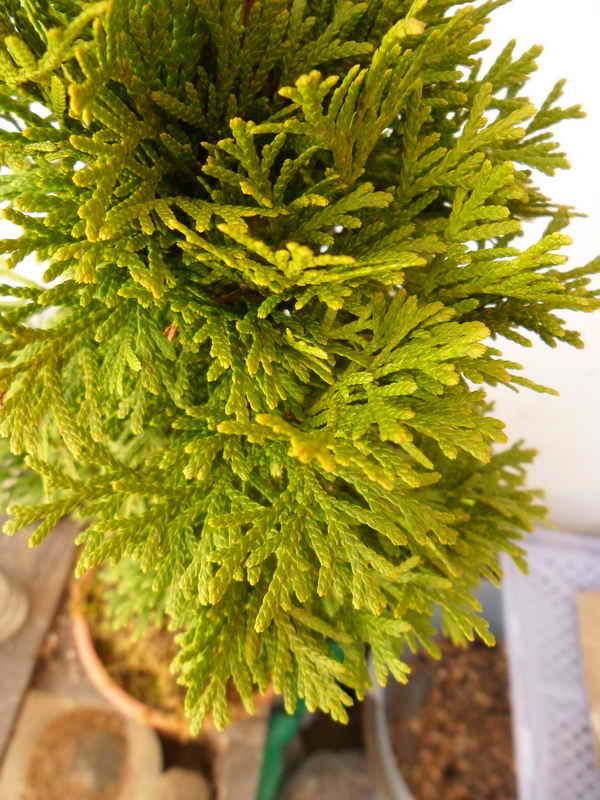 pongsatorn.k

Member





Hi Pongster,
I am not an expert in this but my first guess is Thuja.
I saw a few Thuja bonsai, but they are rare, because they do not really bud back so easy.
There are many many variety's from Cryptomeria, Chameacyparis and Thuja and even Juniper
who are coming quit near to each other in looks,
so one might have to cheque the long list of variety's if you do not have a label on you tree.
The older Thujas like those in my garden have only the top branches upright,
below that they go horizontal and quickely along the trunk they tending to hang down.
Half way they come out of the trunk and hang vertical against the trunk down.
The lowest branches touche the ground and bending themselves upwards like a circel of new trees.
Here they call Thujas the tree of life.
If you want to grow such an older looking tree you have to start early with bending branches down,
doing it in stages, each time a bit further works well.
Maybe your can do something with a second smaller trunk, when i look at your pictures.
regards, Sunip

Hi Pongster,
The correct name is Thuja Occidentalis Sunkist
a yellow green variety.
regards, Sunip

very and very thanks Sunip

for your help.
are you have any image of this femily in bonai?
regards,
Pongster.

pongsatorn.k

Member





Hi Pongster.
I am not sure what you mean.
But try google, you will find examples of old Thuja's
and maybe also of older Thuja Occidentalis Sunkist.
For Thuja bonsai i remember seeing them at a bonsai dealer in the Netherlands
and on a Bonsai forum.
regards, Sunip

Apparently 'Sunkist' is just a yellowish cultivar of Thuja occidentalis. I am a little surprised to find it flourishing in Thailand, since it is a tree of our cold northern forests. T. occidentalis goes by many common names. Around here they call it Northern white cedar. Collected ones are very popular for bonsai. It is also called arborvitae, which means tree of life. If you Google on Thuja occidentalis bonsai, you will find pictures till the cows come home. Bonsai artists like to dig up old ones & carve up the deadwood. Have fun.
Iris

bonsaisr

Member





Thanks again Sunip

yes I mean sample of sunkitst bonsai.
and Iris: thank you, Thuja are not Thailand local tree, royal project on hight mountain have import them for gargening and for sell.

I will try to google them again! thank you all!
regards,
Pongster

pongsatorn.k

Member






---
Permissions in this forum:
You
cannot
reply to topics in this forum