brought home, prepped and planted the sixth and final bougainvillea stump for my personal collection - selected from the inventory of trees at ted's house. sharing some pictures of the process. the trunk just fits in a plastic milk crate. I'm thinking, semi cascade or perhaps full cascade. which is the best side? branch stubs need to be shortened or removed, but which ones? pictures follow. hope you enjoy them.
best wishes, sam
just home. looking for something to plant the big tree in. the base is chainsawed to allow it to fit in this plastic crate.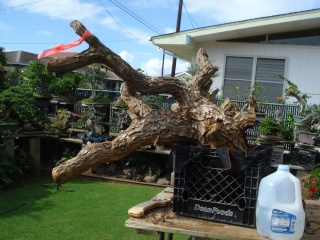 this is definitely NOT shohin material. the tree is weathered and old. the bark looks like an alligators back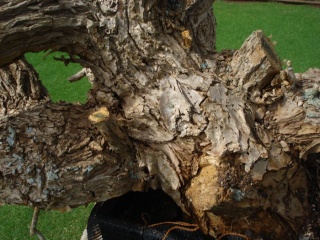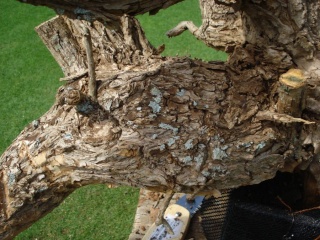 my choice for front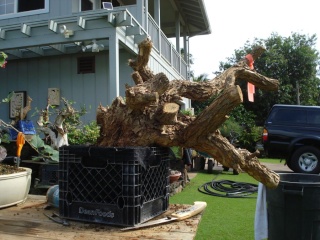 eye poking branch stubs are cut and rough carved . too long branches are shortened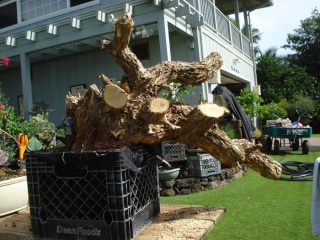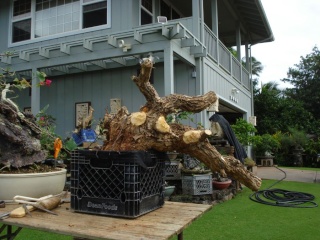 done for now. the newly potted tree is put on the bench to grow. the trees were collected a bit more than 2 weeks ago. already new buds are pushing through the bark.
Sam,what a monster! And its already pushing buds ... in Winter time! Or is it Spring time in Hawaii now?
Have fun with it!
Best, Todd

Todd Ellis

Member





hi todd.

I think its still winter? hard to tell what season it is here.

best wishes, sam

---
Permissions in this forum:
You
cannot
reply to topics in this forum