I have a paper bark maple i got in the fall...it is nursery stock with a bad root base...i want to ground layer for a new root base...question is when you make the ring around the tree to put the rooting compound on what feeds the tree with no bark for water to go up???? also when can i do this??? the morei do bonsai the less i know!! thank you for your help take care john
Hello John. I usually airlayer trees as they come out of dormancy and the buds are showing green. Dont know if Griseum is a good candidate or not? The bark doesn't carry water up the tree, it is the Xylem. The xylem is the wood behind the cambium and this is where the water conducting vessels are.
And Happy Birthday by the way.

Thank you Will for the information,,,you see i need all the help i can get!!! Thanks for the happy birthday,,,i wish i could stop now take care john
moyogijohn wrote:The more i do bonsai the less i know!
Just like the rest of us.
The green layer inside the bark, which is what you cut in an air layer, is called the phloem. That contains the tubes that transport sugars & other products down to the roots. When it is severed, the tree is stimulated to grow another set of roots.
Iris

bonsaisr

Member





Both the Phloem and the cambium need to be removed. When the sap starts to flow this becomes easier. Use a very sharp knife to remove a ring of bark the width of the tree deep. You will know when you are down to the xylem as it is lignified and turned to wood. If you have any cambium or Phloem left on the ring removed, it will bridge the gap and roots are less likely to form. The phloem and cambium usually change colour to brown when exposed to the air (a bit like an Apple) so scrape any that you have left before you wrap tightly with Sphagnum or soil medium.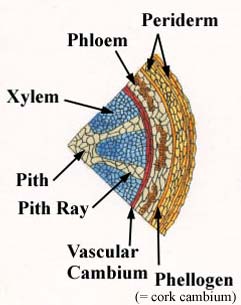 Thank you Mrs iris and Will ,,The diagram is a lot of help..i just might try something different...thank you take care john

---
Permissions in this forum:
You
cannot
reply to topics in this forum