A few months ago, I stumbled upon a website showing trees by a female Japanese Bonsai artist.
If I remember correctly she came from a well known Japanese bonsai family (?)
Her 'trademark' styling was that the lowest branch of each tree was longer than the entire height of the finished tree. The styling gave her trees a very unique look.
Does this sound familiar to anyone?
Does anyone know her name?
I'd really like to go back to the website, but cant find it now.


Paul B (Scotland)

Member





Was it Kaori Yamada by chance?
_________________
"Espouse elucidation"
_____________________________________
my website

fiona

Member





Hi Fiona,

Nope, Not Kaori Yamada.

I think I got to the website from a link on another site. It took me to a gallery of the artists work, it was an English language website. Most of the trees were Pines and all styled with the elongated lowest branch.

I'm sure the overly elongated lowest branch is a 'style' of bonsai. I looked through a few books last night but couldn't find the name of the style.

Does anyone know?

Paul B (Scotland)

Member





That elongated branch may be a Chinese style. I never heard of a Japanese style like that. In his book, Artistic Pot Plants, Mr. Wu shows two styles like that, Branching-Out Style and Overlooking the Water Style.
Iris

bonsaisr

Member





Try a search on goza-kake (same as mino-kake) style bonsai, which often depicts (by allusion) extension of a branch over water.
Last edited by Chris Cochrane on 3/2/2011, 13:55; edited 1 time in total

Chris Cochrane

Member





Irene there is a style, cant remember the name.
In garden bonsai its planted at a entrance with the long first branch forward to welcome the visitors in.

Peter

landerloos

Member





Yes I have seen many Pine bonsai with an overly long first branch....all from Japan.

Kakejiku

Member





I have seen many bonsai in Japan styled in this way. It is known as the Tatami Mat style or Goza-Kake. Also, full sized, but styled garden trees often have primary branches that are extended with extreme exaggeration, so that they have to have multiple props. This one is at Kinkakuji (the Golden Pavilion)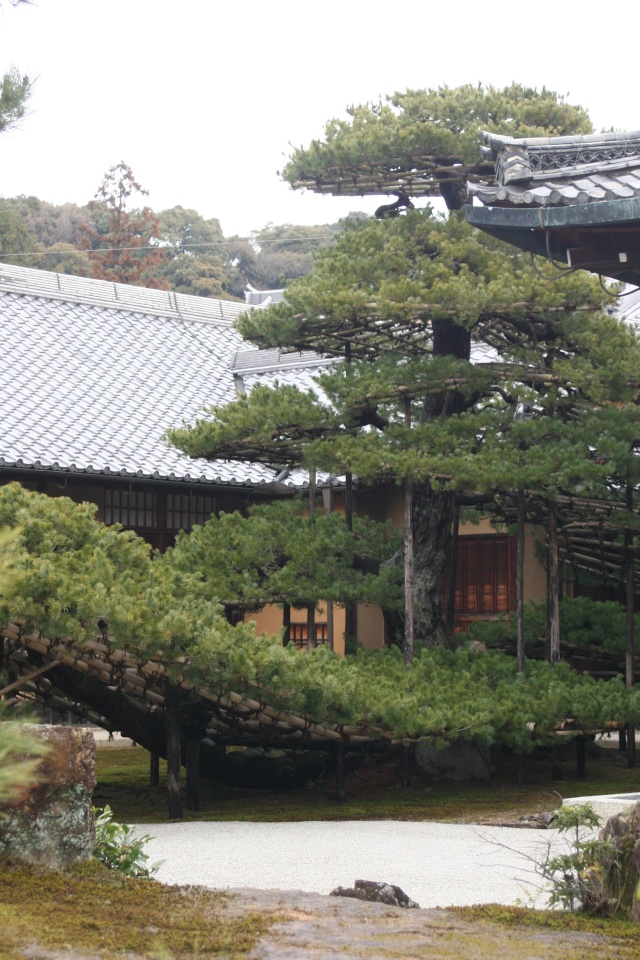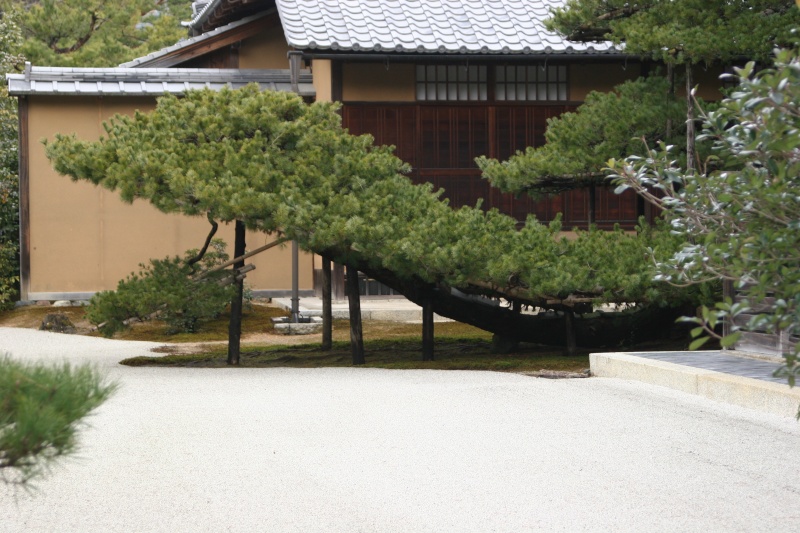 There's another on the steps up to Kiyomizu Temple and the most impressive one I recall was in the garden of a house next to the nursery at the top of Kinashi bonsai village.

_________________
"It is not the strongest of the species that survives, nor the most intelligent. It is the one that is the most adaptable to change." - Charles Darwin.

Kev Bailey

Admin






---
Permissions in this forum:
You
cannot
reply to topics in this forum