Hi IBC.
This is my elm landscape.
Gentleman G.,
This is my idea on your gorge if it were my creation, wide on the front slimmer on the back to create perspective. mine i used rock instead of mud muck...no erosion.
five months before....
near present time...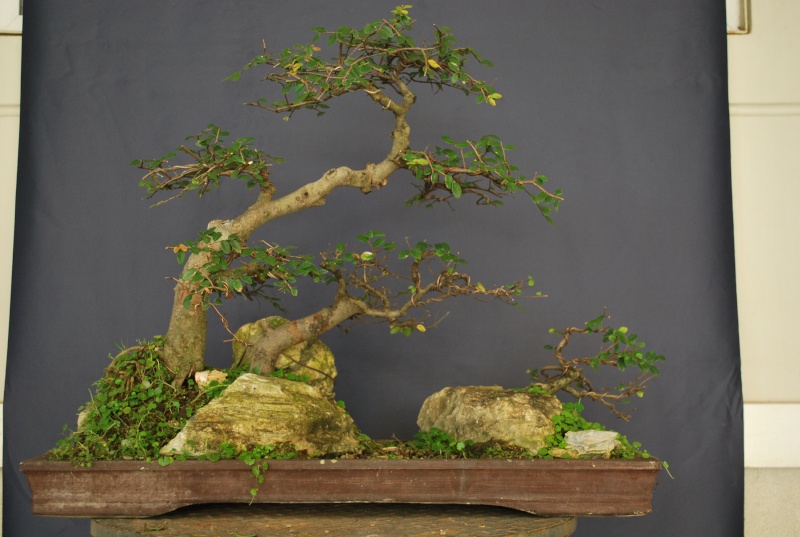 the line of the rocks should also follow the "vanishing point".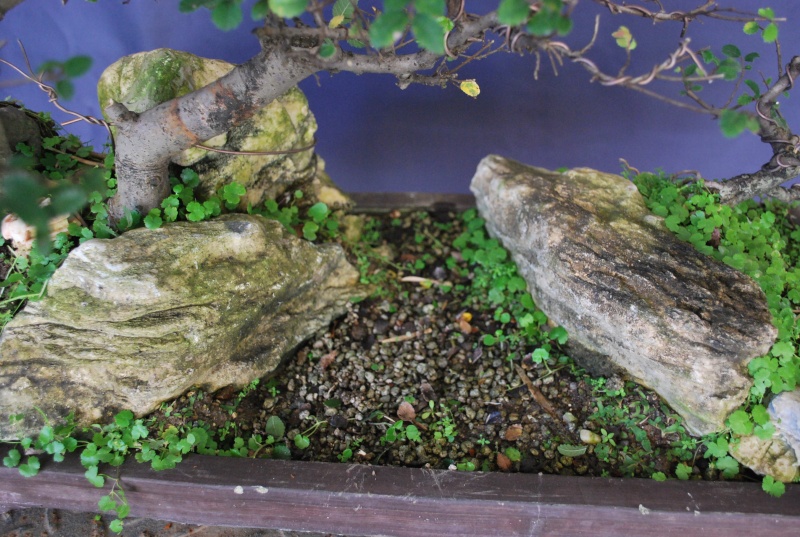 regards,
jun

Right on! Thanks for the visual, I already kind of had an idea of what you were talking about. When creating my planting, I tried to remember the use of one point perspective. I haven't studied any kind of art since school over ten years ago, but that's one of the things that stuck with me. Thanks for the encouraging words, and the pointers. Tomorrow, when there's daylight, I'll post some more pics of my slab with the bridge in place (minus the moss)... by the way, if you've never tried to make a mini rope bridge don't

G

Gentleman G.

Member





The mud is actually loosely based on a "muck" recipe I found online somewhere. The recipe called for clay soil (which is ABUNDANT where I live), and hair (which thanks to my wife is also abundant where I live

) among other things. I've seen variations of this recipe with sphagnum moss too. I have a nozzle for my hose that lets off a very fine mist and I try to focus watering on the soil only as much as possible. Hopefully the moss will spread quickly before too much erosion occurs. In the future my forests will be mainly in pots, just wanted to give this a shot.

Gentleman G.

Member






Gentleman G.

Member





That's more like it man!. nicely done on the bridge too. This is whats good on landscape/ penjing planting- you can enjoy your work while waiting for the trees to be enjoyable to look at.
please post the front pics too.
with the muck: have you seen any of those mesh used in controlling the real life soil erosion? sometimes near road works or roads by the mountain side- they used net, mostly biodegradable nets like coconut fiber nets. You can also try that, instead of the muck with recipe. very fine nets,several layers of nylon nets will do, to cover the mound, then cover it with thin layer of mud and moss on top. it will hold everything until the roots of the trees sets in.then the next time you repot you can lift the whole thing as one piece, then prune the roots.
regards,
jun

You can also use some different kind/color of moss to line the stream banks.
_________________
Jim Lewis - lewisjk@windstream.net - Western NC - People, when Columbus discovered this country, it was plumb full of nuts and berries. And I'm right here to tell you the berries are just about all gone. Uncle Dave Macon, old-time country musician

JimLewis

Member





Hi,

the rope bridge is very nice... after reading that you have a two year plan for this Saikei.. it kind of makes it a good start and to know that this is your first makes it an impressive one. After about 10+ years in Bonsai, I am still working on my first landscape and it seems to take ages... in training. Good start by you... work on the branch ramification of the trees.. they look pretty primitive now but given a two year timeframe and constant focus... I am sure you will achieve your goal of a good landscape.

Ravi

Ravi Kiran

Member





Thanks guys!! It really means a lot coming from you all. Even though I've only been practicing bonsai only since last fathers' day, I've been doing nothing but reading any chance I get. I've read most of the articles on this and other forums pertaining to species that will do well in my climate. I also have two books that I've read cover to cover multiple times. And, I recently checked out both of Naka's bonsai techniques books from my bonsai club's library. I'm glad I can finally attempt some of the techniques I've studied while learning more along the way.
@ Ravi, thanks for your comments. I've read quite a few of your posts as well. Since my club here was on its winter break, you all here have been my source of information/demos/entertainment (the club's back in action but I'll still be lurking around here). I plan on letting the roots establish before continuing work. These were small Japanese Boxwood shrubs (about a foot tall, maybe a foot and a half on the largest) that I pruned so I could see what the heck I was doing. I plan on using my knob cutters to remove all the branch stumps I left, then I'll let the rest grow freely before training begins. Since oaks are native to my area, I plan on eventually trying to style them as such. I'm in this for the long haul, yet, I still am not quite sure what I'm doing so any suggestions you have regarding styling would be greatly appreciated.
@Jim, I was planning on doing as you suggested, just gotta find the right moss. Around these parts moss isn't too abundant... or perhaps I'm just not looking hard enough

Thanks again guys, I need all the help I can get. I'll start a new topic soon with the updated pics!!

Gentleman G.

Member






---
Permissions in this forum:
You
cannot
reply to topics in this forum